Virginia Beach Theological Seminary, located in Virginia Beach, VA, is a Baptist church-based graduate seminary that positively contributes to the larger body of Christ through the preparation of humble servant-scholars.
Virginia Beach Theological Seminary
Biblical Foundations
Founded in 1996, Virginia Beach Theological Seminary (VBTS) has trained pastors, missionaries and skilled Christian workers in the context of the local church for more than two decades. The school has an interactive relationship with Colonial Baptist Church, which allows students to observe the practical application of sound theology and a biblically informed philosophy of ministry.
Professors deliver rigorous and relevant courses, which combine student-directed discussions, group projects, interactive lectures, and research assignments. The Seminary fosters a mentorship culture; faculty members are accessible to students both in and out of the classroom.
Spiritual Formation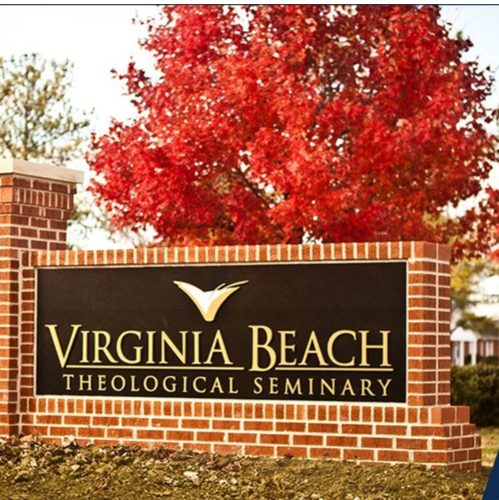 Virginia Beach Theological Seminary is committed to the direct method of presenting divine truth from the Bible.
Its faculty and curriculum emphasize a specifically Baptist approach with a focus on creating a global biblical vision within students.
VBTS faculty members are Christian scholars committed to guarding, explaining and proclaiming truth.
Faculty members also serve as spiritual mentors through both classroom and personal relationships.
Students are not required to attend Colonial Baptist Church but are encouraged to participate in a local church ministry. Nearly 20 area churches are represented among Seminary students and alumni.
Online Degree Program
Online Master of Biblical Studies
This 39-credit program focuses on biblical content, missions, systematic and historical theology, and evangelism. The program prepares graduates as servant-leaders for a support role in the work of missions and the local church. The program, which is open to men and women, is available on-campus and online.
Students can complete the 39-credit degree fully online. The program features video live-streamed courses, discussion forums, directed reading and writing assignments, peer critiques, quizzes and papers. Students can follow a two-year or four-year plan.
On-Campus Degree Programs
Master of Divinity
The seminary's flagship degree, prepares graduates for ministry of the Word. The MDiv curriculum includes 96 hours of course work in theology, biblical languages, biblical content, and pastoral ministry. The program provides students with the theological, biblical and exegetical skills needed for credible ministry to the body of Christ. The program is open to men only.
Master of Biblical Studies for Chaplaincy
Prepares chaplains for advancing the gospel to hospitals, prisons, and the military community, among other institutions. The 72-credit program is open to qualified men.
Master of Theology
This 30-credit-hour program provides students with specialized and advanced biblical study. The program prepares graduates for teaching or a terminal degree program. The program helps students hone their research and writing skills. Students can tailor the degree with specializations in Bible Exposition, Old Testament Studies, New Testament Studies, or Systematic Theology.
Doctor of Ministry in Expository Preaching
This 34-credit-hour program provides students with enhanced theological, communication and exegetical skills to effectively serve the church. The terminal-degree program is designed for experienced missionaries, pastors and others whose primary calling is the ministry of preaching God's Word. Students must complete the program within six years.
Admissions and Transfer Information:
Applicants for the Master of Divinity, Master of Biblical Studies or MBS Chaplaincy programs must hold a baccalaureate degree or its equivalent from an approved four-year college or university. They also must earn a minimum 2.4 cumulative grade point average.
Those applying to the Master of Theology program must hold a Master of Divinity degree or its equivalent from an approved seminary or graduate school. Students must complete all coursework with at least a 3.0 grade point average.
The MDiv and MBS Chaplaincy programs are open to qualified men. Applicants to the Doctor of Ministry program must have at least three years of preaching or teaching ministry experience and hold a Master of Divinity or its equivalent.
Accreditation:
Virginia Beach Theological Seminary is accredited by the Transnational Association of Christian Colleges and Schools.
Local amenities:
Virginia Beach Theological Seminary is less than 30 minutes from Virginia Beach and 20 minutes from downtown Norfolk, Va. Students can spend weekends on the waterfront, at a local art or maritime museum, or shopping at the local outlet mall, among other nearby activities. The Seminary also provides assistance in finding affordable, nearby apartments and jobs.