The Best Universities and Degrees for Fighting Human Trafficking
The Best Universities and Degrees for Fighting Human Trafficking
The Best Universities and Degrees for Fighting Human Trafficking

| Rank | School | Location |
| --- | --- | --- |
| 1 | The George Washington University | Washington, D.C. |
| 2 | University of Denver | Denver, CO |
| 3 | Middlebury Institute of International Studies at Monterey | Monterey, CA |
| 4 | Columbia Southern University | Orange Beach, AL |
| 5 | Wilmington University | New Castle, DE |
| 6 | The University of Texas at Austin | Austin, TX |
| 7 | Stanford University | Stanford, CA |
| 8 | Arizona State University | Tempe, AZ |
| 9 | University of San Diego | San Diego, CA |
| 10 | University of Georgia | Athens, GA |
| 11 | University of Minnesota – Twin Cities | Twin Cities, MN |
| 12 | Georgia State University | Atlanta, Georgia |
| 13 | University of South Florida | Tampa, FL |
| 14 | Pennsylvania State University | State College, PA |
| 15 | University of Toledo | Toledo, Ohio |
| 16 | Brown University | Providence, Rhode Island |
| 17 | University of Michigan, Ann Arbor | Ann Arbor, MI |
| 18 | University of Houston | Houston, TX |
| 19 | Montclair State University | Montclair, NJ |
| 20 | American University | Washington, D.C. |
| 21 | Case Western Reserve University | Cleveland, OH |
| 22 | University of Washington | Seattle, Washington |
| 23 | University of Baltimore | Baltimore, MD |
| 24 | University of Maryland, Baltimore | Baltimore, MD |
| 25 | Loyola University at New Orleans | New Orleans, LA |
| 26 | University of Pennsylvania | Philadelphia, PA |
Show More
The Best Universities and Degrees for Fighting Human Trafficking is a list of the best universities located in the U.S. that are studying and fighting human trafficking in various important ways.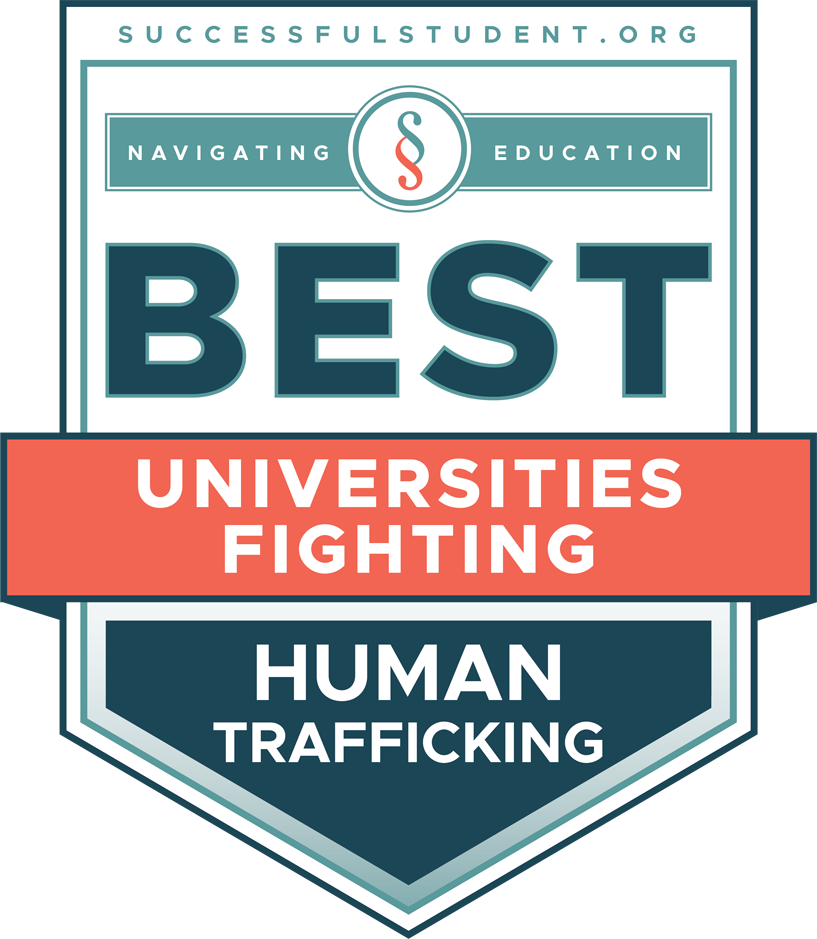 These universities offer academic programs, resources, and initiatives for understanding, tracking, and fighting human trafficking locally, federally, and internationally.
The first five universities in this list offer various degree options in the subject of Human Trafficking.
The scope of human trafficking can and often does cross international borders. But it is also a domestic issue facing the United States. These universities are at the front lines of academic pursuits to understand and fight human trafficking domestically and abroad.
What is Human Trafficking?
The U.S. Bureau of Justice Statistics defines it:
"[H]uman trafficking has occurred if a person was induced to perform labor or a commercial sex act through force, fraud, or coercion. Any person under age 18 who performs a commercial sex act is considered a victim of human trafficking, regardless of whether force, fraud, or coercion was present."

U.S. Bureau of Justice Statistics
Human Trafficking in the United States
---
Featured Online Degrees:
Request More Information
The Best Universities Fighting Human Trafficking
These universities and colleges are not ranked by any order of importance or by any other criteria. The universities that offer degrees make up the first five positions in this list.
---
College Degrees for Fighting Human Trafficking
Forensic Science
Digital Forensics assists in tracing, finding, and prosecuting human traffickers. It is Digital Forensic Analysts who find the hidden data and online presence of these traffickers. Digital Forensics extracts and makes sense of digital data from traffickers, such as you would find on computers and hard drives. These data are often crucial for successful prosecutions, and for finding new trafficking operations.
Forensic Accounting follows the money. Human trafficking is at bottom a for-profit criminal enterprise, where people are the commodity, and money changes hands from buyers to sellers. These buyers may be buying humans for sex or labor, or organ harvesting. Forensic Accounting detects the criminal activity in these financial transactions, and assists law enforcement in prosecutions.
Forensic Science:
Forensic Psychology:
---
Criminal Justice
Criminal Justice degrees provide the necessary entry into law enforcement. From there, graduates can focus on working at the relevant departments in federal and local government, such as:
FBI
Police Departments
Department of Homeland Security
Bureau of Justice Assistance
U.S. Customs and Border Protection
U.S. Immigration and Customs Enforcement
Many Criminal Justice degrees are available online. Online Criminal Justice degrees have many different focuses of study, such as Criminology, Social and Criminal Justice, and others.
Criminal Justice Rankings:
---
Homeland Security
A degree in Homeland Security enables graduates to work in different capacities for the Department of Homeland Security. This department was formed after the hijacked planes attacked U.S. soil on 9/11/2001. The Department of Homeland Security is the federal agency responsible for fighting human trafficking. Homeland Security has careers in law enforcement in these domains:
U.S. Customs and Border Protection
Federal Law Enforcement Training Center
U.S. Secret Service
U.S. Immigration and Customs Enforcement
Federal Protective Service
---
Political Science
International Political Science majors in particular are pertinent for understanding and fighting international human trafficking operations. Degrees in Political Science help students understand how political systems work, whether democratic, socialistic, communistic, etc.
This includes the means by which international trade is conducted, and whether borders are porous and can allow for trafficking, and how to stop it using political means. An example of this would be the southern border of the U.S., and whether the wall that's being built will have any deterrence on human trafficking with Mexico.
See our Best Online Humanities Degrees for Careers article for the relevant Political Science degree information.
---
Human Rights Studies
Human Rights degrees study the national and international aspects of rights as given to their respective citizens. A Human Rights approach to human trafficking is ensuring that the victims' rights are upheld in the process of the victims' recovery, and prosecuting
This can include advocating for the rights of rescued children. One such right that may need bolstering a the victims' right not to be involved more than they want to be in the criminal prosecutions of the traffickers.
See our Best Human Rights Studies Programs for 2020.
---
Social Work
A degree in Social Work can allow graduates to work in a Social Work setting for those who have survived human trafficking. Helping to get them back on their feet and stabilized in society again. This may also involve working with Child Protective Services and helping children to get out of abusive situations and potentially prevent trafficking.
Working with children who've been rescued from traffickers, such as getting children adjusted after going home, may also be a key duty. It may also involve getting rescued children placed into a foster families.
---
Public Health
According to the U.S. Department of Health and Human Services, a Public Health approach to fighting human trafficking:
"[R]ecognizes the social and economic determinants of health and well-being that may lead to the crisis moment of trafficking. Interventions would go beyond the criminal justice and social service response and incorporate prevention strategies based on needs of specific populations. While human trafficking can impact anyone, some populations are more vulnerable to human trafficking due to experience of prior violence, stigma, and disconnection."

U.S. Department of Health and Human Services
A degree in Public Health allows for the recognition of patterns in targeted victims. What is the socio-economic background of those most trafficked? A Public Health degree helps to understand things such as the predominant gender, age group, location, and other demographics of those most at risk of being trafficked.
---
Law
Law degrees are relevant to fighting human trafficking in a number of ways. A lawyer may wish to work as a prosecutor of traffickers. Another option that a law degree may afford is getting into politics and effecting laws that fight human trafficking, on the state or federal level of government.
A degree in International Law is especially relevant to understanding and fighting international human trafficking. International Law students understand the most relevant legal precedents across different countries for fighting global trafficking.
See our Law School rankings:
---
Human Trafficking Statistics
Human Trafficking Statistics according to the U.S. Customs and Border Protection as of 2016:
Estimated 40.3 million people are in modern slavery:

24.9 million in forced labor, working in these capacities:
16 million people are exploited in the private sector such as domestic work, construction or agriculture
4.8 million persons in forced sexual exploitation
4 million persons in forced labor imposed by state authorities
15.4 million in forced marriage

5.4 victims of modern slavery for every 1,000 people in the world
1 in 4 victims of modern slavery are children
Department of Homeland Security Phone Numbers for Reporting Human Trafficking
Federal Law Enforcement: 1-866-347-2423
National Human Trafficking Hotline: 1-888-373-7888
Resources on Human Trafficking
U.S. Government Agencies:
U.S. Immigration and Customs Enforcement (I.C.E.) is a federal government agency that is, as the name implies, responsible for enforcing immigration and customs policing and policies. As part of these duties, they are heavily involved in combating human trafficking in the U.S.
I.C.E.'s Most Wanted Human Traffickers List.
The national hotline for I.C.E. is 1-866-DHS-2-ICE (TTY for hearing impaired: 802-872-6196). Call if you have information about human trafficking.
Department of Homeland Security: Blue Campaign
The Blue Campaign is designed to raise public awareness and train law enforcement and the public to better detect and respond to human trafficking.
Internet Crimes Against Children Task Force
The Internet Crimes Against Children Task Force consists of 61 task forces across the U.S., comprised of over 4,500 individual federal, state, local law enforcement, and prosecutorial agencies. Their purpose is to protect children from abuse that may occur through the internet. To this end they train law enforcement, partner with similar groups, and work to prosecute violators.
International Agencies:
International Labour Organization ILO is part of the United Nations, and consists of 187 member states. The ILO stated purpose is:
"[T]o set labour standards, develop policies and devise programmes promoting decent work for all women and men."
To this end, they have implemented the Forced Labor Protocol, which member states are obliged to adopt and enforce.
Private Agencies:
Operation Underground Railroad
O.U.R. is a non-profit organization started in the U.S., whose mission is to combat human trafficking, at home and abroad. Led by Tim Ballard, an American private citizen, O.U.R. has domestic and international offices. O.U.R. partners and works in tandem with American and foreign nations to combat human trafficking.
Tim Tebow FoundationNational Center for Missing and Exploited ChildrenPolaris Project
---
U.S. Government Investments to Combat Human Trafficking:
Justice Department Awards $35M for Housing of Traffic Victims
U.S. Attorney General William Barr and Ivanka Trump Pledge $100M from Federal Government
---
Find Your Degree!