The Top 10 Logical Fallacies to Avoid in Arguments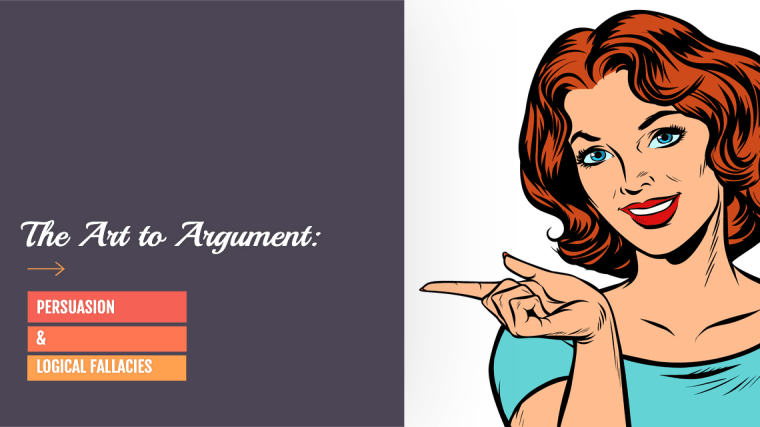 The Top 10 Logical Fallacies to Avoid in Arguments
Successful Student has made a how-to guide for students to learn the art of argument in a series of articles. This is the first, which explains what the top logical fallacies are along with definitions and descriptions, how to recognize them, and how to avoid these logical fallacies.
The second article in this series is How to be Persuasive in Making Arguments: Ethos, Pathos, and Logos.
There are many formal and informal logical fallacies in the world of argumentation. We have compiled the top 10 most common logical fallacies that every student should know, which include formal and informal fallacy examples.
Logical Fallacy definition:
A logical fallacy is made whenever someone makes a false inference within an argument or syllogism. Or said another way, a fallacy occurs wherever there is faulty reasoning in an argument.
---
What does the word Fallacy mean?
"A deceptive or misleading argument, a sophism. In Logic esp. a flaw, material or formal, which vitiates a syllogism; any of the species or types to which such flaws are reducible."

Oxford English Dictionary
---
Origin of the word Fallacy:
"'deception, false statement,' from Latin fallacia 'deception, deceit, trick, artifice,' abstract noun from fallax (genitive fallacis) 'deceptive,' from fallere 'deceive' (see fail (v.)). Specific sense in logic, 'false syllogism, invalid argumentation,' dates from 1550s. An earlier form was fallace (c. 1300), from Old French fallace."

Online Etymology Dictionary
---
What's the difference between Formal and Informal Fallacies?
Formal Fallacy: A formal fallacy occurs when the structure of the argument itself is flawed or constructed wrongly.
Informal Fallacy: an informal fallacy refers to faulty or erroneous reasoning within a proper logical construction.
Learning the top most common logical fallacies is necessary to avoid their many pitfalls. Familiarize yourself with them and improve your debate skills and logical argumentation.
Logical Fallacies | Frequently Asked Questions
---
The Top 10 Logical Fallacies to Avoid in Arguments
1. Straw Man Fallacy
The Straw Man Fallacy is misrepresenting the position of the opponent. This is done by replacing their position with a different position (a straw man), and then attacking that different position. Changing the opponent's argument into a weaker form is called a Straw Man because a man made of straw is a weaker version of a man, which is easy to defeat.
This fallacy sets up an easy and false version of the opponent's argument, and then knocks that down or argues against that false position. Meanwhile, the actual argument of the opponent hasn't been addressed at all. Arguments cannot be conducted under these fallacious conditions because the subject of the argument itself isn't actually being addressed.
Example: Mary says "This is the best Thai food restaurant in the city." John responds with "You think this is the best restaurant in the city?"
2. Begging the Question (Circular Reasoning) Fallacy
Re-stating or reaffirming the premise (or premises) as the conclusion (without any further explanation or information). Assuming the conclusion in the premises. The problem with this fallacy is that it never progresses the argument past the premise(s).
The premises are simply reasserted as the conclusion. Or, the conclusion is put into the premises, and then reasserted as the conclusion. The premise of an argument has to be different in content and meaning than the conclusion. And the conclusion has to be separate in content and meaning than the premise(s), albeit related through logical coherence.
Example: Mary says "John always tells the truth." Bob asks "How do you know?" Mary: "Because John says that he always tells the truth."
3. Ad Hominem Fallacy
Attacking the person and not their argument. One manifestation of this argument fallacy is saying that the identity of a person disqualifies them from making or engaging in the argument itself. It's attacking a person, such as their identity or character, instead os attacking their actual position in the argument.
Example: An example would be to say that Cliff cannot be correct that squares have right angles because he is a bad person and has been known to steal ideas and credit them for himself. The position that squares have right angles or not has been left untouched by this fallacy.
You can see this playing out in the political sphere in modern American politics.
Example: Mary says "You say that freedom should be a priority over social justice because you are a Republican." So John says, putting it the other way, "You say that social justice is more important than freedom because you are a Democrat."
4. Post Hoc Fallacy "post hoc ergo propter hoc" (after this, therefore because of this) Fallacy
Assuming causality from order of events. Claiming that since B always happens after A, then A must cause B is the fallacy. Order of events doesn't mean causation, necessarily. Actual causation would remain unexplained. The sequence of events needs actual causation to be understood in order for causation claims to be made.
Example: Burglars breaking into cars rises whenever the sun is shining, and declines when it's raining outside. Therefore, the sunny days cause crime.
5. Loaded Question Fallacy
Asking a question which includes the desired outcome of the questioner, and against the position of the person answering the question. The classic example of the Loaded Question is "Are you still beating your wife?" Whether the person answers yes or no, the person is still framed as a wife beater.
6. False Dichotomy (False Dilemma, Either/Or) Fallacy
Dichotomy means "a division or contrast between two things that are or are represented as being opposed or entirely different." A False Dichotomy is when the arguer is presenting only two possible options or outcomes to a position, when in reality there are more.
It's done to narrow the opponent's position to only two possible outcomes (often to outcomes which are untenable or ridiculous to both parties of the argument). It's a rhetorical tactic designed to lead to unwanted conclusions.
7. Equivocation (Doublespeak) Fallacy
To Equivocate means to use language in a wrong or misleading way to either conceal a truth or to avoid being committed to a position. The goal behind this fallacy is to mislead the listener through a manipulation of language. Often the meaning of a word is changed mid-argument to serve the purposes of the one who is being misleading. Equivocate is to make an incorrect equivalence between words (or concepts that are at issue within the argument). An example of equivocating would be to use the word "right" in two ways within an argument: right as in morally correct, and right as in functionally correct (such as the right tool to use).
8. Appeal to Authority (ad verecundiam) Fallacy
The authority's bona fides needs to be established. Even then it can be fallacious to cite them as an authority, depending on the authority's claim. This one is tricky because it depends on the circumstances and scenario.
There are experts (authorities) on opposing sides of court cases. They can both be right in certain domains, or within the same domain one can be more correct than the other. The fallacy would be to make more of a claim than just an expert opinion should warrant. Being an expert on a given topic doesn't mean that anything that the expert claims is therefore correct.
9. Hasty Generalization Fallacy
Making an unwarranted claim about the group from the particulars or characteristics of a select few within the group. The characteristic or characteristics of a person who belongs to a group doesn't therefore necessarily translate those characteristics to the group taken as a whole, or to most of the members of the group. People have varied characteristics, and often the categories that people belong to are often based on one thing, and are unidimensional. Once their individual characteristics are really parsed out, the differences become apparent between individuals who belong to a category or group.
10. Appeal to Popular Opinion (ad populum) Fallacy
Making an argument that a position is true or has validity because a great number (or the majority) of people hold to that position. The fallacy here is that the majority may be factually wrong as a result of being misled or having partial information and drawing wrong conclusions. We've seen this in history, in which the majority of people have been misled by their media or by their government or by wrong scientific assumptions.
Logical Fallacies | Frequently Asked Questions
1. What are examples of logical fallacies?
2. How would you explain a logical fallacy?
As an argument in which the conclusion doesn't follow from the premise or premises. The premises could be wrong, or the conclusion could be wrong, or both. First, identify which logical fallacy is being used. From there you can describe the fallacy by giving a hypothetical example that your listener will understand. An over-exaggerated example works best, because it draws-out, by exaggeration, where in the argument the fallacy is. Then you can explain exactly how (at the over-exaggerated point) the break in logic occurred, and how the conclusion isn't supported by the premise(s). For example, with a Straw Man fallacy, you can make another Straw Man type of argument that's more directly obvious as being fallacious by grossly misrepresenting the opponent's position. This should illustrate the point of where the mistake occurred.
3. What makes a logical fallacy?
What makes a logical fallacy is an incorrect conclusion; conclusions that are not supported by the premise(s). You may have correct premises, but yet through fallacious reasoning you've arrived at an incorrect conclusion.
4. Is generalization a logical fallacy?
Hasty Generalization is a logical fallacy. The relevant part of this is the "hasty' nature of the generalization, which means generalizing the group erroneously and without supported evidence, based on the particulars of a few within that group. As explained above, it's "Making an unwarranted claim about the group from the particulars or characteristics of a select few within the group." Generalization by itself is not necessarily a fallacy. You would have to look at what's being generalized, and on what grounds the generalization is based.
5. What is a fallacy example?
Appeal to Authority Fallacy: appealing to an authority in an argument doesn't settle the question of the cogency of the argument at hand. Authorities can be wrong. As explained above: The authority's bona fides needs to be established. Even then it can be fallacious to cite them as an authority, depending on the authority's claim. This one is tricky because it depends on the circumstances and scenario. There are experts (authorities) on opposing sides of court cases. They can both be right in certain domains, or within the same domain one can be more right than the other. The fallacy would be to make more of a claim than just an
expert opinion.
6. Why are logical fallacies important?
Knowing and understanding logical fallacies is important because it stops the exchange of untruth. They're only so good as they root out what's not true, so that, when determined, an argument ceases to be valid, and hopefully ceases to be asserted and/or believed. It's also important because identifying where the mistake in logic occurred allows for correction. Logical fallacy identification is the corrective for bad argumentation.
7. How do you respond to a logical fallacy?
The best way to respond to a logical fallacy is to identify it and call it out by name, and then explain what the fallacy is and how it was used in the argument.
8. Why should you avoid logical fallacies?
You should avoid logical fallacies to make true arguments, or at least arguments that aren't false in their formulation.
9. What is the best way to prevent making logical fallacies in arguments?
The best way to avoid making logical fallacies is first to learn the most common fallacies. Secondly, and just as important, is to assess your own arguments, and see if the arguments you're making are using any logical fallacy, and if so, which one(s)? This requires self-assessment, analyses, and reflection. The goal is to be able to have an ongoing ability to determine this as the argument is being made (not after the fact, but while the conversation is occurring). It requires having an internal monitor as to the cogency of what you're saying or writing.
Other argument types that aren't necessarily fallacious:
1. Slippery Slope:
I'm not including the Slippery Slope argument type in this list of fallacies, because it's not a formal fallacy. There are perfectly true instances where the person making the slippery slope argument has the foresight to see the future consequences of the first action, and correctly predicts what results at the bottom of the slope. There are instances in which the slippery slope argument is used that turn out to be factually wrong, but as an argument type in and of itself, there is nothing in the structure of the argument that makes it necessarily fallacious.
Let's look at the Stanford Encyclopedia of Philosophy's entry on the Slippery Slope:
"15. The fallacy of the slippery slope generally takes the form that from a given starting point one can by a series of incremental inferences arrive at an undesirable conclusion, and because of this unwanted result, the initial starting point should be rejected. The kinds of inferences involved in the step-by-step argument can be causal, as in:

You have decided not to go to college; If you don't go to college, you won't get a degree; If you don't get a degree, you won't get a good job; If you don't get a good job, you won't be able to enjoy life; But you should be able to enjoy life; So, you should go to college. The weakness in this argument, the reason why it is a fallacy, lies in the second and third causal claims. The series of small steps that lead from an acceptable starting point to an unacceptable conclusion may also depend on vague terms rather than causal relations. Lack of clear boundaries is what enables the puzzling slippery slope arguments known as "the beard" and "the heap." In the former, a person with a full beard eventually becomes beardless as hairs of the beard are removed one-by-one; but because the term 'beard' is vague it is unclear at which intermediate point we are to say that the man is now beardless. Hence, at each step in the argument until the final hair-plucking, we should continue to conclude that the man is bearded. In the second case, because 'heap' is vague, it is unclear at what point piling scattered stones together makes them a heap of stones: if it is not a heap to begin with, adding one more stone will not make it a heap, etc. In both these cases apparently good reasoning leads to a false conclusion."

Stanford Encyclopedia of Philosophy
It is not the structure of the argument that is the issue that makes this example fallacious, it is the poor reasoning within the argument. Perfectly valid logical constructions can become invalid by erroneous reasoning.
It doesn't follow that the structure of the argument is itself fallacious. It only means that in this example a false inference was made. That doesn't render the argument type itself as fallacious. I'd like to prevent the idea that using a Slippery Slope argument is, by definition, a fallacious argument.
Slippery Slope argument is rejecting an initial starting point, action, position, or step, because negative consequences will follow. Doing so doesn't always involve false or illogical reasoning. It can involve perfectly valid reasoning in which the prediction that will follow from the initial step does indeed come true. Even if the consequences don't come true in one example, they could come true in another.
What's at play in the "beard" and "heap" is a question of Identity (at what point one identity is altered sufficiently to become a new identity). It is a large, ongoing philosophical question, independent of its use in a Slippery Slope argument. This is a philosophical question as old as Heraclitus, mentioned by Plato, and referred to as the "Ship of Theseus". Whether you maintain that, concerning things that are in flux, they still maintain their original identity, or that the flux is sufficient to produce a new identity, has to be done on a case-by-case basis, and really has nothing to do with the structure of the Slippery Slope argument.
---
2. Appeal to Emotion:
I'm also not going to include Appeal to Emotion, as sometimes it's appropriate to appeal to the emotion of the listener to make an argument that is "right" in the respect of being morally sound.
In fact, an aspect of persuasion as formulated by Aristotle is called Pathos, which means appealing to the listener's emotions.
Sometimes being morally right is more important than adhering to an argument based solely on its logical content. Morality can supersede logic when the logical position of the argument is sufficiently immoral, and when it's doing damage to our moral sensibilities. Sometimes the only way to awaken the moral implications of an argument is through the appeal to emotions.
Example:
Without any appeal to morality, an argument can be made to harvest the organs of handicapped people (such as those with Down's Syndrome and severely autistic people) to supply the transplant needs of people who contribute the most to society.
If the sole aim is the betterment of society considered as a whole, and that these means justify the end, this argument is logical. However, it is considered sufficiently morally reprehensible to kill and harvest the organs of people, no matter how much they're handicapped (and it's especially wrong to victimize the helpless just because a society has the power to do so).
No one wants to live in a world that operates like this. More is involved in actual life than just acting on logical constructions in isolation. A logical argument can tell us what could be, a moral argument can tell us what ought to be. Sometimes the only way to interject the moral understanding in the argument is through the appeal to emotion. As an argument type in and of itself, this isn't always fallacious, in that it doesn't necessarily lead to false conclusions.