17 Best Communication Management Programs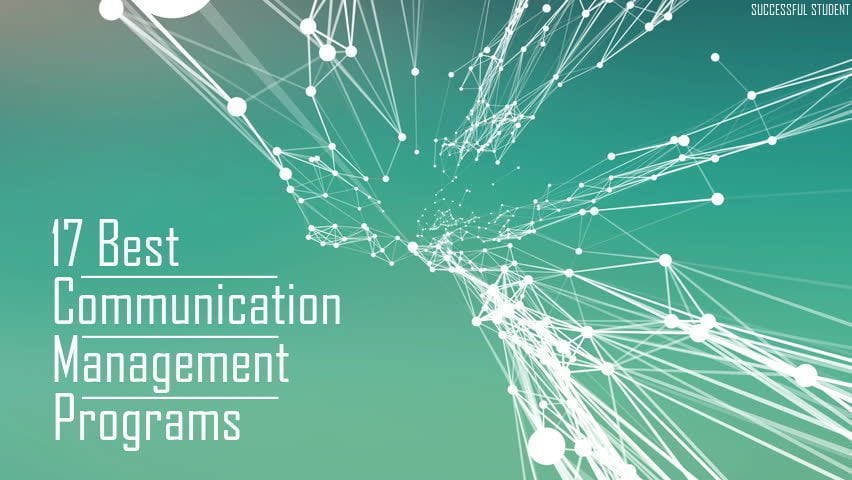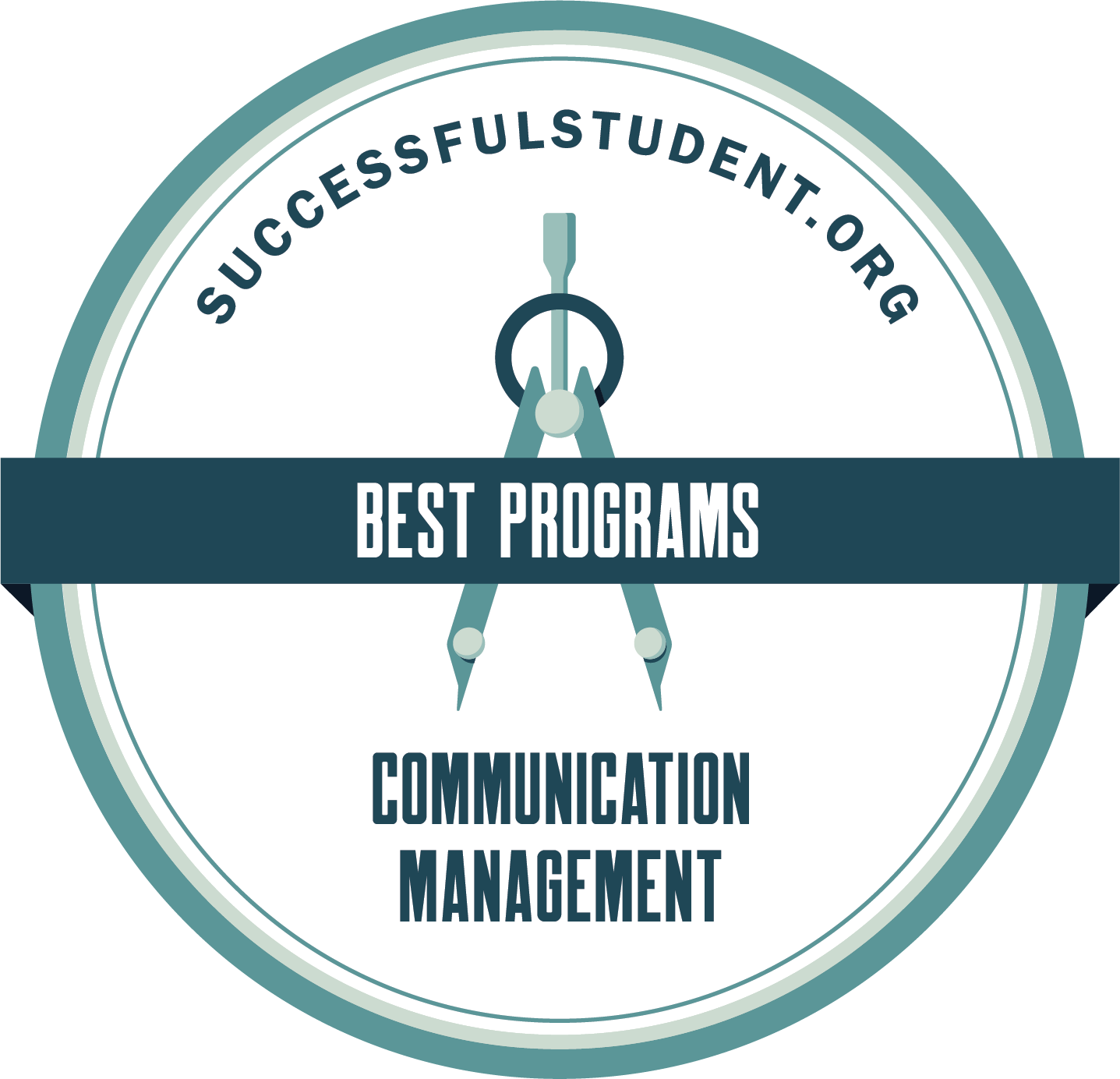 Successful Student has compiled the 17 Best Communication Management Programs in the US. This ranking is designed for students to make the most informed decisions concerning college and degree options in Communication Management.
Public relations, social media, corporate objectives, and other types of communication within organizations, needs to be managed. With instant and global channels of communication, managing the message is crucial for all organizations, including non-profits. Communication Management degrees are designed to prepare graduates to enter into management positions at organizations, in departments such as media relations and public relations. These managers put into place systems that control and manage communication, which occurs within organizations, and that is sent to the general public.
For entering into a Communication Management Master's program, it is helpful to have a Bachelor's in Communication, but not necessarily required. 17 Best Communication Management Programs | Ranking Guidelines: The factors that went into this ranking are academic reputation, variety of course work and subject areas. As always at Successful Student, programs are ranked from a student's point of view, factoring in what would be important to students.
Featured Online College:
---
17 Best Communication Management Programs
---
1. University of Southern California (Los Angeles, CA)
At the University of Southern California, it is understood how competitive the job market can be and as such students are offered as much diversity as possible. The Master of Communication Management degree is no exception. Classes are available to take part or full time, on campus or online, during the day or in the evening. With such flexibility it is not surprising that 83 undergraduate schools are represented within this program. Additionally there are 300 on campus students, 25 related courses, and 200 possible internship opportunities. Students are expected to complete 32 units of coursework, with each class weighted at four units. There are five areas of focus in the program: Marketing Communication, Media and Entertainment Management, Health and Social Change Communication, International and Intercultural Communication, and Organizational and Strategic Corporate Communication. The New Communication Technologies focus area is only available to students who have already obtained a Master's degree.
---
2. George Washington University (Washington D.C.)
Interdisciplinary study includes multiple perspectives of a subject, which leads to a more well-rounded education and a more competitive work place applicant. George Washington University maintains this philosophy throughout all of its curricula, including the Master of Arts in Communication Management program, offered through the Department of Organizational Sciences and Communication. In addition to advancing a student's career, this Master's program prepares students for doctoral level study in Communication and related disciplines. With or without a thesis, this degree requires 30 credits for graduation. There are five required courses: Persuasion, Communication Theory, Research Methods in Communication, Professional Communication, and Leadership Communication. Possible electives include Intercultural Communication, International Marketing, Conflict Management and Negotiation, Psychology of Leadership in Organizations, and Strategic Political Communication. Up to six credits may be transferred in from other universities.
---
3. Emerson College (Boston, MA)
Through the Department of Communication Studies at Emerson College students may enroll in the Master of Arts program in Communication Management. Fall or Spring admission is offered with full or part time enrollment for students who are also maintaining employment. Students may receive up to eight credits, or the equivalent of two classes, applied toward graduation for relevant work experience. There are two concentrations offered in the Communication Management program, Political Communication or Public Relations. For either track students must complete 36 credit hours, which is typically done in one and a half to three years. Courses may include Emerging Communication Technology, Public Opinion Research and Practice, Crisis Communication, Persuasion, and Negotiation and Group Process. Before graduation students must complete either a thesis or a capstone class.
---
4. Syracuse University (Syracuse, NY)
Syracuse University manages the Newhouse School of Public Communications which confers the Master of Communication Management degree. This interdisciplinary degree includes courses from the Martin J. Whitman School of Management and the Maxwell School of Citizenship and Public Affairs. A variety of topics are covered, combining knowledge of public relations and business leadership, including Public Relations Theory, Public Opinion Outreach, Communications Law, Measurement and Evaluation in Communication, and Marketing Communications. The curriculum remains versatile to ensure that students will be competitive in the every-changing world of Communication. Students must complete 36 credits for graduation. PRWeek awarded the Master of Communication degree the 2011 PR Education Program of the Year award. Similar degrees offered by the Newhouse School include the Master of Public Relations and the online Master of Science in Communication with specialization in Public Relations.
---
5. Ithaca College (Ithaca, NY)
The Roy H. Park School of Communication at Ithaca College houses the department of Strategic Communication which offers two majors, Communication Management and Design and Integrated Marketing Communications. The Bachelor of Science in Communication Management offers students a further two concentrations, Corporate Communication or Communication Design. For either program students will be required to complete 120 total course credits, including general education courses. Possible courses of the major include:
Presentation and Graphic Design
Corporate Communication: Strategy and Design
Critical Issues in Organizations: Theory, Application, and Policy
At the end of the program students will participate in a capstone course in the Communications Management Lab where theories turn into reality through team work. Students will also have ample opportunity to participate in internships, partly due to a vast alumni network providing contacts in numerous professional fields.
---
6. Temple University (Philadelphia, PA)
Of the 16 Schools, Colleges, and academic Centers which comprise Temple University, it is the Klein School of Media and Communication which offers the Master of Science in Communication Management. Students have up to five years to complete their studies attending either full or part time. Beyond the Bachelor's degree, students must complete an additional 36 credits for this program. There are four required courses: Communication Management Research Methods, Legal Issues in Communication Management, Organizational Communication, and Social Responsibility in Corporations and Not-for-Profit Organizations. The final Capstone Project to complete the degree requires students to research a real-life professional issue in communication taken from a current place of employment or derived from public sources and presented in a 50 page report. Other similar degrees available at the Klein School include Advertising, Journalism, and Media Studies and Production.
---
7. University of Denver (Denver, CO)
For professionals already established in the field of communication looking to advance their career, the University of Denver in Colorado offer a Master of Arts in Communication Management through the College of Professional and Continuing Studies. In an effort to accommodate the professionals busy schedule, this degree is offered both on campus or fully online. No GMAT or GRE scores are required to apply to this program. A total of 48 credits, or 12 courses must be completed for graduation. A variety of Communication Managment concentrations are available including Alternative Dispute Resolution, Learning and Development, Marketing Communication, Organizational Communication, Organizational Development, or Public Relations. Terms run for a total of 10 weeks. Professors of the courses are often also professionally active within the fields they are teaching allowing them to bring relevant data and personal examples to the classroom.
---
8. University of Alabama at Birmingham (Birmingham, AL)
The majority of students will take two years to complete the Master of Arts in Communication Management offered through the Department of Communication Studies and the College of Arts at the University of Alabama. Specifically geared towards working professionals seeking to advance their careers, classes are conveniently offered in the evenings and on weekends. Students who wish to graduate in good academic standing should expected to complete the 36 semester hours of graduate work with a grade of B or higher in addition to completing comprehensive exams and a research project. This program, with its broad exposure to various communication theories and their practical application, is designed to prepare students for doctoral candidacy if desired. Graduate teaching assistant-ship opportunities are available in a limited number. Though GRE scores are not required for the Master's program, those who wish to apply to the teaching positions will be required to submit GRE scores.
---
9. University of South Florida (Tampa, FL)
The University of South Florida's College of Arts and Sciences and the Zimmerman School of Advertising and Mass Communications offer a comprehensive, interdisciplinary Master of Arts in Mass Communications degree program. There are two tracks of study available, Media Studies or Strategic Communication Management. The Media Studies track is ideal for students with an undergraduate degree in Mass Communications. Course topics for this track include the topics of public opinion, research methods, sports and media, women and media, and visual communication. On the other hand, students who specialize in Strategic Communication focus more specifically on 'communication as a management function in an organization'. Courses may include Introduction to Strategic Communication Theory and Research, Strategic Communication Media, and Strategic Message Design. Before graduation, students in either track must complete 39 credit hours of course work and a final academic project.
---
10. University of North Florida (Jacksonville, FL)
At the University of North Florida in Jacksonville, applications are accepted year-round for fall, spring, and summer terms for the Master of Science in Communication Management through the Graduate School of Continuing studies. The 36 required credit hours are comprised of 15 required core courses, three credits from a select list of electives in the Department of Communication, and six credits for the thesis or research project. The final 12 credits should be dedicated to one of five concentrations: Business, Public Health, Leadership, Nonprofit Management, and Public Management. The required core courses are Foundations of Communication Management, Strategic Communication Theory, Qualitative Research Methods in Mass Communication, Quantitative Research Methods in Mass Communication, and Ethics in Communication Management. Other possible elective courses include Lying and Deception, Small Group Communication, Interviewing: Theories and Methods, Theories of Persuasion, and Political Advertising.
---
11. University of South Carolina (Columbia, SC)
Through the College of Information and Communications students at the University of South Carolina may enroll in the Master of Mass Communication. There are two further areas of specialization for students to select from under this program: Multimedia Journalism or Strategic Communication Management. In either track students must complete 12 courses, or 36 credit hours, for graduation. The required courses include Research Methods in Mass Communication, Media Law, Issues in Mass Communication Management, and Practicum in Mass Communication Management. Possible elective topics include Applied Visual Communication, Crisis Communication, Consumer Behavior, and Organization Behavior or Organizational Communication. Students will also have the opportunity to participate in a practicum 'with a newspaper, magazine, television or radio station, advertising or public relations agency or some other approved organization'. GRE test scores are required for admission to this program.
---
12. Mercer University (Macon, GA)
Mercer University offers a unique Master of Science in Technical Communication Management degree through its School of Engineering. This fully online distance learning program can be completed in as little as two years. The 30 required semester hours are spread out over seven to eight required courses, one or two electives, and a capstone project. Students may select to substitute one required course for one elective if desired. All courses are weighted at three credits each. The required courses include Usability, Managing Multimedia, Managing People and Projects, Advanced Technical Communication, History and Theory of Technical Communication, International Technical Communication, Instructional Design, and Visual Communication. Students will complete the program by preparing a thesis paper or participating in Project Research. Semester terms run 15 weeks during the Fall and Spring, and 10 weeks during the Summer. A graduate certificate in Technical Communication Management is also available.
---
13. Manhattanville College (Purchase, NY)
At Manhattanville College there are more than 90 areas of graduate and undergraduate study available. Through the School of Business graduate students may enroll in the Master of Science in Marketing Communication Management degree program. With small interactive classes, graduates can expect a more personalized educational experience. There are seven required courses in the Marketing Communication Management degree: Business Strategy, Creating Customer Value Through Marketing, Public Relations Theory and Practice, Communications Ethics and Regulations, Social media and the Business Imperative, Communicating Effectively, and the final project. Other possible electives include Reputation Management, Generating Growth And Innovation, Leveraging Information Technology For A Competitive Advantage, and Global Marketing Strategies. The curriculum throughout the program focuses on providing students with a comprehensive foundation and the principles necessary for creative and flexible thinking in the field. A total of 36 credits, or 12 courses, are required to graduate from the Master's Degree program.
---
14. Cleveland State University (Cleveland, OH)
The College of Liberal Arts and Social Sciences School of Communication at Cleveland State University offers a Bachelor of Arts in Communication Management which prepares students for entry level work in the field or to continue with further education. A typical 128 credit hour undergraduate program, students have the option of selecting between two areas of concentration, Health and Mediation or Organizational Communication and Leadership. A total of 40 credit hours should be dedicated to the major. There are five sequences that all students will complete before graduation, Relational Communication, Intercultural Communication, Organizational Communication, and Health Communication and Mediation. All majors are also expected to complete the courses of Principles of Communication and Communication Inquiry with a minimum grade of C. Other possible classes include Gender and Communication, Communication and Conflict, Intercultural Communication, Family Communication, Nonverbal Communication, and Persuasive Communication and Attitude Change.
---
15. Concordia University, Saint Paul (Saint Paul, MN)
As a Christian liberal arts institution of higher education, Concordia University provides its graduate students with an on campus or fully online distance learning program in Strategic Communication Management. This Master of Arts in Strategic Communication Management degree consists of 36 credit hours with courses running for seven weeks at a time. Ideal for those with professional experience or the desire to advance their careers, this degree is both flexible in scheduling and comprehensive in scope. Possible class topics include Interactive Media Management, Leadership Communication, Media Strategies, Crisis Communication Management, Innovative Communication, Intercultural Communication, and Persuasive Communication. Courses are weighted at three credits each. Similar programs offered at Concordia University include the Master of Arts in Human Resource Management, the Master of Arts in Leadership and Management, and the Master of Business Administration.
---
16. Towson University (Towson, MD)
The Department of Mass Communication and Communication Studies at Towson University provides a curriculum which emphasizes strategic public relations and integrated communications. Available at a part time or full time basis, students may take up to seven years to complete the 15 units of required classes. These courses include Communication Theory, Public Relations and Organizational Communication, Quantitative Research Methods in Communication, Qualitative Research Methods in Communication, and Mass Communication and Culture. Other possible electives include Criticism in Mass Media, Managing Communication in a Diverse Society, Crisis Communication, Conference and Meeting Management, and Public Relations for Non-Profit Organizations. Students looking for convenient scheduling can also take advantage of the evening courses offered. At the completion of the program students may choose to research a Thesis paper or study for Comprehensive Exams.
---
17. Webster University (Webster Groves, MI)
Qualified applicants to the Master of Arts in Communication Management at Webster University will have previous educational background knowledge or quality professional experience in a communication related field. Those admitted to the program may be required to enroll in six hours of prerequisite undergraduate course work before advancing.
This course work does not count towards graduation, nor does it guarantee advancement to candidacy. The Master's degree requires 36 credit hours for completion which may be taken on campus or online. Core course work includes Media Communications, Strategic Communications, Media and Culture, Organizational Communications, Media Organization and Regulations, Media Production Management, and the Seminar in Media Communications. A minimum of 15 credits hours must be dedicated to electives including classes such as Managing Human Resources, Media Communications Technology, and Crisis Management Communications. All courses are weighted at three credits a piece.
---
For further information about the field of Communication, see our Interview with Communication expert Dr. Martin Medhurst.
Find Your Degree!