The Best Bachelor's in Journalism Programs

| Rank | School | Location |
| --- | --- | --- |
| 1 | Northwestern University | Evanston, Illinois |
| 2 | New York University | New York, NY |
| 3 | University of Missouri, Columbia | Columbia, MO |
| 4 | Stanford University | Stanford, CA |
| 5 | The University of Texas at Austin | Austin, TX |
| 6 | University of Maryland - College Park | College Park, MD |
| 7 | Syracuse University | Syracuse, New York |
| 8 | University of North Carolina at Chapel Hill | Chapel Hill, NC |
| 9 | The George Washington University | Washington, D.C. |
| 10 | University of Illinois, Urbana-Champaign | Champaign, IL |
About This Ranking
This is a ranking of the best Bachelor's in Journalism Programs in the U.S. This ranking is designed for students to make informed college and degree decisions for studying Journalism.
Many college students who value finding and reporting truth, advocating for their communities, and learning about vast subjects with specificity might find a journalism major to be a good fit. Students will learn how to craft news stories across platforms - including multimedia news that prepares students for the digital newsroom.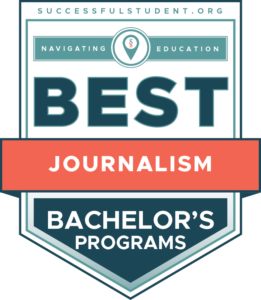 In many of these prestigious programs, students will have the choice to focus on news reporting, magazine reporting, broadcast journalism, or photography or audio journalism. Beyond that, many programs offer specializations or concentrations to best prepare students to enter a multimedia newsroom of their choosing.
Most journalism programs listed here have student newspapers, student news stations, student radio stations or student magazines attached to them that many students find enriching to their coursework. After they put their skills into practice, many find themselves working at internships at their school or beyond during the school year or summer.
Earning an undergraduate degree in journalism can lead to many careers beyond reporting, including working in public relations, communication, or law school. Undergrad students may pursue graduate programs for a competitive advantage in Journalism. Master's degrees in Investigative Journalism are a specialization option open to grad students.
Featured Online Journalism Degrees: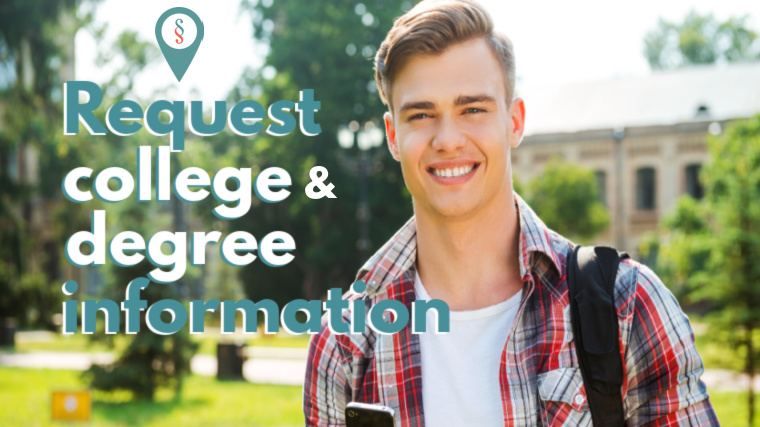 The Best Bachelor's in Journalism Programs
Northwestern University
Medill School of Journalism, Media, Integrated Marketing Communications
Evanston, Illinois
The Bachelor of Science in Journalism Degree at Northwestern University's Medill School of Journalism, Media, Integrated Marketing Communications offers students the opportunity to study journalism with intensity at a global scale. Beyond the required journalism residency program, which lets students study in a professional newsroom either across the country or the globe, Medill also boasts newsrooms in Washington, D.C. and San Francisco.
Before students immerse themselves in professional journalism experiences, the first year core courses will ensure all students learn the Medill style of writing and reporting. All students are required to select a concentration outside the school to enhance their breadth of knowledge for a well-rounded education, as well giving them a chance to explore their specific interests to later study in their journalism electives.
At Northwestern, you'll have the chance to attend world-class lectures, engage in the Evanston community through local journalism, or even join the Knight Lab to develop new technology for journalists.
Credit requirements: 45 credits
Selection of required core courses:
Philosophy of Modern Journalism
Media History: Power, Protest and Passion
Journalism Residency: US, Argentina, Qatar, South Africa
Multimedia Storytelling
Admissions and transfer credit information: Prospective undergraduates should apply to Northwestern directly and select journalism as their intended major. High school transcripts, two letters of recommendation, the Common App, and SAT and ACT scores are required.
Accreditation: Northwestern University is accredited by the Higher Learning Commission (HLC).
New York University
New York, NY
The Bachelor of Arts in Journalism at New York University lets students study in a major journalism hub while learning practical and theoretical approaches to journalism. Students will not only learn how to craft clean, ethical stories, they will also study the cultural impact of journalism throughout history and the social role of the journalist.
All journalism majors are required to enhance their liberal arts education by adding a second major to complement their studies. Some students also choose to work at professional publications, taking advantage of the school's position in New York, or joining NYU publications.
Journalism majors must specialize in either the print/online or broadcast track in order to narrow in their focus in their later courses.
Credit requirements: 32 units
Core courses:
Investigating Journalism: Ethics and Practice
Journalistic Inquiry: the Written Word
Reporting Multimedia
The Beat
Advanced Reporting
Admissions and transfer credit information: Interested students should apply directly to the NYU College of Arts and Sciences. To declare the journalism major, you will need to complete Investigating Journalism (JOUR-UA 50) or Journalistic Inquiry: The Written Word (JOUR-UA 101) with a grade of C or better. In order to transfer into the program, you must be a part of the College of Arts and Sciences.
Accreditation: NYU Journalism is accredited by The Accrediting Council on Education in Journalism and Mass Communications (ACEJMC).
University of Missouri, Columbia
Columbia, MO
The Bachelor of Journalism program at the University of Missouri at Columbia is structured around students operating as real, working journalists while in school. Outside course work, students have the opportunity to report live for local TV stations, create podcasts or radio stories for the radio station, or write or edit articles for multi-platform magazines, including Vox.
Their specialized coursework will prepare them to think critically, report thoroughly and write concisely. Students also concentrate in a variety of areas to enhance their practical expertise, including: Arts and Culture Journalism, Art Direction, Investigative and Data Journalism, Strategic Communication Research, and Visual Editing and Management.
Graduates often find work immediately in newsrooms, as their degree experience lets employers know this is not their first day on the job.
Credit requirements: 120 credits
Selection of required courses:
Principles of Journalism in Democracy
History of American Journalism
Cross-Cultural Journalism
Audiences and Persuasion
Admissions and transfer credit information: After gaining admission to the University of Missouri, students must also be admitted to the School of Journalism to pursue the Bachelor of Journalism degree. The School of Journalism accepts some direct-admits to the program who have proved their academic merit in high school but also accepts pre-journalism students.
Accreditation: The B.J. program is accredited by the Accrediting Council on Education in Journalism and Mass Communications (ACEJMC).
Stanford University
Stanford, CA
Stanford University's Bachelor of Arts in Communication with a Pathway in Journalism provides experiences in data journalism and storytelling that equips communications students to produce accountable, verified reporting. The pathway program lets undergraduates aiming for future careers in journalism take advantage of the rigor of a Stanford education to bolster their resume and confidence in journalism.
After taking their core courses on the fundamentals of communication as required by the major, students interested in journalism can choose the journalism pathway to tailor their curriculum to their interests and career goals. The pathway does not appear officially on students' transcripts, but it does allow students to gain experience in their future field by organizing their electives.
Many students also choose to pursue journalism-related internships to further bolster their resume and expertise before applying to graduate school or entering the workforce.
Credit requirements: up to 60 credits
Selection of courses:
Constitutional Law
Sports Journalism
Narrative Journalism
Becoming a Watchdog
Perspectives on American Journalism
Admission and transfer credit information: Freshman applicants should be prepared to submit a Common Application, their ACT or SAT scores, official transcripts and letters of recommendation. No more than 10 units of transfer credit may be applied to meet departmental requirements for the major, and no more than 5 credits for the minor.
Accreditation: Stanford University is accredited by the Accrediting Commission for Senior Colleges and Universities of the Western Association of Schools and Colleges (WASC).
The University of Texas at Austin
Austin, TX
Earning a Bachelor of Arts in Journalism at the University of Texas at Austin gives young journalists the hard skills to investigate and report with tact and then focus their efforts into crafting a digital portfolio that serves as a resume into the work force after graduation. This hybrid curriculum lets students demolish the outmoded walls between print, broadcast, photo, and multimedia while still allowing for specialization in course selection.
Students have access to a variety of journalism programs and centers tangential to their main courses. They can deepen their knowledge and pad their resume with the Institute for Media Innovation, the local NPR station, or by studying abroad at institutes in Australia, China and Prague.
The Journalism School also boasts a large number of student organizations that bring a social aspect to the profession and give students outlets to put their work in the classroom to the test. Join like-minded students with organizations like ORANGE Magazine, the campus magazine, the UT National Society of Black Journalists, or Kappa Tau Alpha, the national honors society for journalists.
Credit requirements: 120 credits with 36 credits in the journalism courses
Selection of courses:
Narrative Journalism
Advanced Television Reporting
Online Incivility
Reporting Sports
Intro Coding for Journalists
Admission and transfer credit information: Admissions decisions are through the UT Austin main admissions office with the ApplyTexas or Coalition for College application, essays, transcripts and test scores.
Accreditation: UT Austin is accredited by the Southern Association of Colleges and Schools Commission on Colleges.
University of Maryland - College Park
College Park, MD
Through the Bachelor of Arts in Journalism at the Merrill College of Journalism, students study with professional journalists, many of whom are still active in the field. These professionals put student's skills to the test in the classroom and in the Washington-Baltimore area with leading national news organizations right off campus.
The Merrill College of Journalism boasts small class sizes, with no skills-based course having more than 20 students. Small class sizes ensure that learning goals are met and that students get individual attention from their professors. All journalism students begin with courses covering the basics of journalism in a digital landscape: news photography, videography, audio journalism and editing, web production, and digital storytelling.
Within the major, students may choose to focus on one of four 9-18 credit specializations, including data, sports, investigative or broadcast journalism. Students have still more options for customization, like courses in public affairs, health reporting, or business reporting. Students interested in investigative reporting, broadcast, and sports journalism will have the chance to push their education to the next level.
With internship possibilities at leading news organizations, like USA Today, National Geographic, The Undefeated, SiriusXM Radio and CBS News, Philip Merill College of Journalism students get the chance to put their skills to the test.
Credit requirements: 122 credits minimum
Selected courses:
News Videography
Computer-assisted Reporting
Sports, Society, Culture and the Media
Interactive Design and Development
Admissions and transfer credit information: The Philip Merrill College of Journalism is a Limited Enrollment Programs at the University of Maryland, meaning the college's retention standards are higher than the university's. Therefore, available freshmen seats may be limited and admissions will be based on high school performance. Admissions requires test scores, recommendations and transcripts.
No more than 12 credits may be transferred from another accredited journalism program.
Accreditation: The Philip Merrill College of Journalism is accredited by the Accrediting Council on Education in Journalism and Mass Communications.
Syracuse University
Syracuse, New York
At the Newhouse School of Communications, students can earn either a Bachelor of Arts in Magazine, News and Digital Journalism or a Bachelor of Arts in Broadcast and Digital Journalism. Both programs boast small class sizes, guaranteeing personal feedback from professors who are currently working as journalists in their field or who have had successful careers. The faculty comes from nationally-recognized magazines, news organizations, and websites.
In the Magazine, News and Digital program, there are still more options to specialize courses of study, including social media, critical writing, political reporting, data journalism, web innovation or designing interactivity. As a senior, students work on a group capstone project or develop their writing portfolio to best launch them into the workplace.
In the Broadcast and Digital Journalism program, students can learn broadcast news from in front of or behind the camera with opportunities to work at the campus news station and opportunities to intern beyond Newhouse. Students learn how to shoot and edit news packages, whether for broadcast or for radio or any multimedia form, and still have the chance to perfect their writing skills. As a broadcast student, choose to study electives including political and sports reporting; web journalism and interactive media; and broadcast management.
Any journalism student has the opportunity to participate in campus media organizations like the campus news station and paper, community news sources, and the campus magazine. Many students take advantage of the faculty's connections to find internships across the country and in New York City.
Credit requirements: 38 credits
Selected courses:
Cross-Media News Writing
Diversity and Media Issues
Business and Ethics of Journalism in a Changing World
Newspaper Editing
TV & Digital News Producing and Presenting
Admission and transfer credit information: Admissions to the Newhouse School begins with admissions to Syracuse university, which requires a high school transcript, SAT or ACT scores, two teacher letters of recommendation and one from a guidance counselor, and the Common Application.
Admissions decisions for external transfer students are made by the SU Office of Admissions in collaboration with Newhouse's Office for Student Affairs.
Accreditation: The Newhouse School is accredited by the Association for Education in Journalism and Mass Communication.
University of North Carolina at Chapel Hill
Chapel Hill, NC
The Hussman School of Journalism and Media offers several majors, including a Bachelor of Arts in Media and Journalism. The school is guided by the philosophy that journalists must understand the political, social, economic, and cultural forces that operate within society to be the best informers, watch dogs and community leaders they are called to be. Students acquire knowledge in the humanities, social science and natural sciences as they study the traditional elements of journalism.
Hussman holds nine Hearst Journalism awards after its most recent win in at the 2019 Hearst Journalism Awards national championship in collegiate journalism. Hearsts are awarded during year-long competitions for college journalists.
The young journalists will have the chance to study grammar and precise writing with intensity. All journalism students must score at least 70 percent on the school's usage and grammar examination as a condition for graduation. This intensity is a contributing factor to their students' high success rate. Hussman reports that 93.4 percent of recent graduates are either employed or enrolled in higher education.
Reporting is just one of many paths students can take within the curriculum. Other paths, besides reporting, include advertising, broadcast and electronic journalism, business journalism, editing and graphic design, interactive multimedia, photo and video journalism, and public relations.
Credit requirements: 45 credits, at least half of which are major courses
Selected courses:
Opinion Writing
Publication Design
Infographics
Interactive Media
Business Reporting
Environmental and Science Reporting
Admission and transfer credit information: First time applicants must submit official transcripts, standardized test scores, and three letters of recommendation (one from a counselor and two from teachers). Admissions to the major is open to UNC-Chapel Hill undergraduate students who have completed or are completing 45 credit hours and are in good academic standing.
Accreditation: The Hussman School of Journalism and Media is accredited by the Accrediting Council on Education in Journalism and Mass Communications (ACEJMC).
The George Washington University
Washington, D.C.
Earning a Bachelor of Arts with a Major in Journalism and Mass Communication at George Washington University gives rising journalists an abundance of opportunities inside and outside the classroom to further their career aspirations and personal interests.
Students take on an intensive coursework through the University and through specific academic courses that prepare them for the rigorous task of reporting and communicating in a globalized media landscape.
The School of Media and Public Affairs hosts many institutes that students can become involved in. Students can continue their journalistic research alongside other students, professional journalists, and community leaders by working with the American Communities Project, The Documentary Center, the Institute for Public Diplomacy and Global Communication, the Media and Peacebuilding Project, Planet Forward, or the Project for Media and National Security.
A degree in journalism from GW provides students with a comprehensive learning experience, often encompassing study abroad opportunities anywhere from a week to a year long and the chance to internship with exclusive partners to the University. Many students study abroad either with the School or with the University their junior year, letting their studies take them overseas to Paris, the Middle East, Australia, and many more options.
In their junior and senior year, students are encouraged to apply for internships through the School's exclusive internship database. Past internships have been hosted at news organizations, federal agencies, lobbying and political firms, digital media companies, advocacy groups and congressional press offices.
Credit requirements: 56 credits minimum
Selection of courses:
Public Opinion
Photojournalism
Media and Foreign Policy
Media in the Developing World
Comparative Media Systems
Admissions and transfer credit information: Current George Washington University undergraduates and high school seniors are welcome to apply to the School of Media and Public Affairs. Prospective students should complete the GW application and then explain their interest in studying either journalism or political communication in the supplementary essay prompt on the GW application.
Accreditation: George Washington University is accredited by the Middle States Commission on Higher Education (MSCHE).
University of Illinois, Urbana-Champaign
Champaign, IL
The College of Media at the University of Illinois manages the Department of Journalism. The Department offers a comprehensive array of degree opportunities including the Bachelor of Science in Journalism. Through this program undergraduate students receive a broad foundation in the theory, practice, media outlets, and leadership skills that are key to success in the Journalism field. Students have access to the Richmond Teaching Studio which provides the experience of a working newsroom. Students are able to routinely publish in several of the University's news outlets as well as the local newspaper.
The student's undergraduate experiences prepare them for both entry level positions in the field and for further education. The Department of Journalism also offers a dual BS/MJ in Journalism, MS in Journalism, and a PhD in Communications. Students also have access to the Institute of Communications Research which allows for interdisciplinary research, networking opportunities, and graduate level studies.
Credit requirements: 124 total hours, 51-52 of which must be from the College of Media
Selection of required courses:
News-gathering Across Platforms
Multimedia Reporting
Journalism Ethics and Diversity
Media Law
Admissions and transfer credit information: Incoming freshman must submit high school transcripts, answers to two provided essay questions, standardized test scores, and any supportive supplemental material such as extra curricular activities.
Admissions does accept transfer credits and encourages students to use the University's online Transfer Guide.
Accreditation: The Department of Journalism's undergraduate program receives accreditation from the Accrediting Council on Education in Journalism and Mass Communications. The University of Illinois receives accreditation from the Higher Learning Commission.
Ranking Guidelines
At SuccessfulStudent.org, we rank schools and programs for the benefit of students, to help students navigate education by understanding their educational options for the best bachelor's programs in Journalism. To do this, we consulted data from the National Center for Education Statistics, and each school's academic influence. We rank schools that have had the most influence in Journalism by their faculty and alumni in publications and citations.
We then singled out the bachelor's programs, and determined what ranking criteria would be most beneficial to students. As such we ranked the programs that offer bachelor's degrees in Journalism in particular (and what particular degrees), the variety of the coursework of the programs, and the school's academic reputation. For more information on our ranking methodology see our College Calculator.
Online Bachelor's in Journalism: Request College and Degree Information