Successful Student has compiled the best Online Colleges that accept GED Graduates. Successful Student has identified which schools are particularly good for GED high school graduates by accepting a high number of applicants with a GED.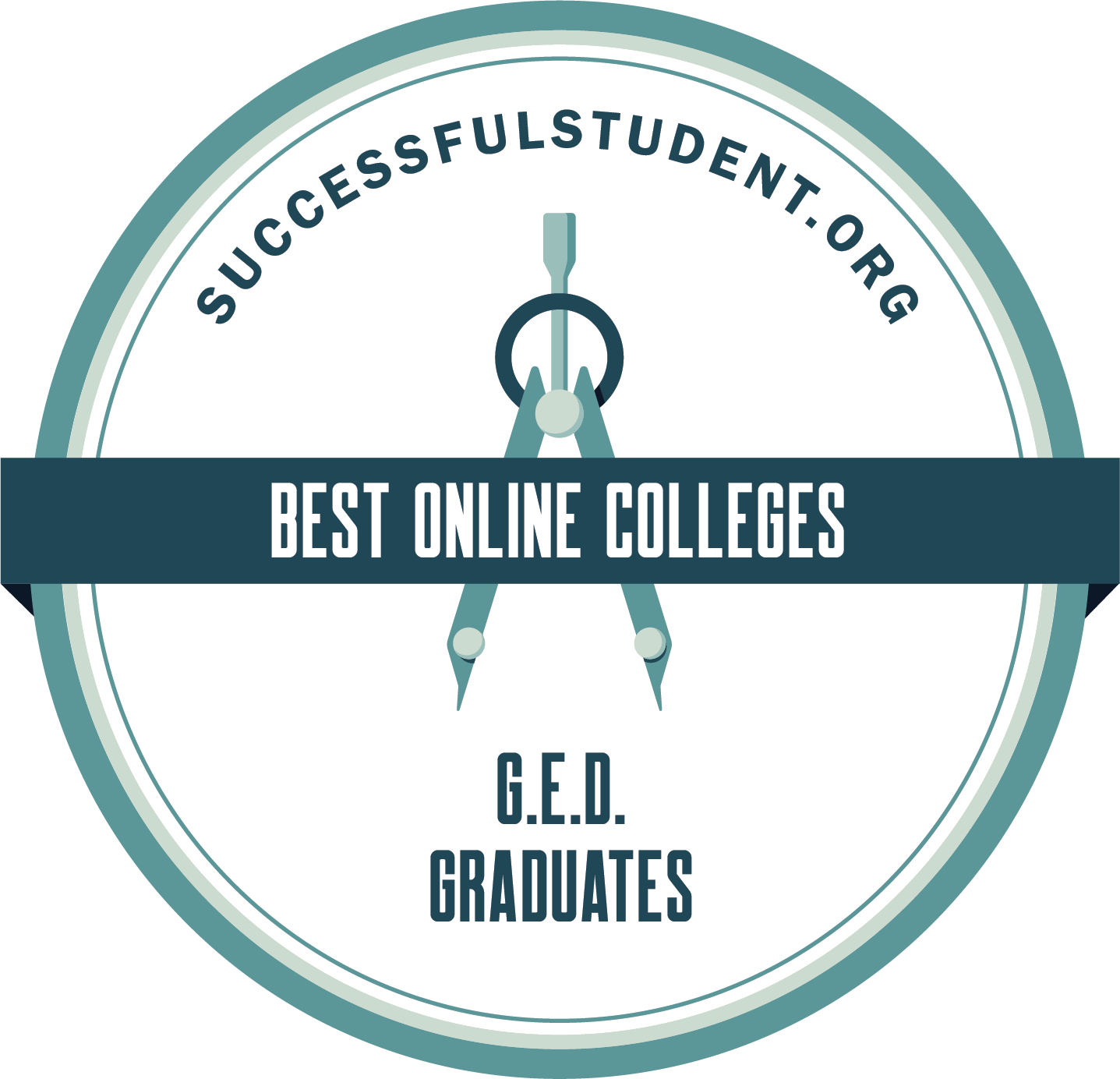 GED holders are a diverse group of graduates. Some left high school for financial concerns, or had their education interrupted by larger life issues, and some felt that the high school curriculum was moving too slowly, or just got distracted in their youth.
Whatever the reason, there is a sizable number of people who have taken an alternative path to their high school education and are now interested in doing so with college.
Not surprisingly, GED holders are becoming ever more interested in these opportunities. But GED holders often find themselves in unusual circumstances.
They are the sort of people who left high school to gain work experience, and who are at a later stage in life and possibly not able to leave their other commitments to go study at a brick and motor school. And the sort of people who benefit from the flexibility and affordability that online degrees offer, and non-traditional approaches to education.
Related:
The Best Online Colleges that Accept GED Graduates
The Best Online Colleges that Accept GED Graduates

| Rank | School | Location |
| --- | --- | --- |
| 1 | Southern New Hampshire University | Hooksett, NH |
| 2 | Liberty University | Lynchburg, VA |
| 3 | Purdue University Global | Chicago, IL |
| 4 | Grand Canyon University | Phoenix, AZ |
| 5 | Rasmussen College | Bloomington, MN |
| 6 | Ohio Christian University | Circleville, OH |
| 7 | University of Illinois at Chicago | Chicago, IL |
| 8 | Saint Leo University | Saint Leo, FL |
| 9 | Colorado Christian University | Lakewood, CO |
| 10 | AZUSA Pacific University College | Azusa, CA |
| 11 | ECPI University | Virginia Beach, VA |
| 12 | Rocky Mountain College of Art and Design | Lakewood, CO |
| 13 | Post University | Waterbury, CT |
Southern New Hampshire University
Hooksett, NH
Since its founding in 1932 by Harry A.B. Shapiro and his wife Gertrude Crockett Shapiro, Southern New Hampshire University has grown in leaps and bounds in both reputation and academic prestige. Originally opened as the New Hampshire School of Accounting and Secretarial Science, the school became a private, non-profit institution in 1969 and obtained the status of a university in 2007.
Founded in 1932 as a school of accounting and secretarial science, Southern New Hampshire University (SHNU) has grown into one of the most dynamic non-profit private universities in the country.
SNHU offers more than 200 programs ranging from certificates to doctoral-level degrees in a range of subject areas such as liberal arts, business, social sciences, and more. Faculty members have real-world expertise in their field.
SHNU prides itself in being affordable. It has one of the lowest tuition rates in the country - and hasn't raised tuition since 2012.
SHNU has more than 3,000 on-campus students, more than 90,000 online students and an alumni network of more than 100,000. Its students have access to admissions counselors and their own dedicates academic adviser to help ensure academic success.
With a range of webinars, internship opportunities, tutoring and other world-class student services, SHNU helps prepare graduates to enter or advance in the workplace.
SNHU is comprised of the following Colleges:
College for America
College of Engineering, Technology and Aeronautics
College of Online and Continuing Education
School of Arts and Sciences
School of Business
School of Education
Today there are over 200 online and on-campus programs offered in a variety of fields, all of which have been accredited by the New England Association of Schools and Colleges.
Popular Online Degrees:
Business
Computer Science
Engineering
Healthcare
Education
Criminal Justice
Communication
The diverse student body consists of more than 3,000 on-campus students and over 80,000 online students. With such a vast online student enrollment, SNHU has numerous online educational services to aid with student success including:
Writing Center
Tutoring
Career Services
Academic Advising
Tech Support
Online Library
Online Bookstore
SNHU holds the record for becoming the first carbon-neutral institution of higher education in the state of New Hampshire, with a net value of zero carbon emissions.
Get Information
Liberty University
Lynchburg, VA
Well-known as the largest private, nonprofit university in the nation, and the largest Christian university in the world, Liberty University takes pride in the flexible and affordable options it provides to students of all kinds.
Founded in 1971, Liberty today has over 14,500 enrolled on campus and over 95,000 enrolled online.
Students may choose from over 522 unique programs of study which are available through 16 colleges and schools, including 349 resident programs and 247 online programs.
Liberty employs over 2,500 full and part-time faculty members. The student to teacher ratio is on average 19:1. For students taking online classes the ratio is approximately 17:1. Online academic tools include the online library, the online Writing Center, and the Liberty Online Communities.
Get Information
Purdue University Global
Chicago, IL
Part of the Purdue University System, Purdue University Global provides 180 degrees in a range of topics at the associate, bachelor, master and doctoral levels.
Purdue University Global enrolls about 30,000 students who attend class mainly online, but there are also 14 locations in seven states. Purdue University Global has seven schools and colleges.
The University offers traditional programs as well as competency-based education, which allows students to earn credit for professional and military training, enabling them to earn their degrees faster and for less money. Online students have access to innovative learning options and academic advising.
Through the Purdue Global Commitment, students can take advantage of a three-week introductory period to see if online learning is right for them.
Grand Canyon University
Phoenix, AZ
Grand Canyon University was founded in 1949 in association with the Southern Baptist Church. The school has maintained the status of being the premier private university in Arizona. There are six campus locations, five in Arizona and one in New Mexico, in addition to distance learning options.
The numerous academic programs are divided into eight colleges: Humanities and Social Sciences, Theology, Education, Doctoral studies, Fine Arts and Production, Nursing and Healthcare Professions, Business, and Science/Engineering and Technology.
In an effort to increase the flexibility and availability of programs to students, a new evening format has been implemented. Students are now able to take one class at a time and meet only one night per week in an effort to complete their degree programs.
Get Information
Rasmussen College
Bloomington, MN
Rasmussen College was founded in 1900 by Walter Rasmussen who had a desire to teach skill professionals for the local community. Now the College has campus locations in six states across America.
The academic division is organized into seven schools:
Health Sciences
Design
Business
Justice Studies
Education
Nursing
Technology
There are over 70 programs offering certificates, diplomas, associates, and bachelor's degrees to more than 13,000 enrolled students.
The online initiative began in 2002 and has expanded into all forms of social media platforms from blogs and Facebook to Foursquare and Pinterest. Over 20 degree option for online students. Tutoring and technical support team members are available 24/7. Classes range from 15 to 30 students.
Ohio Christian University
Circleville, OH
Affiliated with the Churches of Christ in Christian Union, Ohio Christian University is a private institution established in 1948 originally as the Mount of Praise Bible College.
In 2006 the school received regional accreditation and officially changed its name to Ohio Christian University. The school offers Associate, Bachelor, and Master's degree programs in a variety of disciplines. With over 4,000 students enrolled, Ohio Christian is able to maintain a small 10:1 student to teacher ratio.
Students can keep up to date with school events and discussions through various social media sites including Twitter, Instagram, and LinkedIn. Online students will take classes at an easy one-at-a-time pace to work towards an Associate or Bachelor's degree. In addition to the usual residential and online graduate and undergraduate programs, Ohio Christian allows high school students to complete college level courses through the Trailblazer Academy.
University of Illinois at Chicago
Chicago, IL
Established in 1858 the University of Illinois went from humble beginnings to a state-funded, public, research-intensive institution, now seen as one of the largest schools in the Chicago area.
The University also maintains one of the largest medical schools in the Unites States with a corresponding teaching and children's hospital. There are over 2,600 academic staff members employed and more than 29,000 students enrolled at the school.
Within its large student body, UIC has been recognized as one of the top five most diverse campuses in the nation. A total of 83 Bachelor's degrees, 93 Master's degrees, and 64 Doctoral degrees are available for students to choose from. The academic programs are organized into 15 Colleges in addition to the online format.
Saint Leo University
Saint Leo, FL
Originally founded in 1889, Saint Leo University is a non-profit, private institution for higher education affiliated with the Roman Catholic Church, and is recognized as the oldest Catholic University in Florida.
Online and distance education started at Saint Leo's in 1973 during the Vietnam war when the school reached out to education military men and women, though the official Center for Online Learning was formally established in 1998.
The military relationship has continued to this day with online classes available at dozens of military bases. Saint Leo's has been noted as one of the largest providers of higher education to military-related personnel. There are 40 degree programs ranging from Associate to Doctoral studies with approximately 6,000 students currently enrolled.
Colorado Christian University
Lakewood, CO
Colorado Christian University started as the classic one-room school house back in 1914. It was known then as the Denver Bible Institute and had a total of two students and one teacher.
By 1945 the humble school house had grown to include three academic institutions: the College of Liberal Arts, the Theological School, and the Bible Institute.
The University today remains the only evangelical institution of higher learning in the Rocky Mountain region with over 6,000 students enrolled. There are over 100 degree programs offered from Associate to Master's level studies within two schools: the College of Undergraduate Studies and the College of Adult and Graduate Studies.
The school has maintained its emphasis on Christian values and requires students to complete 22.5 hours of community service per semester.
AZUSA Pacific University College
Azusa, CA
AZUSA Pacific University College has established itself as an evangelical Christian University affiliated with the Free Methodists, as well as a number of other Christian denominations.
Founded in 1899, classes opened in March of 1900 and degrees were being offered by 1939. Academically, the school is organized into three colleges: the Honors College, the College of Liberal Arts and Sciences, and the College of Music and the Arts.
There are also seven schools covering Accounting, Adult and Professional Studies, Behavioral and Applied Sciences, Business and Management, Education, Nursing, and Theology. There are over 10,000 students enrolled in the various programs. Students taking classes online will have 33 engaging programs to choose from.
Online classes are taught by the same experienced professors as the on campus classes. The interactive technology allows students to chat with professors and peers, participate in discussion forums, and receive real-time feedback on assignments.
ECPI University
Virginia Beach, VA
ECPI, better known as the East Coast Polytechnic Institute, was founded in 1966 with a dedication to advancing technology in all fields of study. There are 17 programs for students taking online classes to choose from.
In addition to online degrees, ECPI has a total of 19 campus locations with the academic programs organized into five colleges: the College of Technology, the College of Business and Criminal Justice, the College of Nursing, the College of Health Science, and the College of Culinary Arts.
Associate's through Master's level studies are offered, and classes may be taken during the day, evening, online, or on weekends, in 10 five-week sessions, in a year-round, market-based curriculum. Students attending full-time typically take two courses per session.
Rocky Mountain College of Art and Design
Lakewood, CO
The Rocky Mountain College of Art and Design has a unique campus history. Over 100 years ago the Jewish Consumptives' Relief Society created a place for patients with tuberculosis to rest safely.
With no known cure at the time it was thought the fresh air of the mountains would help ease the symptoms of TB. Over time the campus grew to become the largest free tuberculosis treatment facility in the world. Once a cure was discovered the campus became a medical center before being purchased by RMCAD.
The campus has maintained the 18 historical buildings on site which now offer a variety of art classes and facilities including a wood-shop, ceramics studio, photography lab, and professional sound studio. Students who study online will use the Learning Management System, an interactive program which allows students to view course material, communicate with instructors and peers, submit projects, and keep track of work.
Post University
Waterbury, CT
Post University was established in 1890 as the Matoon Shorthand School. From its founding the school was focused on practical training for students.
In the 1890's students could take classes in typing or bookkeeping, today students can focus on equally hands-on areas such as Accounting, Criminal Justice, Legal Studies, and Human Services.
The University began offering degree programs through the Internet in 1996. Now Post offers Bachelor and Master's degrees online, on campus, and during evenings and weekends.
There are 61 undergraduate and graduate degree programs offered 100 percent online and 13 undergraduate and graduate programs that can be completed by taking just evening and weekend classes.
The academic departments are organized into four main schools:
Arts and Sciences
Education
Public Service
Business
The average class size is 16 students on campus and 18 students online.
Online Colleges Ranking Guidelines
We selected the best online colleges for ged holders based on acceptance rates of GED graduates, academic excellence, reputation, and faculty strength.
Frequently Asked Questions
What online colleges can you get into with a GED?
Prospective students should be able to get into any online college with a GED, given that all other admission criteria are met.
Does a GED look bad to colleges?
Not necessarily. Colleges look at the overall admissions requirements when determining student eligibility. Almost all colleges and universities accept students with a GED. However, if the college admission process is competitive, it may be good to bolster the admission application with other accomplishments, such as extra curricular achievements.
Can I get into a university with a GED?
Yes. Students who have a GED can even get admitted into Ivy League schools and other colleges and universities across the U.S. Most universities and colleges accept students who graduated with a GED. Some colleges and universities, however, are more friendly to GED graduates. This is determined by their acceptance rate of students in general.
Is getting a GED worth it?
According to the GED Testing Service, those who have their GED earn $9,000.00 more per year, on average, as compared to no high school diploma, or no GED. Over the course of a person's working life, this amounts to a significant sum of money in the long term. And the benefits can increase if these extra earnings are put to use as with compounding interest. In the scope of working for 50 years, this would mean an extra $450,000.00 in lifetime earnings.