The Best IT Security Colleges Online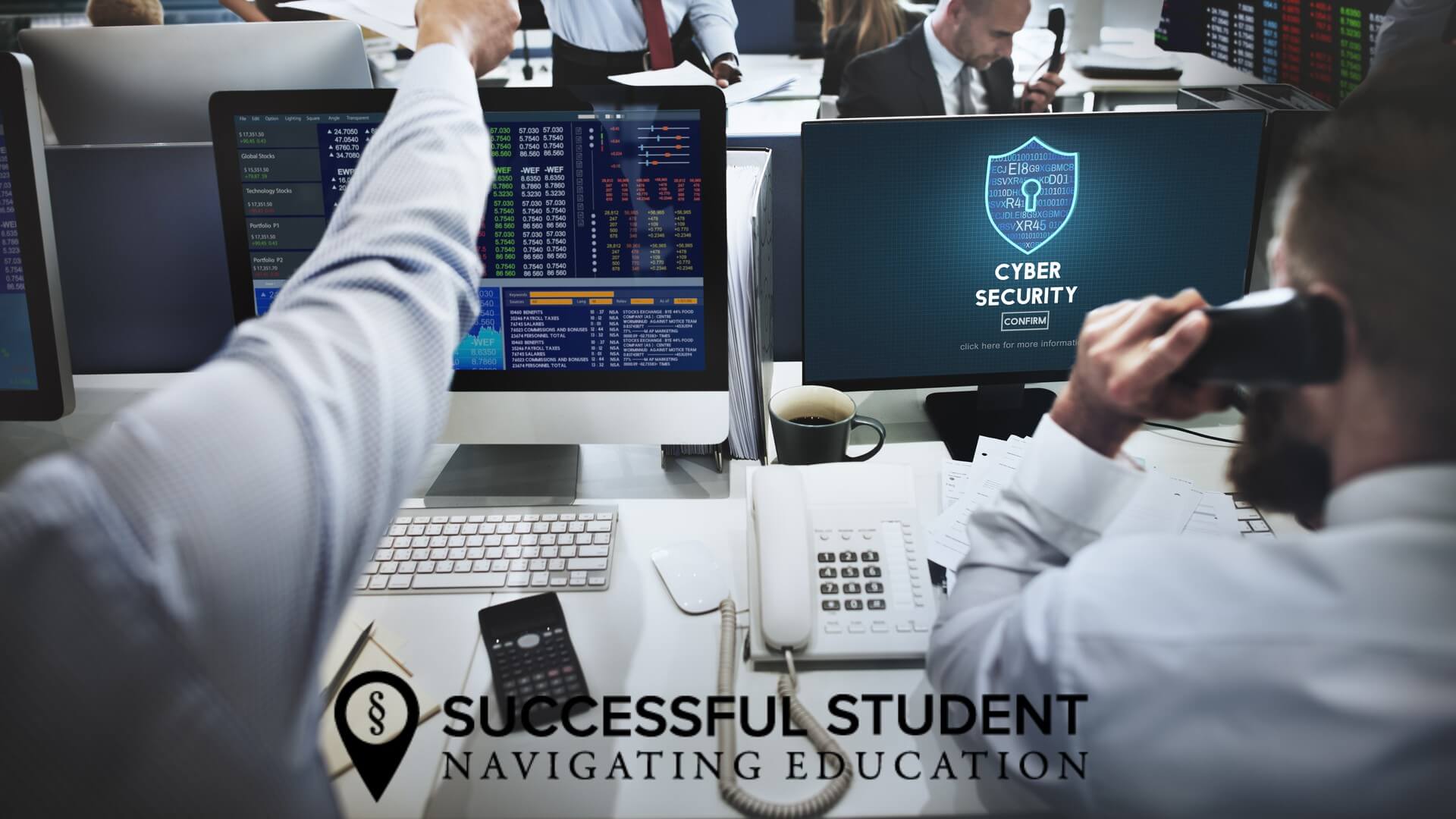 The Best IT Security Colleges Online
The Best IT Security Colleges Online

| Rank | School | Location |
| --- | --- | --- |
| 1 | Pennsylvania State University-World Campus | University Park, Pennsylvania |
| 2 | University of Maryland Global Campus | Adelphi, Maryland |
| 3 | Utica College | Utica, New York |
| 4 | Purdue University Global | Indianapolis, Indiana |
| 5 | Saint Louis University | Saint Louis, Missouri |
| 6 | Robert Morris University | Moon Township, Pennsylvania |
| 7 | Liberty University | Lynchburg, Virginia |
| 8 | Colorado Technical University-Colorado Springs | Colorado Springs, Colorado |
| 9 | American InterContinental University | Chandler, Arizona |
| 10 | Walden University | Minneapolis, Minnesota |
| 11 | Northcentral University | La Jolla, California |
| 12 | Western Governors University | Salt Lake City, Utah |
| 13 | Capella University | Minneapolis, Minnesota |
| 14 | Grantham University | Lenexa, Kansas |
| 15 | University of Phoenix-Arizona | Phoenix, Arizona |
Show More
About The Best IT Security Colleges Online
This is a ranking of the best IT Security Colleges Online in the U.S. Our ranking is designed for students to make informed college and degree decisions.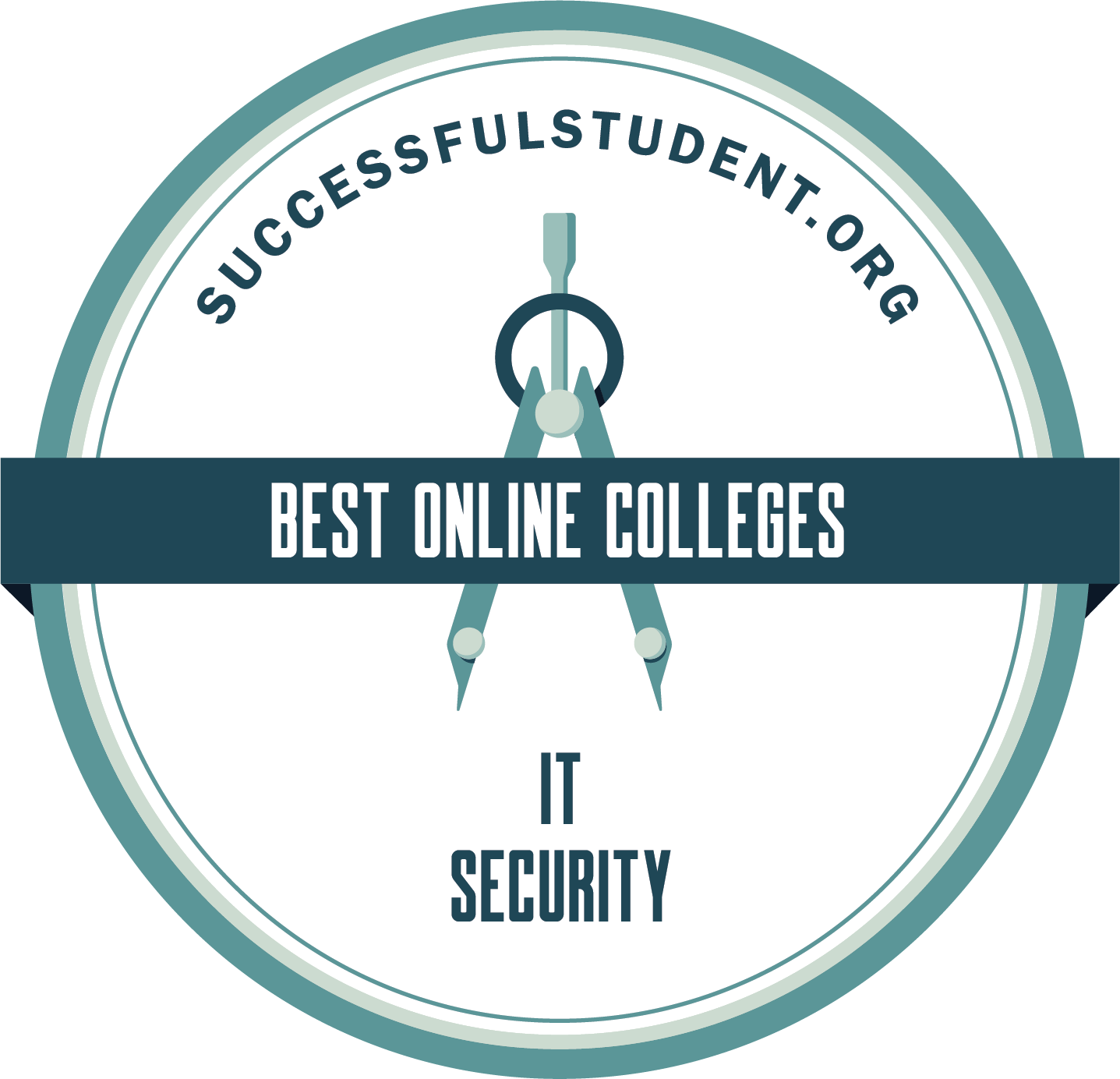 Information, and its flow through the internet, has become the foundation of society, and Information Technology Security (IT Security), also known as Cyber Security, keeps this foundation secure.
Whether the information is personal or commercial, governmental or private, keeping it safe helps keep society functioning. In this modern world created by the interconnectivity of the Internet, security threats loom constantly from all corners of the globe.
As creative as these threats are, so are the IT Security solutions that fight them. IT Security is a field that is in extremely high demand, and all major companies employ IT Security specialists to protect their systems from being hijacked, from corporate espionage, stealing financial information and proprietary trade secrets, etc.
Featured Online Colleges
The Best IT Security Colleges Online
1.
Pennsylvania State University-World Campus
University Park, Pennsylvania
Penn State began offering distance learning degrees well before the internet back in 1892. It consequently has more distance education experience than just about any school, and has built one of the largest and most respected online education systems through the Penn State World Campus.
Penn State's IT Security is a comprehensive program that requires 120 credit hours to complete as an online Bachelor's degree. This includes 22 credit hours of general education. Topics covered for the major include: Programming, Security and Risk Analysis, Networking and Telecommunications. An additional 21 credits are required for the Information and Cyber Security concentration.
A supervised off-campus 1 credit internship is encouraged for students to gain experience in the field. Other suitable activities may be substituted in lieu of the internship for those students with other commitments. Penn State offers an online IT security degree.
The Associates degree, and undergraduate Certificate, are also excellent options. The credit gained through these programs may be applied toward the Bachelor's degree. Students will graduate Penn State's program confident in their ability to identify security risks, maintain privacy levels, and design safer systems.
2.
University of Maryland Global Campus
Adelphi, Maryland
The University of Maryland is a first-rate research center that has produced 6 Nobel Prizes and services roughly 37,000 students while utilizing a 1.7 billion dollar operating budget. It is the flagship public university of its state, and recently completed a $1 billion dollar fundraising campaign. Globally recognized as one of the top cyber-security programs, The University of Maryland Global Campus offers online Certificates, Bachelor's, and Master's level study for students.
The Certificate in Cybersecurity offers a brief introduction to the subject. 12-18 credits are required to complete the training and may be taken entirely online. These credits may be applied to the Bachelor's or Master's programs.
For the Bachelor's degree, 33 credits are required directly related to the major, 120 credits are required for the complete degree including general education.
A minimum GPA of 2.0 must be maintained. Topics covered include ethics in information technology, networking, and evaluating emerging technologies.
Corresponding recommended minors include: Homeland Security, Computer Science, and Terrorism and Critical Infrastructure.
At the Master's level, an additional 36 credit hours are needed, including a 6 credit capstone project. Students who pursue both the Bachelor's and Master's programs together may combine classes for a total of 150 required credits (reducing the total coursework by 3 classes).
3.
Utica College
Utica, New York
Located in central New York, Utica College grew out of Syracuse University's desire to offer extension courses in the 1930's. In 1946 these courses became Utica College, and in 1995 Utica became in independent institution. Thus, the school has been associated with distanced learning since its inception.
Though a relatively small College, the online Bachelor of Science and Master of Science in Cybersecurity degrees have been recognized as cutting-edge programs. Both degrees have strong ties with the college's Center for Identity Management and Information Protection. Students are required to have an Associate's degree, or the equivalent, in order to apply for the Bachelor's program.
The core program requires 49 credit hours for completion. Concentrations within the Bachelor's degree include: Forensics, Cyber Crime and Fraud, Homeland Security, and Cyber Ops with 24, 21, 21, and 21 required credit hours, respectively.
At the Master's level, 3 specializations are offered: Intelligence, which covers global and national security, Computer Forensics, which covers preparing evidence of computer crimes, and Cyber Operations, which covers defending from outside cyber attacks.
4.
Purdue University Global
Indianapolis, Indiana
Part of the world-renowned Purdue University system, Purdue University Global offers a flexible, personalized online experience designed for working adults. Purdue University Global offers 180 online programs, including those at the associate, bachelor, master and doctoral levels.
Purdue University Global offers a Bachelor of Science in Cybersecurity and a Master of Science in Cybersecurity Management. Designed to help students master cybersecurity fundamentals, the 180-credit Bachelor in Cybersecurity degree prepares students to evaluate security trends, understand IT security threats and products, and recognize best practices. The rigorous program includes courses such as Ethical Hacking, Routing and Switching, Linux Security, and Digital Forensics.
The BS in Cybersecurity degree program prepares graduates for careers as a network systems security administrator and security analyst, among others. The University provides an accelerated BS in Cybersecurity to MS in Cybersecurity Management program for students who earn a minimum course grade in select bachelor's degree courses.
The 60-credit Master in Cybersecurity Management allows students to develop, implement, evaluate and update policies and practices organizations use to respond to the cybersecurity landscape. The rigorous program prepares graduates for leadership roles protecting and directing critical information infrastructures. Courses include Wireless, Mobile and Cloud Security; Ethical Hacking and Network Defense; and Platforms, Applications and Data Security.
The MS in Cybersecurity prepares graduates for careers as forensic analyst, security policy analyst, and "ethical hacker." Students can earn credits for their professional and military experiences, enabling them to earn their degree faster. The Higher Learning Commission provides Purdue University Global with accreditation.
Get Information
5.
Saint Louis University
Saint Louis, Missouri
St. Louis University, a private research university located in St. Louis, Missouri. It is the second oldest Jesuit University in America, and operates a second campus in Madrid, Spain. It was the first American University to internationalize itself by opening a free standing campus in Europe. St. Louis University offers Certificate and Bachelor degree training in Cybersecurity and Information Technology.
The Certificate programs can be taken in 60 or 90 hours. These are ideal options for students seeking continuing education credits and can be completed through flexible online classes. At the Bachelor level, classes may be taken both online or on campus. Classes are easy to register for, as new terms begin every eight weeks.
Within the Security and Strategic Intelligence program, 4 concentrations are offered: Business Continuity, Strategic Intelligence (which emphasizes national and corporate security), Global Corporate Security, and Law Enforcement Administration.
Each program requires a total of 120 credit hours to graduate, including general education requirements. Courses are taught by professors who bring first-rate knowledge and first-hand field experience to the classroom.
6.
Robert Morris University
Moon Township, Pennsylvania
Founded in 1921 in Moon, Pennsylvania, Robert Morris University lies in the greater Pittsburgh area. Its online education is directed by two different branches, the Online Student Services Team, which helps students choose their respective program, and the Instructional Design Team, which helps create the curriculum. This translates into a well polished online program.
Robert Morris University offers Bachelor's and Master's degrees in Information Security and Assurance. The Bachelor's program offers a concentration in Cyber Forensics and Information Security. An overall minimum GPA of 2.8 and a GPA of 3.0 in computing courses is required for graduation. 87 – 108 credit hours must be applied to the Bachelor's degree, with a minimum of 18 credits taken at Robert Morris University.
When the Bachelor's and Master's programs are combined, students will receive a 6 credit discount. The graduate courses are very flexible, with 16 week semesters and two 8-week accelerated sessions. Both online and on campus classes are available. If taken separately, the Master's degree requires an additional 30 credits after the Bachelor's. A prerequisite minimum "C" grade or better must be obtained in the undergraduate classes.
7.
Liberty University
Lynchburg, Virginia
Liberty University was an early pioneer of online education. It has utilized distance education since its founding in 1971. This has helped it grow into the largest Christian University in the world. The Certificate in Information Assurance is an 18 credit hour course (or 6 classes) offered in an 8 week format. Classes cover a basic knowledge of networking, data protection, and computer forensics.
This program is designed to enhance a Bachelor's or Master's level knowledge and is excellent for students seeking Continuing Education Credits. The Associate's degree in Information Systems requires 60 credit hours for completion, with a minimum of 15 taken at Liberty University. These classes are an excellent segue into the Bachelor's degree also available through Liberty. These courses prepare students for certification in Cisco and JAVA programs.
The Online Bachelor of Science in Information Technology: Data Networking and Security requires 120 credit hours for completion. A minimum of 30 credits must be taken at Liberty. Cognates include: Application Development, Gaming Technologies, Intelligence, and Web Development.
And finally, the Master of Science in Cyber Security requires 36 credit hours for graduation. Only 6 of these may be transferred in to the program. There are 2 available tracks for students to choose from, Information Assurance and Technology Management.
Get Information
8.
Colorado Technical University-Colorado Springs
Colorado Springs, Colorado
Established in 1965, Colorado Tech was founded by veterans as a vocational school for veterans. CTU now focuses on providing degrees in business, management, and technology to both the military and civilians. CTU started offering online classes in 1995. The Associates of Science in Information Technology requires 93 total credits. Topics covered include: UNIX fundamentals, computer security, programming, and network management. This degree fulfills the requirements for the first 2 years of the Bachelor's program.
The Online Bachelor of Science in Information Technology: Security focuses on programming, security, databases, and ethics.184 credits hours are required for graduation. This is a project-based curriculum, which gives students first-hand experience with information risk management.
The Bachelor's degree track can be followed to the Online Master of Science in Management: Information Systems Security degree, which requires an additional 48 credit hours. This program exposes students to digital forensics, operating systems security, and finishes with an IT capstone project. Specializations in Network and Project Management are also available.
The Online Doctorate in Computer Science: Information Assurance requires 96 credit hours for completion. Students will study the most updated models including CMMI and the Baldridge Process. Through the Information Assurance concentration students will develop the research skills and theoretical applications that will help forecast future issues within the field.
9.
American InterContinental University
Chandler, Arizona
Originally founded in Europe in 1970, American InterContinental University now teaches over 15,000 students and has several brick and mortar campuses, in addition to the online program it lunched in 2001. Graduates can also tap into an alumni network of over 80,000. Both a Bachelor's and Master's level degree are offered online in Information Technology.
The Bachelor's program has two tracks relevant to IT Security: Cyber Security and the Online Bachelor of Science in Information Technology: Information Assurance and Security.
Both programs focus on security software and analyzing and identifying security threats. Although the degree is an impressive 180 credit hours, with 45 specialized credit hours, students use the school's flexible scheduling to finish their degree a year earlier than comparable bachelor programs.
The Master's in Information Assurance and Security, like its Bachelor's kin, crams a large number of credits into a short period of time. It includes 48 credit hours, with 24 specialized credit hours, but only requires 11 months to complete. Through this program students will enhance prior knowledge from their undergraduate studies and will apply this knowledge to their ever-changing industry.
10.
Walden University
Minneapolis, Minnesota
Walden University was founded in 1970 with the intention of providing the full time working adult the best opportunity for advancing his or her education. Unlike most higher learning institutions, Walden initially focused on providing PhD's, and later added lower-level degrees.
Walden has been recognized for excellence in cyber defense education by both the U.S. Department of Homeland Security and the National Security Agency. The school has further ties to the U.S. government through Bill Clinton, who acts as the honorary chancellor of the Laureate International Universities, which includes Walden University.
Walden's Bachelor's degree in Information Technology offers 7 different concentrations, including its Cyber Security and Forensics track. This program focuses on securing confidential information and blocking unauthorized access. 181 total credit hours are required for graduation, including 46 general education requirements and 10 credits for capstone courses.
The Master's in Information Technology offers 4 concentrations, one of which focuses on Information and Cyber Security. This requires 30 credit hours, including 18 specialization credits. Course topics include: operating systems and network architecture, computer crime, law and investigation, and topics in high-assurance computing.
11.
Northcentral University
La Jolla, California
Northcentral University was founded in 1996 and was influenced by the Oxford Learning Model which creates a more personalized learning experience for the individual student. Students are able to work one-on-one with an expert faculty member in each of their respective courses. This mentor relationship is especially helpful in the hands-on subject of information technology.
Under Northcentral's Computer and Information Security program, the university offers an MBA in Computer and Information Security, a Doctor of Business Administration (DBA) in Computer and information Security, and a Doctor of Philosophy of Business Administration: Computer and Information Security.
A Bachelor's level of study is required for admission to these programs. The Master's in Computer and Information Security requires 30 credit hours, including 18 hours of foundational classes. Students will learn managerial skills to lead projects and teams, the latest information security threats and defenses, and how security theory applies to real world IT threats. Students will complete a final research project providing a solution and preventive action to an IT security threat in the workplace.
The DBA in Computer and Information Security program requires 54 credit hours for completion. Students will learn data preservation, identification and extraction, forensic investigations, analysis of systems, and evidence handling, federal and state privacy, intellectual property, search and seizure process, and cyber-crime laws. The PhD requires 60 credits minimum. This specialization trains IT Security professionals in cyber-terrorism, computer forensics, and computer security. This course will qualify graduates for careers in academia, think tank research, and in management and security assessment for the government and private business.
Northcentral allots students 7 years to complete all doctoral programs of 60 credits or less. Graduates leave Northcentral with a working knowledge of cyber forensics, cyber terrorism, information warfare, disaster recovery, and a background in the legal and ethical issues involving IT security. This trains students to be both accomplished technicians and responsible employees.
12.
Western Governors University
Salt Lake City, Utah
In the late 1990's, Western Governors University was founded by 19 U.S. state governors as a non-profit online university, with the goal of offering high level, competent education to everyone with internet access and a will to learn. Keeping students in mind, Western Governors University strives to make college as accessible and affordable as possible.
As such, WGU now serves over 55,000 students, from every state in America. The online Bachelor of Science in Information Technology: Security degree consists of 124 Competency Units (which is equivalent to credit hours). In addition to the degree, students will earn seven certifications in the course, including Cisco Certified Network Associate (CCNA(r)), Cisco Certified Network Associate Security (CCNA(r) Security), and Comp TIA Security+. These seven certifications are included in the coursework and tuition, making this degree very practical for an IT Security career at a great price.
Students with existing IT Certifications can have some degree requirements waived. The acceptance of transfer credits is subject to review by the school and cannot be guaranteed. The course schedule is flexible, and students can study at their own pace. As soon as proficiency is demonstrated in an area, the student can move on to the next class. There is a final Capstone project which students must complete to graduate. WGU is regionally accredited by the Northwest Commission on Colleges and Universities.
The Teachers College at WGU is accredited by the National Council for Accreditation of Teacher Education (NCATE). WGU's nursing programs are also accredited by the Commission on Collegiate Nursing Education (CCNE, One Dupont Circle, NW, Suite 530, Washington DC 20036, 202-867-6791).
13.
Capella University
Minneapolis, Minnesota
Founded as an online school, Capella University is dedicated to providing the highest quality continuing education to working adults through various programs ranging from certificates to doctoral degrees.
The school in 2010 was also one of only 4 schools who received the award for outstanding institutional practice in student learning outcomes by the Council for Higher Education Accreditation. In 2007, Capella was recognized as one of 86 schools by the National Security Agency for its excellence in information assurance education. Under its Information Technology/Information Assurance and Security program, the university offers Bachelor's through PhD degrees, including a Post-Baccalaureate Certification.
The school follows the FlexPath Format which grants students additional versatility by allowing them to turn in assignments at any point during the course. Students use hands on learning via the Capella virtual lab's BackTrack and Metasploit. They also learn how to react to developing problems in real time using simulated hacking through tools like Nessus.
14.
Grantham University
Lenexa, Kansas
Grantham was originally founded by Don Grantham, a WWII veteran, as a university for veterans in 1951. It is now a fully online university that offers over 40 degree plans and attracts students from all backgrounds. Grantham is one of the oldest private distance education universities in America.
Grantham offers a Bachelor of Science in Information Systems Security, which consists of 127 hours (94 core hours and 33 elective hours). This program educates and prepares students to sit for certification exams in Network+, Security+, and CISSP.
Courses include Computer Networks, Management Information Systems, Security Operations, Network Security, Cryptography, and Computer Forensics. Students will gain knowledge of operating systems, security basics, networking, and computer architectures. In addition to learning how to fight security risks, students will learn how IT Security is an essential part of organizational success.
15.
University of Phoenix-Arizona
Phoenix, Arizona
With over 25 years of experience using online education, the University of Phoenix is dedicated to innovative and flexible curriculum for adult students. This is why the school has accumulated an incredible student body of hundreds of thousands, making it arguably the largest educational enterprise in the world. There are two tracks available for students interested in Information Technology at Phoenix.
First is the Online Bachelor of Science in Information Technology with an Information Assurance and Security Certification, and second is the Bachelor of Science in Information Technology with an Advanced Information Systems Security Certification.
Classes will cover a variety of topics including: algorithms and logic for computer programming, web design fundamentals, Java programming, cyber security, and cryptography.
A minimum of 120 credits are required for graduation for both tracks. Classes are taught by professors with experience in the field. Hands-on labs and simulations are also used to enhance students learning experiences.
---
Students may also be interested in our article The Best Homeland Security Colleges Online.
Salary Information
The median salary for Information Security Analysts was $103,590 in May of 2020, according to the Bureau of Labor Statistics. The field is expected to grow 33% between now and the year 2030, creating 47,100 new jobs. IT Security will provide many years of well-paying career stability.
Ranking Methodology
This ranking factors academic reputation, access to online resources and professors, and instruction in current technologies and solution strategies in cybersecurity. As always at Successful Student, this ranking is considered from the student's point of view.
Find Your Degree!