The Best Online Agribusiness Programs

| Rank | School | Location |
| --- | --- | --- |
| 1 | Pennsylvania State University | State College, PA |
| 2 | Oregon State University | Corvallis, OR |
| 3 | Texas A&M University | College Station, TX |
| 4 | Kansas State University Global Campus | Manhattan, KS |
| 5 | The University of Tennessee | Knoxville, Tennessee |
| 6 | Virginia Polytechnic Institute and State University | Blacksburg, Virginia |
| 7 | Utah State University | Logan, UT |
| 8 | Texas Tech University | Lubbock, TX |
| 9 | Purdue University | West Lafayette, IN |
| 10 | Ohio Christian University | Circleville, OH |
| 11 | Southern Arkansas University | (Magnolia, AR) |
| 12 | Colorado State University, Fort Collins | Fort Collins, CO |
| 13 | University of Nebraska, Lincoln | Lincoln, NE |
| 14 | Fort Hays State University, Virtual College | Hays, KS |
| 15 | Washington State University | Pullman, WA |
| 16 | Murray State University | Murray, Kentucky |
Successful Student has ranked the best online Agribusiness programs in the US. Agribusiness is the intersection of business and agriculture.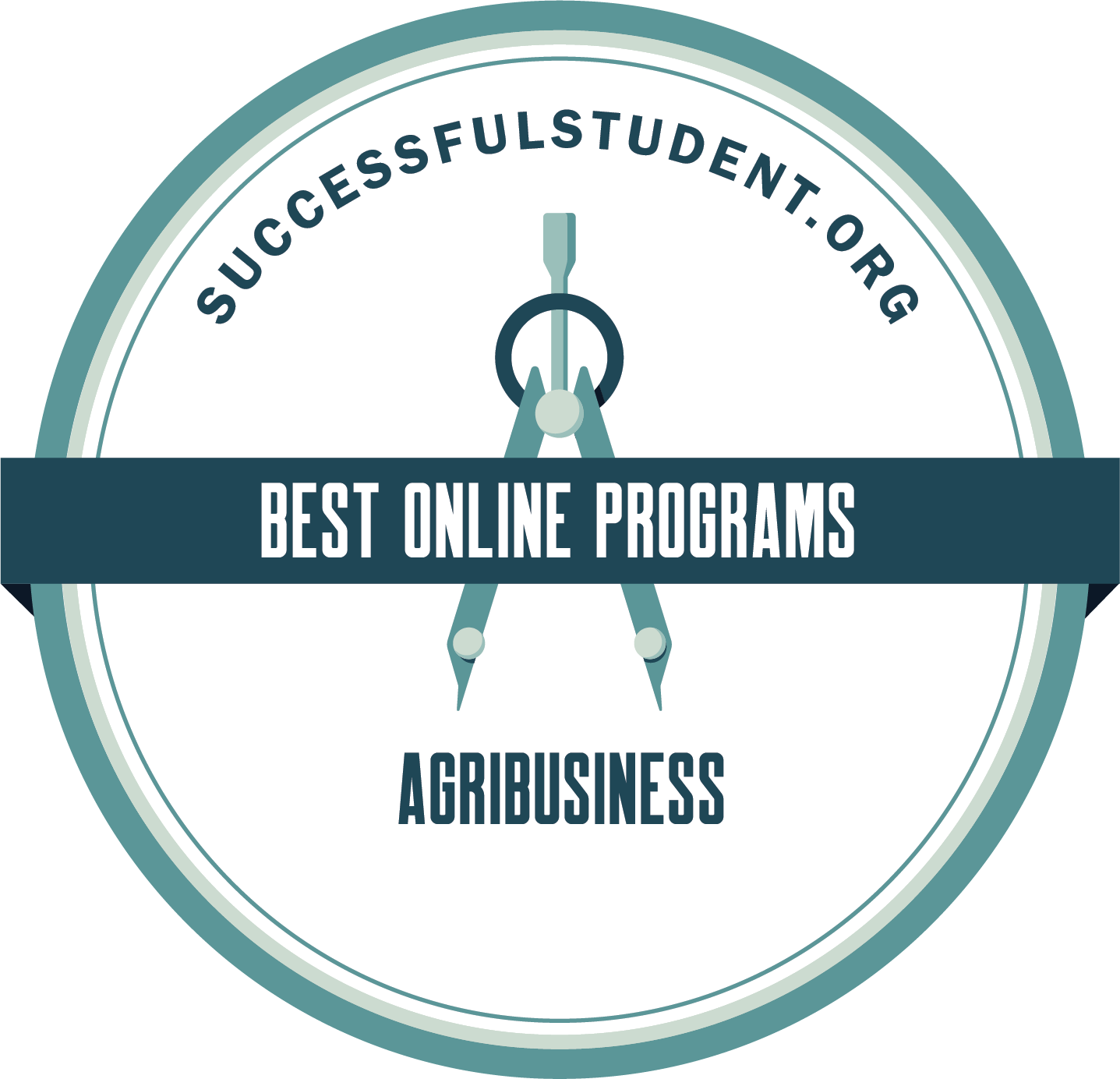 Both business and agriculture are equally necessary to keep the economy afloat and our nation's food supply in stock.
College Agribusiness programs teach students the business side of farming, ranching, and managing livestock and commodities such as wheat, corn, and cotton. Agribusiness students also learn the latest technologies and farming techniques to increase production and yield. Students learn the processing, distribution and downstream market business of agriculture.
These foods and commodities are sold either domestically or internationally. Students may learn sustainable and environmentally friendly farming methods, which may involve recycling practices and soil sustainability.
In the modern agricultural landscape, students may learn about genetically modified crops and proprietary seeds that are owned by individual companies such as Monsanto.
According to data gathered by the Bureau of Labor Statistics, Farmers, Ranchers, and Agricultural Managers had an average salary of $73,060 in 2021.
---
Featured Online Business Degrees: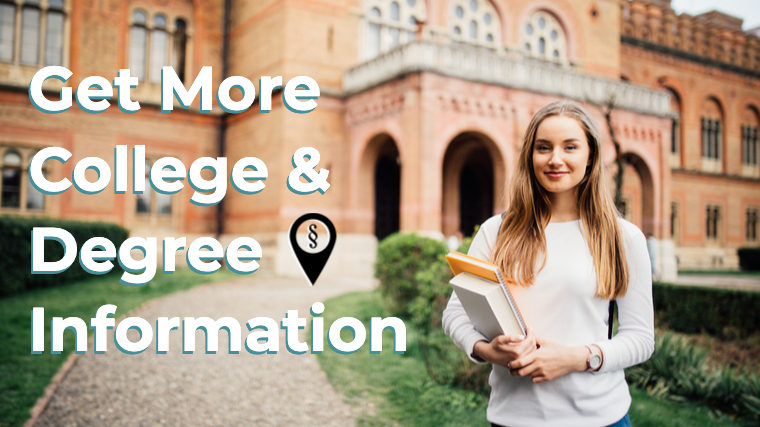 The Best Online Agribusiness Programs
Pennsylvania State University
State College, PA
Penn State is both a world class research institute and a school that began offering distance learning degrees long before the internet. Their current Bachelor of Science in Agribusiness offers numerous undergraduate minors that allow students to tailor their studies.
These minors include Business, Economics, Energy Business and Finance, Entrepreneurship, Finance, Geography, Information Sciences and Technology, Labor Studies and Employment Relations, Organizational Leadership, Supply Chain and Information Systems.
Students pursuing this bachelor of science must earn 120 credits at $542/582 per credit. The program is divided into 45 general education credits, six to nine elective credits, and 81-84 credits for the major. There are 47 prescribed core course credits, 22-25 additional course credits, and 12 supporting and related course credits in a specialty area within the major.
The interdisciplinary curriculum of the degree includes courses such as Economics of the Food System, Introductory Macroeconomic Analysis and Policy, Supply Chain Management, and Introductory Rural Sociology.
Oregon State University
Corvallis, OR
The Oregon State E-campus has over 1,000 online courses in more than 90 subjects to offer students. Regionally accredited by the Northwest Commission on Colleges and Universities, the online student can rest assured that he or she will receive the same comprehensive education and diploma as the on-campus student.
Full support services are also available to distance learners from tutoring and career services to library and disability access. Students in the Bachelor of Agricultural Sciences program are required to complete a total of 180 credits at $280 per credit.
These credit requirements include 48 in the Baccalaureate core, 11 in Business and Communication, seven in the Humanities, 22-27 in the Sciences, 60 for the Agricultural major, and electives as needed to total 180 credits.
The agricultural core of the program covers topics such as soil science, computer science, agricultural or environmental law, leadership and management in agriculture, accounting, biology, chemistry, and communications. All classes have been developed by OSU's knowledgeable faculty.
Texas A&M University
College Station, TX
In the heart of cattle country, the study of agriculture and life sciences are a way of life and a founding pillar of education. Texas A&M University maintains one of the largest colleges for the study of these subjects in the country.
The college hosts 14 departments, over 400 world-class faculty, and more than 7,000 students who have nearly 100 programs to choose from. The distance learning programs range from bachelor's degrees to doctoral programs, with many certificates and non-degree courses as well. Each semester over 1,000 students are enrolled in the distance learning programs.
These include Master's degrees in:
Agricultural Development
Food Engineering/Food Technology
Poultry Science
Wildlife Science
Doctorates are offered in Agricultural Education or Plant Breeding. Certificate programs offered include Agriculture E-Learning Development, Military Land Sustainability, or Regulatory Science in Food Systems.
Texas A&M has partnered with numerous research facilities, such as Texas A&M AgriLife Research, Texas A&M Forest Service, and the Texas A&M AgriLife Extension, as part of the Texas A&M Agrilife land-grant system, providing further opportunities for research and networking to students and faculty.
Kansas State University Global Campus
Manhattan, KS
Kansas State University takes pride in being able to offer a degree program in Agribusiness which is not an MBA with specialization in agribusiness, nor an M.S. in Agricultural Economics, but rather a professional degree.
The award-winning Master of Agribusiness maintains a core curriculum which focuses on food, animal health, and agribusiness management. There are two program options, the original cohort or the cohort specifically for Animal Health.
The original cohort began in 1998 and 'was the first graduate agribusiness program in the nation to be offered through distance education'. A total of 42 credit hours are required which are typically completed over a 30-month period. There are four one-week campus sessions required during that time.
Course examples may include Agribusiness Financial Management, Agribusiness Risk Management, International Agribusiness Policy Analysis, and Advanced Food and Agribusiness Management. The average class size of 25-30 students allows for a more personalized educational experience.
The University of Tennessee
Knoxville, Tennessee
At the University of Tennessee, the Department of Agriculture, Geosciences, and Natural Resources offers a Master of Science degree in Agriculture and Natural Resources.
There are four concentrations from which to choose:
Agribusiness and Risk Management
Natural Resource System Management
Agricultural Education and Leadership
System Science in Agriculture.
Of the 36 total credit hours required for graduation, 18 should be dedicated to the selected specialization. The majority of students take two courses per semester with most courses being weighted at three credit hours each. Students have up to six years to complete the degree.
Course topics may include: Agricultural Production Economics, Advanced Soil and Water Conservation Engineering, Statistical Methods in Agriculture and Natural Resources, Production of Bio-renewable Resources, Advanced Grazing Management Techniques, and Wetland Science. Classes are accessed via the Canvas Learning Management System.
Virginia Polytechnic Institute and State University
Blacksburg, Virginia
With flexible scheduling and convenient class times, the Master of Agricultural and Life Sciences program at Virginia Tech provides an in depth study of the field.
Students may choose from the following six available concentrations:
Applied Nutrition and Physical Activity
Education, Environmental Science
Food Safety and Bio-security
Leadership Studies
Plant Science
Pest Management
As a non-thesis degree, students should expect to complete six credits from core courses, five credits in Project and Report, 12 credits in the chosen specialty, six credits from a second concentration area as appropriate, and one credit in Research and Report, for a total of 30 graduate credit hours.
Course examples may include Agribusiness Marketing Policy and Business Strategies, International Agricultural Development and Trade, Agricultural Non-point Source Pollution, Reproductive Technologies in Cattle, Soils for Professionals, and Animal and Plant Bio-safety and Bio-security.
Utah State University
Logan, UT
Utah State University is currently the only institution of higher education in the state to offer a degree in agribusiness. The Bachelor of Science in Agribusiness program uses a comprehensive business core curriculum with specialization offered in agribusiness offered through the College of Agriculture and Applied Science and the Department of Applied Economics.
Of the 120 total required credits, twelve should be dedicated to Agriculture and Applied Sciences electives.
Possible course examples include:
Integrated Life Science
Commodity Futures and Option Trading and Analysis
Business Law
Introduction to Natural Resource and Regional Economics
International Trade and Finance
Students interested in the agribusiness program are also encouraged to take on a second degree in Agricultural Systems Technology. This Bachelor of Science degree adds an engineering component to the business program, giving students a broader understanding 'of technology management concepts for the food, fiber, and natural resources industries'.
Texas Tech University
Lubbock, TX
Through the College of Agricultural Sciences and Natural Resources at Texas Tech University, students can enroll in the Master of Science in Agriculture degree.
There are five areas of specialty:
Agricultural Education
Agricultural Education with Principal Professional Certification Preparation
Agronomy
Horticulture
Resource Management
However, only Agricultural Communication and Horticulture are available in an online format.
The Master in Agriculture is a non-thesis degree, and students are expected to complete 36 semester hours of graduate work. Other similar online educational opportunities include the Doctor of Education in Agricultural Education distance program and various Graduate Certificates including:
Agricultural Communications Leadership
Crop Protection
Horticultural Landscape Management
Global Food Security
Soil Management
With classes accredited by the Southern Association of Colleges and Schools, students can expect a well rounded and informative education from all of the available degrees.
Purdue University
West Lafayette, IN
The Center for Food and Agricultural Business at Purdue University has partnered with Indiana University to be able to offer students two detailed online programs: the MS-MBA in Food and Agribusiness Management or the MS in Agricultural Economics.
Both of these tracks follow a predetermined plan of study with courses organized into 12-week modules. Students should schedule approximately 20 hours per week for coursework such as posting to discussion forums, reading, and homework.
Regardless of the chosen degree, all students are required to complete five one-week residencies which 'alternate between Purdue's West Lafayette, Ind., campus and the IU Kelley School of Business campus in Bloomington, Indiana.
The final fifth residency should be at a Purdue international partner institution such as the University of Sao Paulo in Brazil. No thesis or dissertation are required for these online degrees, however, students will be required to develop a capstone project.
Get Information
Ohio Christian University
Circleville, OH
Ohio Christian University offers an Associate of Arts in Business: Agribusiness, which is designed to equip students with modern agricultural business knowledge and prepare them for a career in Agribusiness. Students are taught from a Christian perspective, integrating it into their study of Agribusiness. The three Concentration classes are:
Agribusiness Sales
Field Crop Production
Farm Management
Each class is worth three credits and lasts for five weeks.
Ohio Christian also offers the Certificate in Agribusiness, which consists of 12 credits and requires a minimum G.P.A. of 2.5. There are four courses, each worth 3 credits, and each lasts five weeks. The four courses are:
Introduction to the Animal and Poultry Industries
Field Crop Production
Agribusiness Sales
Farm Management
Southern Arkansas University
(Magnolia, AR)
Southern Arkansas University offers a Master of Business Administration in Agribusiness through the College of Science and Engineering. Fully accredited by AACSB International, this program requires 33 credit hours for graduation, which may be completed fully online or through a combination of online and night classes.
Though students who hold a Bachelor of Business Administration are most qualified to apply, students with a Bachelor's degree in a different field may be accepted but should expect to complete a 24-hour prerequisite program. 'Qualified students may enter the program any semester during the 2-year rotation'.
Students will touch on a variety of topics including accounting, business analytics, finance, international trade, and supply chain management.
Possible course examples include:
Accounting for Decision Making
Agricultural Policies
Human Behavior in Organizations
Management of Agricultural Production
International Trade of Agriculture Products
All courses are taught by knowledgeable professors who bring personal experience to the class.
Colorado State University, Fort Collins
Fort Collins, CO
Colorado State University has been teaching material relevant to agriculture since its inception in 1870. Colorado State divides its online curriculum into two broad categories. The first involves the business side of agribusiness and includes studies in Marketing, Finance, Management, Accounting, Economics, and Agricultural Law.
The second broad category studies the agricultural side of agribusiness and includes Animal Sciences, Horticulture, Natural Resources, Food Technology, and Watershed Science. The goal of the program is to teach students "the whole business cycle, from production to pricing to policy."
The school offers an Online Bachelors of Science degree covering 120 credits. These credits include 40 agribusiness and economics credits, 12 business credits, 16 computer and statistics courses, 15 agricultural science electives.
Unlike many enrollment flooded online programs, Colorado State's program averages about 21 students per class. This means that one can still interact with and learn from professors and students despite the distance learning format, while still enjoying all the conveniences and cost saving advantages that online education grants.
University of Nebraska, Lincoln
Lincoln, NE
With rolling admissions and a completely online Master of Science in Agronomy program, the College of Agricultural Sciences and Natural Resources at the University of Nebraska has made its best effort to reach out to the working professional who wishes to advance his or her education and career in the areas of agriculture and life science.
The 36 credits required for graduation are centered around a curriculum of the industry applications of plant and soil science to crop production and much more.
Possible course examples include:
Crop Genetic Engineering
Agricultural Biochemistry
Animal/Food and Industry Uses of Grain
Turf-grass Disease Management
Plant Nutrition and Nutrition Management
The majority of students will take one to two years to complete this degree and will graduate with a comprehensive knowledge of the field.
Fort Hays State University, Virtual College
Hays, KS
Fort Hays University, founded in 1902, has been teaching agriculture since the establishment of the university farm in 1908. Used as both a supplement to the college budget and hands-on experience for students, the 3,825 acre farm has been inspirational to the growth of the program.
Today, the Department of Agriculture at Fort Hays State University offers an online Bachelor of Science Degree in Agricultural Business. With ongoing enrollment, students may be admitted to the Agribusiness program at any time of year.
There are a total of 120 credit hours required for graduation which consist of 55 credit hours of general education courses, 43 credit hours of Agricultural courses, 12 credit hours of Business cognates, and 10 credit hours of free electives.
Examples of core courses may include:
Animal Science
Agronomic Crop Science
Farm Management
Agriculture Law and Policy
Computer Applications for Agriculture
Technology in Agriculture
Agriculture Finance
Washington State University
Pullman, WA
Students enrolled in the Online Master of Science in Agriculture program at Washington State University have a plethora of specializations to choose from including agriculture and food systems, economic sciences, entomology, food science, crop and soil sciences, horticulture, entomology, and plant pathology.
A general track is also offered so that students may individualize the course work to their professional goals. Both thesis and non-thesis options are available. The program itself is offered through the College of Agricultural, Human, and Natural Resource Sciences.
This degree provides an in depth and comprehensive curriculum with course offerings such as:
Introduction to Agro-ecology
Field Analysis of Sustainable Food Systems
Plant Breeding for Organic Agriculture
Agricultural Chemical Technology for Crop Protection
Production, and Biology and Control of Plant Diseases
Murray State University
Murray, Kentucky
Focused on providing attainable educational opportunities for the working professional, Murray State University offers an Online Master of Science in Agriculture with an emphasis in Agribusiness Economics program. Taken through the Hutson School of Agriculture, the degree offers specialties in a variety of fields, also including Agriculture Education and Sustainable Agriculture. Interested students may also pursue a certificate program in Veterinary Hospital Management.
Course material is delivered through the interactive online platform Canvas Course Management where students can post to class discussions and ask questions.
Class topics include:
Agricultural Food and Rural Law
Agricultural Finance
Agricultural Policy
Agribusiness Management
Graduate Cooperative Education experience
Students can expect to complete the degree in one to two years, making Murray State University a realistic time commitment for most would-be students.
Ranking Methodology
Successful Student has researched the best online programs in Agribusiness, and ranked programs according to factors that would benefit students most. The factors that went into this ranking were: online degrees in Agribusiness, academic reputation, variety of coursework, and online resources that would assist in completing the degree.
The Best Online Business Degrees: