The Best Online Artificial Intelligence Degrees for 2021
Show More
We have ranked the Best Online Artificial Intelligence Degrees for 2021 at universities in the US. These AI degrees are available fully online.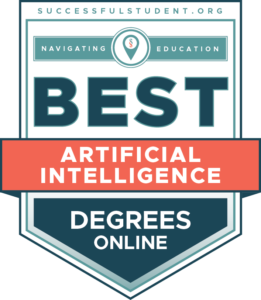 This is a comprehensive ranking of all available online undergraduate and graduate degrees in Artificial Intelligence (not including Machine Learning)
This online AI degree ranking is designed to help online students make informed college decisions. We ranked these college programs using salient education factors most important to online students.
Online students can pursue different degrees in Artificial Intelligence online, from bachelor's to master's.
Related AI, Machine Learning, and Data Analytics Rankings:
Featured Online Computer Science Degrees for 2021
---
The Best Online Artificial Intelligence Degrees for 2021
1.
Colorado State University Global
Aurora, CO
Colorado State University Global offers an Online Master of Science degree in Artificial Intelligence and Machine Learning. The program requires students to have a background in Discrete Mathematics and Statistics. Throughout the degree students learn core requirements such as programming and software development. The curriculum also emphasizes deep-learning libraries. One example of this is Tensorflow leading to proficiency in Python. Students gain practical applications of how these technologies assist various industries such as:
Healthcare
Manufacturing
Oil/Gas
Automotive
Graduates of the program have careers such as:
Intelligence or Interaction Designer
Systems Analyst
Software Developer
AI or Machine Learning Scientist/Engineer
Credit requirements: 30 credits
Selection of required courses:
Principles of Programming
Management for the Computer Science Professional
Principles of Software Development
Design and Analysis of Algorithms
Principles of Machine Learning
Applying Machine Learning and Neural Networks – Capstone
Online instruction style: Asynchronous
Admissions and transfer credit information: Interested applicants must have a previous undergraduate degree with a 3.0 GPA. Students can be provisionally admitted if they do not meet the GPA requirement. Provisionally admitted students must submit previous transcripts, a statement of purpose, a professional resume, and CSU Global's SmarterMeasure Assessment.
2.
Southern Methodist University
Dallas, TX
SMU, in Dallas, Texas, offers a fully online M.S. in Computer Science with an Artificial Intelligence Specialization. SMU is like the Ivy League school of the south. This degree teaches data mining, machine learning, and cloud computing. GRE waivers may be available to qualifying students.
This program is available to online students 24/7, night and day. Online students can participate in weekly sessions to visit face-to-face (online, virtually) with professors, so there is effectively no difference with on-campus programs with regard to access to instructors.
Credits: 30 total
Courses include:
Artificial Intelligence
Machine Learning in Python
Computer Architecture
Algorithm Engineering
This program has multiple start dates throughout the year.
3.
Lewis University
Romeoville, IL
Lewis University offers a comprehensive Computer Science degree with several concentration options including:
Artificial Intelligence
Cyber Security
Digital Forensics
Enterprise and Cloud Computing
Software Engineering
The Online Master of Science in Computer Science degree with Artificial Intelligence concentration is excellent for students interested in machine learning. Students gain experience in designing and implementing computing systems that collect and respond to information. The curriculum requires:
One core research course
Six concentration courses
Three electives courses
One Master's Thesis course
Students complete Master's projects in areas such as:
Lighting systems
Energy grid systems that are automatic
Remote controlled or automatic appliances
Monitoring home security systems
Credit requirements: 33 credits
Selection of possible courses:
Statistical Programming
Robotics
Machine Learning
Artificial Intelligence 1 and 2
Natural Language Processing
Online instruction style: Asynchronous aspects within an eight-week class format
Program length: As little as one year
Admissions and transfer credit information: Applicants must have a previous undergraduate degree, preferably in a related field, and a minimum GPA of 3.0. Students must also submit a two-page statement of purpose, professional resume, and two letters of recommendation. Admissions does not require GRE or GMAT scores for this program.
4.
University of Advancing Technology
Tempe, AZ
The University of Advancing Technology has a reputation of cutting-edge leadership in the field of online learning. The school has developed and spread a successful system of Synchronic Learning to other schools across the country. Online students take part in sequential five-week modules for a total of 15 weeks, or three modules, each semester.
The many online degree programs combine modern theory, industry standards, and experiential learning. The online Bachelor of Science in Artificial Intelligence degree is one of the first online Bachelor's in Artificial Intelligence degrees offered in the US.
Students in this program gain a solid understanding of:
Computer programming
Building software systems
Developing applications
Applying theory and concepts to real-world problems
Graduates of the program have gained successful careers in:
Architecture
Autonomous systems
Computer games
Economics/market dynamics
Sociology and more
Credit requirements: 120 total credits, with 30 credits specific to the major
Selection of required courses:
Introduction to Databases
Internet of Things
Python Programming
Linux Operating System
Software Engineering Principles
Deep Learning
Augmented Reality
Online instruction style: Asynchronous
Admissions and transfer credit information: Interested applicants must submit high school transcripts or GED scores and complete answers to provided essay questions. Admissions considers evidence of leadership, personal and academic support, and technology experience.
Admissions does accept transfer credits.
5.
Colorado State University, Fort Collins
Fort Collins, CO
The Master of Computer Science at Colorado State University can be taken fully online and on campus. Anticipate this degree taking two years to complete. Students can interact with other students and share ideas through online channels. This degree is flexible, allowing students to work on the coursework at their own pace. This flexibility is helpful to the full-time or part-time student. The Master of Computer Science includes an in depth study of Artificial Intelligence.
Credit Requirements: 35 Credits
Selection of Courses:
Introduction to Artificial Intelligence
Introduction to Machine Learning
Machine Learning
Artificial Intelligence
Financial Aid is available. Online course schedule is the same as the on-campus course schedule.
Admission Requirements: An overall Grade Point Average of at least 3.0 (out of 4.0 scale), and a GPA minimum of 3.2 in Computer Science and mathematics courses.
6.
Davenport University
Grand Rapids, Michigan
Davenport University offers a comprehensive Bachelor of Science in Computer Science degree. The standard program offers students a thorough introduction to a variety of computer science topics. These may include applied theoretical foundations to cutting-edge research in modeling and simulation. The standard program offers several specialization areas including:
Artificial Intelligence
Gaming and Simulation
Computer Architecture and Algorithms
The Bachelor of Science in Computer Science with specialization in Artificial Intelligence covers additional concepts such as:
Deep learning
Pattern recognition
Algorithms
Computer Vision
Students may gain course credit for specific previous professional certifications they may hold.
Credit requirements: 120 credits minimum
Selection of required courses:
Biometric Fundamentals
Software Engineering
Artificial Intelligence
Computer Vision
Operating Systems
Concepts of Program Languages
Security Foundations
Start dates: Fall, Winter, or Spring semester starts
Admissions and transfer credit information: Interested students must submit official high school transcripts or GED scores along with SAT or ACT scores.
7.
Stanford University
Stanford, CA
Stanford's online Artificial Intelligence Graduate Certificate is available to software engineers interested in artificial intelligence. Stanford strongly recommends taking prerequisite courses in Probability for Computer Scientists and Theory of Probability. Applicants should also have a background in linear algebra, calculus, and programming languages. Accepted students gain both foundation and advanced knowledge of the Artificial Intelligence field. Classes cover topics such as:
Logic
Knowledge representation
Probabilistic models
Machine learning
Students may use the three elective courses to create a unique educational experience that meets their career goals. Students must achieve a grade of B or higher in each class.
Credit requirements: One required course and three elective courses
Selection of courses:
Artificial Intelligence: Principles and Techniques (required)
Deep Generative Models
Introduction to Robotics
Reinforcement Learning
Computational Logic
Decision Making Under Uncertainty
Program length: As little as nine months. Stanford allows up to three years.
Start dates: Courses are available during the Fall, Winter, and Spring quarters
Admissions and transfer credit information: Students interested in this program must apply under the 'Non-Degree' option. Students must submit an application and any previous undergraduate transcripts for review.
8.
University of Colorado Boulder
Boulder, CO
The Online Computer Science Post-Baccalaureate in Artificial Intelligence degree is excellent for undergraduate students who did not major in a computer science related field. This program allows students to add 45 credits of course work to an existing degree. This culminates in a Bachelor of Science as a 'second degree'. Students may take this program as an alternative to a Master's program.
Classes provide a broad understanding of computer science. Students take 19 credit hours of elective courses for the Artificial Intelligence specialization. The AI classes cover material such as:
Data Science Algorithms
Cognitive Science
Information Visualization
Data Mining
Additionally, there are several research initiatives. Students may connect with facilities such as:
The Autonomous Robotics & Perception Group (RPG)
The D'Mello Emotive Computing Lab
The Human Interaction and RObotics Group (HIRO)
Credit requirements: 45 credit hours
Selection of required courses:
Principles of Programming Language
Algorithms
Discrete Structures
Computer Systems
Software Development Methods and Tools
Admissions and transfer credit information: Interested applicants must submit official high school transcripts, personal essay, writing supplement, one letter of recommendation, and official SAT or ACT scores.
Admissions does accepts transfer credits to this program.
Artificial Intelligence Degree Frequently Asked Questions
1. What Is an Artificial Intelligence Degree?
An online Bachelor's in Artificial Intelligence teaches the foundations of Computer Science. From this foundation, students learn the necessary fundamentals of Artificial Intelligence. Students will learn concepts and learning models geared for Artificial Intelligence. This involves programming, mathematics (such as Statistics), algorithms, and other Computer Science skills. An online Master's in Artificial Intelligence goes further into Computer Science. AI at this level builds on and expands a bachelor's curriculum. This involves further study in programming, software, and the mathematics behind Artificial Intelligence. Students can learn about AI subjects such as Deep Learning, Natural Language Processing, and Neural Networks. Back to Top
2. Why Get a Degree in Artificial Intelligence?
Two reasons: AI is in demand and will be for a long while, and it pays well. AI is the most important field of the century (according to Forbes magazine in 2019). Its impact on politics and economics continues to grow. Doctors, video game designers, and aerospace engineers are a few of the fields that employ AI professionals. The Bureau of Labor Statistics shows Computer and Information Research Scientists' salary as $122,840.00 in 2019. The growth rate is 16% between now and 2028 (much higher than average). Back to Top
3. What Degree Is Needed for Artificial Intelligence?
Depending on the career, a Bachelor's degree in AI may suffice. A Master's degree in AI is enough to work for leading AI companies. A minimum of a bachelor's degree is required to show to employers the necessary education in AI. Back to Top
4. What Can I Do With an Artificial Intelligence Degree?
AI degrees prepare students to pursue careers in the public and private sectors. Some students continue in research and software engineering in fields like Robotics. Others opt to transfer to military or government work. Companies like Google, Facebook and Amazon are pursuing Artificial Intelligence research. Here are a few of the largest companies working in AI:
Google

Tensor Flow is Google's free to use Machine Learning platform for beginners and experts.
Jobs in this field have very high earning potential, and studies predict a sharp rise in job availability in the coming years. Earning a degree in this growing field puts you in the forefront of change and technology. Artificial Intelligence start-ups raised $18.5 billion in 2019, breaking records and setting a new high in venture capitalist funding. Back to Top
Best Online Artificial Intelligence Degrees Ranking Guidelines
In this ranking we gave preference to colleges/universities that offer fully online Bachelor's and Master's degrees in Artificial Intelligence. We considered the quality and variety of the programs and academic prestige of the universities. Back to Top