Top 12 Online Veterinary Technician Programs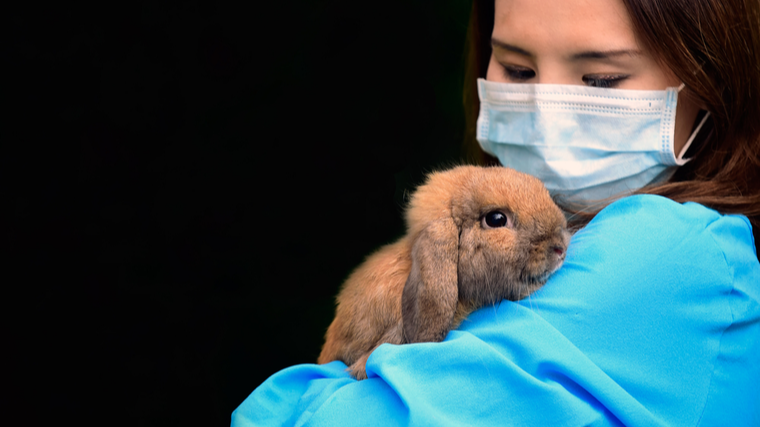 The Top 12 Online Veterinary Technician Programs
The position of a Veterinary Technician can be highly rewarding. From grateful pet owners to the spontaneous love shown by a dog or cat, vet techs with a passion for their job are given more than just a salary. Technologists typically need a four year Bachelor's degree while Technicians only require a two year Associate's training. Both will need to take credentialing examinations in order to practice.
Once employed, the duties of the jobs are similar including assisting with diagnostics and testing, performing well-visit, administering shots, and educating pet owners. The median pay for both positions in 2015 was $31,800 per year with an expected growth rate of 19% for the field, according to the Bureau of Labor Statistics. Students should be aware of their state's requirements for practicing as a Vet Tech before enrolling in an online program.
The Top 12 Online Veterinary Technician Programs
1. Penn Foster College (Scottsdale, AZ)
At Penn Foster College students have access to faculty members with a combined total of more than 100 years' experience in teaching veterinarian technicians. Fully accredited by the AVMA-CVTEA, this vet tech training program requires a total of 78 course credit hours.
Classes may include Veterinary Office Management and Skill with People, Medical Nursing for Veterinary Technician, Small and Large Animal Medicine, Laboratory Animal Medicine and Nursing, and Animal Nutrition, Reproduction, Genetics, and Aging. Students may submit potential externship sites, one of which will be approved by a program coordinator. Full-time students can complete their training within four semesters. Upon graduation students will be prepared to sit for the Veterinary Technician National Examination.
2. Ashworth College (Peachtree Corners, GA)
As one of the more affordable online schools, Ashworth College offers students a comprehensive Veterinarian Assistant program which can be completed in as little as four months. Recently up-dated, this program covers all the necessary topics recommended by the National Association of Veterinary Technicians of America (NAVTA) including medication dosage and administration, diagnostic imaging, animal behavior and restraint, and surgical preparation.
Additionally, students will have the opportunity to participate in virtual field trips for a more detailed experience. Externship experience should be supervised by a licensed vet or a credentialed vet tech. A total of 120 hours are required for graduation. Upon graduation students will receive a one-year NAVTA membership.
3. Purdue University (West Lafayette, IN)
Though Purdue University offers both a Bachelors and Associates degree in veterinary nursing, it is only the Association of Applied Science track which is available completely online. Applicants to the program typically already have some work experience with a veterinarian. SAT or ACT scores are also usually required for acceptance but may be waived if the applicant is 23 or older or has accumulated 24 graded college hours.
As of the fall 2017 semester, Purdue will require students in this program to complete 27 courses and 18 clinical mentorships. Course topics may include Pharmacy Procedures, Public and Occupational Health, Dentistry for Vet Techs, Parasitology, and Understanding Animal Disease. Students may complete this degree in as little as three years and up to five years if needed.
4. San Juan College (Farmington, NM)
The Associate of Applied Science degree in Veterinary Technician at San Juan College requires a minimum of 76 course credits, 16 of which will be applied towards general education. The program specific courses run 12 weeks in length, while the general education courses run 16 weeks in length. Classes may include Vet Nursing Care, Vet Clinical Pathology, Small Animal Disease and Medical Care, Vet Anatomy and Physiology, and Emergency and Critical Care Medicine.
Students will typically take one to four classes per semester with every class being available each semester. Upon competition of the program students will be prepared to sit for the Veterinary Technician National Exam. A 32 credit online Veterinary Certification is also available but does not fully prepare students for the national exam.
5. St. Petersburg College (St. Petersburg, FL)
In applying to the Veterinary Technology Associate's degree in Science degree at St. Petersburg College students must already have completed a minimum of 18 general education credits and have supervised work or volunteer experience of at least 40 hours. While enrolled in the program, students must continue to complete a minimum of 20 hours work per week each semester at a veterinary practice where more than 200 relevant tasks and skills may be taught. A total of 73 credits should be completed for graduation.
Courses, to be taken in a specific sequence, may include Animal Nursing, Veterinary Med Terminology, Small Animal Breeds and Behavior, Avian and Exotic Pet Medicine, Large Animal Diseases, and Animal Emergency Medicine. St. Petersburg also offers a Veterinary Practice Management Certificate and a B.A.S. in Veterinary Technology; however, these programs are only available on campus.
6. Tarleton State University (Stephenville, TX)
Member of the Texas A&M University system, Tarleton State's Department of Animal Science and Veterinary Technology in the College of Agriculture and Environmental Sciences offers a Bachelor of Applied Science in Veterinary Technology. This 120 credit hour program typically takes two years or more to complete. Admission to the online program requires students to complete a Texas Success Initiative assessment and have a minimum of 30 transferable credits.
Once admitted, students may choose from three clinical tracks: Equine, Companion Animal, or Veterinary Business Management. Classes may include Human-Animal Interaction and Bonding, Avian and Exotic Animal Medicine, Companion Animal Disease, Laboratory Animal Medicine, and Veterinary Microbiology. Tarleton State is also working with McLennan Community College for students who wish to earn an Associate's degree in Veterinary Technology while working toward a Bachelor's.
7. Northern Virginia Community College (Annandale, VA)
The part-time Veterinary Technician program at Northern Virginia Community College may be completed in approximately three years. Classes must be taken in sequence for eight semesters with summer semesters required. Though all classes are offered online, students should expect to have to visit the Loudoun campus an average of three times per semester.
Classes may include topic such as the Anatomy and Physiology of Domestic Animals, Animal Breeds and Behavior, Animal Dentistry, and Animal Hospital Management and Client Relations. There are five full-time professors who teach all of the classes for the Veterinary Technology Program. Students must also maintain employment status at an approved NOVA veterinary practice during their studies, completing a minimum of 20 work hours per week.
8. Jefferson State Community College (Center Point, AL)
Although Jefferson State Community College does offer distance learning classes for the Veterinary Tech program, students are obligated to gain hands-on experience at a veterinary facility in the state of Alabama and should expect to travel to fulfill the requirements for the large animal laboratory clinic. With more than 800 veterinary clinics in the state, students should be able to easily gain the required 20 hours of work per week throughout the program.
All applicants to the program should have already completed 360 hours of practical experience in addition to the necessary prerequisite classes. Specialty classes for the program may include Anatomy and Physiology of Mammals, Vet Tech Emergency and First Aid, Clinical Procedures and Pathology, Animal Diseases and Immunology, Vet Microbiology and Parasitology, and Animal Nutrition and Laboratory Animals.
9. Colby Community College (Colby, KS)
Directed by Dr. Jennifer Martin, the distance learning Veterinary Technology program at Colby Community College accepts applicants year round. There are three start dates for classes in January, June, and August, with both part-time and full-time options, and there is no enrollment limit. A total of 22 to 26 prerequisite credit hours and a minimum of 30 hours volunteer or work experience will make a strong applicant. However, much of the course work and hands-on experience may be completed upon enrollment.
The Vet Tech program requires an additional 60 credit hours of specialized courses, for a total of 82 credits before graduation. Course topics may include Medical Records and Veterinary Office Skills, Breeds of Domestic Animals, Animal Facility Management and Sanitation, Veterinary Hematology, Veterinary Imaging, and Common Animal Disease. On-campus mentoring is available, but not required.
10. Cedar Valley College (Lancaster, TX)
As part of the Dallas County Community College District, Cedar Valley College offers an online Associate of Applied Science degree in Veterinary Technology. Admission to the program is limited; students who are applying should have the necessary prerequisite courses complete and meet the Texas Success Initiative standards. Requiring a minimum of 60 credit hours for graduation, all courses provided are accredited by the American Veterinary Medical Association.
Classes may include topics such as Veterinary Pharmacology, Anesthesia and Surgical Assistance, Veterinary Radiology, and Large Animal Assisting Techniques. The program does not include surgical or prescriptive skills. Upon completion of the degree, students will be prepared to sit for the Texas Veterinary Medical Association Examination. A Small Animal Assisting Certificate is also available online through Cedar Valley College, but does not prepare students to sit for the Veterinary Medical Association Examination.
11. Blue Ridge Community College (Weyers Cave, VA)
Blue Ridge Community College offers students the opportunity to complete an Associates of Applied Science degree in Veterinary Technology through three distance sites, with classes delivered in real time video two days per week. Restricted to Virginia residents, students may stream classes at Tidewater Community College, Virginia Western Community College, or John Tyler Community College. Applicants to the program should have 35 hours experience already complete and be able to continue working a minimum of 20 hours per week throughout the degree.
Courses may include Companion Animal Behavior, Introduction to Laboratory, Zoo and Wildlife Medicine, Applied Veterinary Surgical Nursing, and Animal Pharmacology. Provided adequate enrollment, the program restarts every three years. Graduates are prepared to sit for the Veterinary Technician National Examination.
12. University of Florida (Gainesville, FL)
The University of Florida offers a unique online graduate certification in Veterinary Forensic Medicine. Though not specifically a Veterinary Technician degree, students may transfer credits towards a master's degree for those who wish to pursue further education. Students who are interested in applying should already have a bachelor's degree in a natural science.
Those entering this program should be prepared to learn how to recognize animal abuse, how to process an animal crime scene, and how to handle forensic evidence. Currently, the five required courses of the program are Animal Crime Scene Processing, Scientific and Legal Principles of Forensic Evidence, Cruelty to Animals and Interpersonal Violence, Veterinary Forensic Medicine, and Forensic Entomology. Courses are weighted at three credits apiece.
Find Your Degree!