The 10 Best Biology Bachelor's Degree Programs
This is a ranking of the 10 Best Biology Bachelor's Degree Programs in the U.S.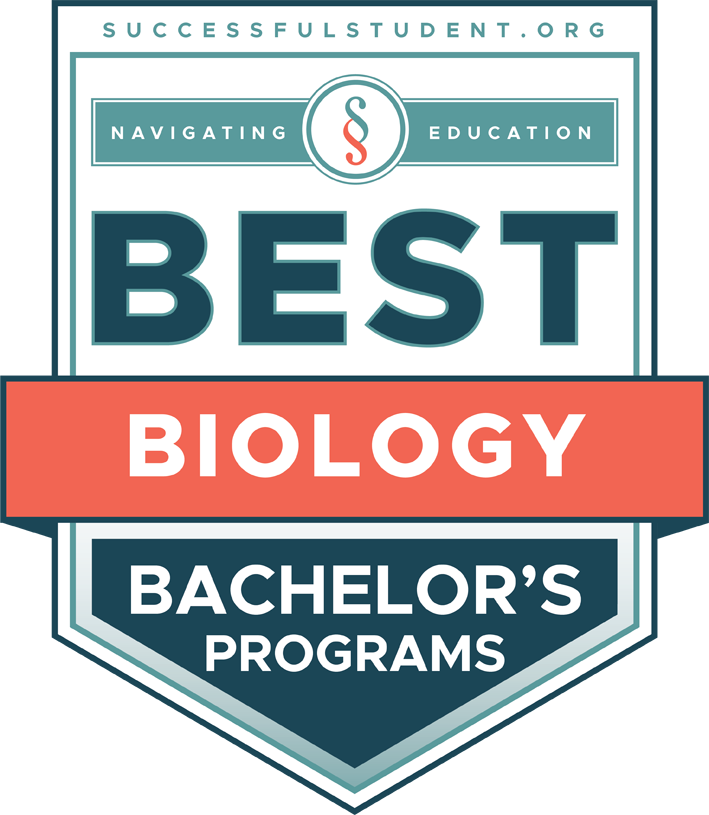 ---
Jump to the Best Biology Colleges Interactive Table | Sort By:
---
Biology Career Information10 Best Biology Bachelor's Degree Programs Ranking Guidelines
---
The 10 Best Biology Bachelor's Degree Programs
1.
Harvard University
Cambridge, Massachusetts
At Harvard University, future biologists can earn a Bachelor of Science in Molecular and Cellular Biology (MCB) or a Bachelor of Chemical and Physical Biology (CPB).
The Molecular and Cellular Biology (MCB) program takes an intersectional approach. It studies how modern cellular biology research interacts with medicine's impact on society. The program investigates biological processes through their molecules' interactions in cells and tissues.
Students learn subjects such as infectious diseases, genomics, immunology, systems biology, cancer biology, global health, and the microbiome. MCB students can join a laboratory of one of the many MCB faculty members, culminating in a senior thesis.
Students graduating from the Chemical and Physical Biology (CPB) program will combine methods. They'll supplement traditional biological techniques with cutting edge approaches and methods. These methods come from many fields, like engineering, biomedicine, and mathematics.
The MCB degree track is most suited for students who want to study molecular and cellular processes. These studies comprise the heart of both normal physiology and disease physiology. Graduates pursue a broad range of careers. You can find graduates in biological and medical research, public and global health, science policy, law and intellectual property, business, education, and science writing.
Credit requirements: 52 credits
Selection of courses:
Molecular Biology of the Bacterial Cell
Organic Chemistry
Genetics in Medicine: From Bench to Bedside
The Cell Biology of Human Life in the World
Cellular Biology and Molecular Medicine
---
Influential Alumni from Harvard:
---
Influential Faculty at Harvard:
Richard Lewontin: Evolutionary biologist, Professor of Biology Emeritus, and Professor of Zoology Emeritus
James D. Watson: Zoologist, Geneticist & Molecular Biologist
Edward O. Wilson: Biologist, Pellegrino University Research Professor Emeritus of Entomology at the Department of Organismic and Evolutionary Biology at Harvard University
2.
University of California, Berkeley
Berkeley, CA
Biology students at University of California, Berkeley split their time between several sub-fields of biology. This enhances their specific research interests. Students will be better qualified for exciting research and careers after graduation. Students may earn these degrees:
Bachelor of Arts in Integrative Biology
Bachelor of Science in Molecular and Cell Biology
Bachelor of Science in Genetics and Plant Biology
Bachelor of Science in Microbial Biology
The Degree in Integrative Biology focuses on the integration of structure and function that influences the biology, ecology, and evolution of organisms. The scope of this integration ranges from molecules to all branches of life in the biosphere. The program harnesses its faculty's advanced research. Their expertise includes:
Functional morphology
Organismal physiology
Animal behavior
Biomechanics
Paleobiology
Population genetics
Beyond the faculty's interests, the research activities in the department concern function, reproduction and development of living organisms. This includes a broad range of disciplines in the coursework.
Courses include:
Biochemistry
Biophysics
Structural biology
Bioinformatics
Developmental biology
Tumor biology
Immunology
The Plant Biology program applies research to plants and designs plant biotechnologies. With emerging needs as the climate changes, the plant biology program has re-focused its research. Students will still study the biology of plants and their development. They will also learn about their effect and response to the environment and people.
The Degree in Microbial Biology hinges on the awareness that understanding microbial activities is essential to all life's well being. Students will learn about microbes to better comprehend the global ecosystem in all its diversity and history.
All the programs have access to a wealth of resources. Students can explore many research centers, museums, laboratories, greenhouses, and reserves. Students can learn from the Museum of Vertebrate Zoology, a research unit affiliated with the department. Students can even visit The Center for Stable Isotope Biogeochemistry, an analytical campus facility.
Credit requirements: 65 credits
Selection of courses:
Microbes Make the World Go Round
Stem Cell Biology, Ethics, and Social Impact
Bio-inspired Design
Integrative Human Biology
Genetics and Society
---
Influential Alumni from the University of California, Berkeley:
---
Influential Faculty at the University of California, Berkeley:
3.
Stanford University
Stanford, CA
Stanford University offers a Bachelor of Science in Biology. The Bachelor of Science is for students who want to study biology or pursue medical school. The program also helps those looking to attend a science graduate program or go into research. The program gives a liberal arts education a unique perspective for those not pursuing biology post-grad.
The program is research-centric. Opportunities for research occur in the classroom, in student labs, and across the world. Approximately 90 percent of biology majors pursue independent research at some point. Students can study at the Hopkins Marine Station, only 90 miles from campus. Students can take their learning to Hawaii, Paris, Australia, Santiago and Oxford.
Research topics give the department its shape. Faculty specialize in many far-reaching subjects including:
Neurobiology
Plant biology
Genetics
Ecology
Conservation biology
All students also have the opportunity to complete The Senior Reflection. The three semester capstone course combines science with art. They'll create exciting projects that join an in-depth understanding of the life sciences. This culminates in a presentation in May.
Credit requirements: 40 credits minimum
Selection of courses:
Computational Biology
Molecular Cell and Developmental Biology
Introduction to Research in Ecology and Evolutionary Biology
Cell Biology
Evolutionary Biology
Influential Alumni from Stanford University:
---
Influential Faculty at Stanford University:
Carolyn Bertozzi is the Anne T. and Robert M. Bass Professor in the School of Humanities and Sciences
Marcus Feldman: Evolutionary Biologist, director of the Morrison Institute for Population and Resource Studies, the Burnet C. and Mildred Finley Wohlford Professor of Biological Sciences, and co-director at the Center for Computational, Evolutionary, and Human Genomics
4.
Massachusetts Institute of Technology
Cambridge, MA
Students at the Massachusetts Institute of Technology earn a Bachelor of Science in Biology. The intensive program spans several courses.
Majors at MIT are considered "courses" and the study of biology spans courses 7 (Biology), 5-7 (Chemistry and Biology), and 6-7 (Computer Science and Molecular Biology). These courses provide expertise in biological sciences, biochemistry, chemical biology, computational biology, and computer science. All students complete general institute requirements, including science, humanities, communication, physical education, and laboratory credits.
The department offers 10 areas of research led by award-winning faculty. Areas include microbiology, biochemistry, structural biology, human genetics and disease, cell biology, infectious disease, immunology, cancer biology, and stem cell and developmental biology. In addition to coursework, nearly 90% of MIT undergraduates participate in the Undergraduate Research Opportunities Program by the time they graduate, providing hands-on learning from international experts in their field.
Graduates from this program emerge in many fields. In addition to pursuing advanced degrees, such as PhDs or MDs, students also directly enter the biotechnology and pharmaceutical industries and pursue fields such as communication, patent law, and consulting.
5.
Yale University
New Haven, Connecticut
Students earning either a Bachelor of Arts or a Bachelor of Science in Molecular, Cellular, and Developmental Biology (MCDB) at Yale University gain a rigorous liberal arts education alongside specific professional training. The program prepares them to work in a variety of prestigious fields. The Molecular, Cellular, and Developmental Biology program offers a standard track and three interdisciplinary programs of study. Students focus in biotechnology, neurobiology and quantitative biology.
Students earn the B.A. degree with two final evaluation options. Students can submit an essay of 15-20 pages evaluating current research in a field of biology. Students can also complete one credit of individual research. The B.S. degree has a greater emphasis on individual research. Two contiguous terms of individual research is required for the standard B.S.
All students must take the biology foundations course sequence, even if they scored highly on AP or IB tests. From there, students' coursework becomes more varied and specific to their track. Students have many opportunities to carry out research in the laboratory of a faculty member. Top notch research activity takes place all over the department and between departments. A frequent collaborator is the Yale School of Medicine. Research topic areas span molecular biology, biochemistry, genetics, cell biology, neurobiology, physiology, computational plant sciences biology, and evolution.
Credit requirements: 36 credits minimum
Selection of courses:
Developmental Biology
Cell Biology
Molecular Biology
Physics
Principles of Biochemistry
6.
Cornell University
Ithaca, NY
Cornell University offers a Bachelor of Science in Biological Sciences through the College of Agriculture and Life Sciences, and a Bachelor of Arts in Biological Sciences through the College of Arts and Sciences.
The requirements for the biological sciences major are the same. Though these two different colleges require that students take different courses to finish the degrees. Interested students should choose their college of matriculation based on their secondary interests, but their coursework, concentrations, and research opportunities may span both colleges, as well as others, such as the Colleges of Engineering, Human Ecology, and Veterinary Medicine.
Students in either college choose from 14 concentrations. These concentrations span from general biology to biochemistry, biodiversity and systematics, human nutrition, plant biology and computational biology. With over 300 life science faculty between the two schools, students can engage in a vast array of research projects from protein structure to marine ecosystems.
Investigating the research opportunities and different student involvement in co-curricular activities will differentiate the programs and individual student experiences. Students interested in plants, marine biology, insects and nutrition may want to consider the College of Agriculture and Life Sciences, whereas those interested in the humanities and social sciences may want to consider the College of Arts and Sciences.
Credit requirements: 56 credits minimum
Selection of courses:
Human Microbes and Health
Marine Ecosystem Sustainability
Hormones and Behavior
Stem Cell Biology
7.
Columbia University In The City Of New York
New York, NY
Students can earn a Bachelor of Arts in Biology through several colleges at Columbia. Students enrolled at Columbia College, the School for General Studies or Barnard College pursue similar requirements. Course requirements for the biology major include:
1. Biology:
1 year of introductory biology
2 core courses in biochemistry or biology
2 three-point electives in biochemistry or biology
Labs
2. Chemistry
3. Physics
4. Mathematics
Students take chemistry, physics and mathematics courses for at least a year. Most of these classes also include a lab component. Students also must take courses outside the Department of Biological Sciences.
The Department used to be a zoology and botany department, but now focuses on neurobiology and molecular biology. Other topics of research studied there include developmental, cell, structural, chemical and computational biology.
Students can also work as a volunteer in labs let by professors. Many of these positions are unpaid, but they offer resume buffing and learning. Students can also get academic credit for working in a lab.
Credit requirements: 36 credits minimum
Selection of courses:
Intensive General Chemistry
Organic Chemistry
Project Laboratory in Microbiology
Project Laboratory in Protein Biochemistry
Antimicrobial Resistance
---
Influential Alumni from Columbia University in the City of New York:
Richard Lewontin: Evolutionary Biologist, master's degree in Mathematical Statistics, Ph.D. in Zoology
8.
University of Chicago
Chicago, IL
The University of Chicago offers both a Bachelor of Arts and a Bachelor of Science in Biological Sciences. Both programs aims to give students knowledge of current concepts in biology. The programs also impart an appreciation for the gaps in those concepts. The program boasts many research opportunities to encourage students to fill those gaps.
After learning about all levels of biological organization, students tailor their courses to their interests.
Specializations in the degree program:
Quantitative Biology
Cell and Molecular Biology
Cancer Biology
Endocrinology
Global Health Sciences
Ecology and Evolution
Genetics
Microbiology
Immunology
The two programs offer mainly similar courses. Students in the BA program want training in modern biology and the opportunity to take non-major elective courses. BS students want to take more courses within the major and to write a senior thesis.
The department offers many opportunities to engage students outside the classroom. Around 80 to 90 percent of all biology students engage in research opportunities. Students apply for funding, travel abroad and join campus research initiatives.
Credit requirements: 2500 credit points
Selection of courses:
Ecology of Conservation
Biological Dynamics
Mathematical Methods for Biological Sciences
Cancer Biology
Principles of Toxicology
Influential Alumni from the University of Chicago:
James D. Watson: Zoologist, Geneticist & Molecular Biologist. Bachelor of Science
9.
University of Michigan, Ann Arbor
Ann Arbor, MI
The University of Michigan Ann Arbor program in biology offers eight different Bachelors of Science in Biology. These majors are offered in three departments: Biology, Health and Society; Molecular, Cellular, and Developmental Biology.
The majors offered are:
Biology; Biology, Health and Society
Molecular, Cellular, and Developmental Biology
Cellular and Molecular Biology
Ecology, Evolution and Biodiversity
Microbiology
Plant Biology
Neuroscience
Each program serves different research interests and different professional goals. The biology program serves those aiming to teach or pursue graduate degrees. Other programs serve medical school goals or double-majoring. Some emphasize laboratory work and others emphasize an analytical approach.
The department offers several student groups for engagement outside the classroom. Students can create projects with friends studying anything they can think up. While students can work in faculty or department labs, they can also head their own research. They'll work closely with an advisor and can aim toward publication.
Students in the department often head toward medical, dental, veterinary, or graduate school. Others enter into governmental or teaching positions.
Credit requirements: 30 credits
Selection of courses:
Animal Physiology Laboratory
Rivers, Lakes and Wetlands
Parasitology
Endocrinology Laboratory
Hormones and Behavior
10.
University of Wisconsin-Madison
Madison, WI
The University of Wisconsin-Madison offers the Biology Major in both a Bachelor of Arts and a Bachelor of Science degree. Students can complete the major in the College of Agricultural & Life Sciences or the College of Letters & Science.
The Biology major fits students interested in exposure to biological concepts and methodologies. The program also fits those interested in a more specific sub-discipline. There are two named options in the program: plant biology and evolutionary biology.
These programs prepare students for intensive study. Many students go on to professional or graduate careers in these subjects.
The program at large is fit for students wanting to pursue graduate degrees in biology fields and health fields. The major gives students an understanding of the biological sciences alongside needed pre-professional training.
The programs each require core courses, lab requirements and electives. The differences originate in the general requirements per college. In both schools, students can study abroad, engage in research opportunities, and complete internships both during the academic year and over the summer semester.
Credit requirements: 120 credits for the degree
Selection of courses:
Hominoid Evolution
Reproductive Physiology
Plant Cell Culture and Genetic Engineering
Midwestern Ecological Issues: A Case Study Approach
---
The 10 Best Biology Bachelor's Degree Programs
---
10 Best Biology Bachelor's Degree Programs Ranking Guidelines:
This ranking was created by determining which Biology programs have had the most academic influence in Biology.* We then focused on bachelor's programs in particular at these universities, and looked at the quality of the programs, variety of instructions and access to labs and facilities, and academic reputation and prestige. We rank schools and programs for the benefit of students, to help students become successful by helping them navigate education. *For more ranking information about how we measure academic influence, please see our Ranking System.
---
Best Biology Colleges: Sortable Table
Best Bachelor's in Biology Degree Programs AI Data.xlsx

| | | | | | | |
| --- | --- | --- | --- | --- | --- | --- |
| | School | Tuition + Fees (Rounded) | Acceptance Rate | Graduation Rate | Median ACT | Median SAT |
| 1. | Harvard University | $50,000 | 05% | 97% | 34 | 1520 |
| 2. | University of California, Berkeley | $14,000 | 15% | 92% | 33 | 1425 |
| 3. | Stanford University | $51,000 | 04% | 94% | 33 | 1495 |
| 4. | Massachusetts Institute of Technology | $52,000 | 07% | 93% | 35 | 1535 |
| 5. | Yale University | $53,000 | 06% | 98% | 34 | 1515 |
| 6. | Cornell University | $55,000 | 11% | 94% | 33 | 1465 |
| 7. | Columbia University | $53,000 | 06% | 95% | 34 | 1505 |
| 8. | University of Chicago | $57,000 | 07% | 94% | 34 | 1520 |
| 9. | University of Michigan | $16,000 | 23% | 91% | 32 | 1420 |
| 10. | University of WisconsinMadison | $11,000 | 52% | 85% | 29 | 1365 |