How To Be Persuasive in Making Arguments: Ethos, Pathos, and Logos
The intent of this article is to be a guide for students who want to become persuasive. This reference guide uses the classical conception of persuasion as devised by Aristotle. Aristotle's persuasive concepts have withstood the test of time, and are still as relevant today as effective, perhaps the most effective persuasion techniques. These are so effective because they satisfy the necessary and most salient elements behind what we find persuasive in our human nature.
The strongest arguments have all three of these persuasion characteristics discussed below.In life, we make arguments all the time, in order to convince people of various things, from the trivially important to the most dire. We try to convince our parents, our teachers, our bosses, and our friends, etc.
In many of these domains we will need to establish ourselves as trustworthy and as having character, and in others we won't (because it's already established). But it's necessary to know all three of these facets of persuasion discussed in this guide in order to maximize your powers of persuasion.
How To Be Persuasive in Making Arguments
---
Aristotle described three aspects to produce a persuasive argument:
What do they mean?
Ethos is the character of the speaker making the argument
Logos is the content of the argument itself
Pathos is the emotional appeal of the argument as experienced by the listener
These three argumentation tactics are found in his work Rhetoric (written 350 B.C.). Read Aristotle's Rhetoric in full here:
Ethos: The Character of the Speaker
Ethos is a Greek word meaning "character". Ethos is where we get the word "ethic". The relevant questions that Ethos is answering is "Is this person who is making the argument worth listening to?" "Does this person have good character and should I pay attention to what they're saying?"
The speaker's character is the first thing to establish
Ethos is the first tenet, because it has to be established first, before (or at the beginning of) the argument being made. Establishing the good character and trustworthiness of the speaker up front, at the beginning of the argument, is crucial.If a person's character isn't established right up front, then their argument, however sound, might be lost on the listener. The listener has not been properly introduced to the speaker's Ethos or character, and may not be investing their attention and effort to engage in the argument. The more complicated the argument, then all the more attention and effort that would be required by the listener. So all the more necessary and important to establish good character before making an argument.
How to establish good character
We all have a good idea of what constitutes good character, and what these traits are, such as proper motives, honesty (with no deception or ulterior motives behind making the argument).
---
Pathos: The Emotional Appeal
The emotional appeal of the argument, as it's felt and experienced by the listener. It's an emotional appeal, through the argument, to their inner emotional nature and emotional intelligence. This is done, not in contradiction or in replacement of the argument's logical content, but in addition to it.
The purpose is to persuade. Emotional import and appeal is very effective in persuading the listener.One way to accomplish this, is to appeal to the listener's moral sensibilities, such as their sense of justice (or injustice), freedom, dignity (or indignity), and the like.
Another important way to accomplish this is to have solidarity and commonality with the listener, and they we are all experiencing the same things, and labor under the same human conditions and hardships and triumphs. This establishes a kind of emotional alignment.
But you still need actual logical content within the argument. The argument cannot consist of Ethos and Pathos alone, without Logos, or else it is vacuous. Logos is the actual content of the argument itself.
---
Logos: The Content of the Argument
The argument needs to be coherent and understandable. This is what drives the argument home. This is the actual content of the argument; the main position that is being put forward in the argument. This includes the premises, and conclusions. These need to hang together and be logically sound. So it's important to avoid logical fallacies, which can derail your argument.
See our article The Top 10 Most Common Logical Fallacies.
We have researched and listed the 12 best universities that are deepening our understanding of and creating solutions to global climate change.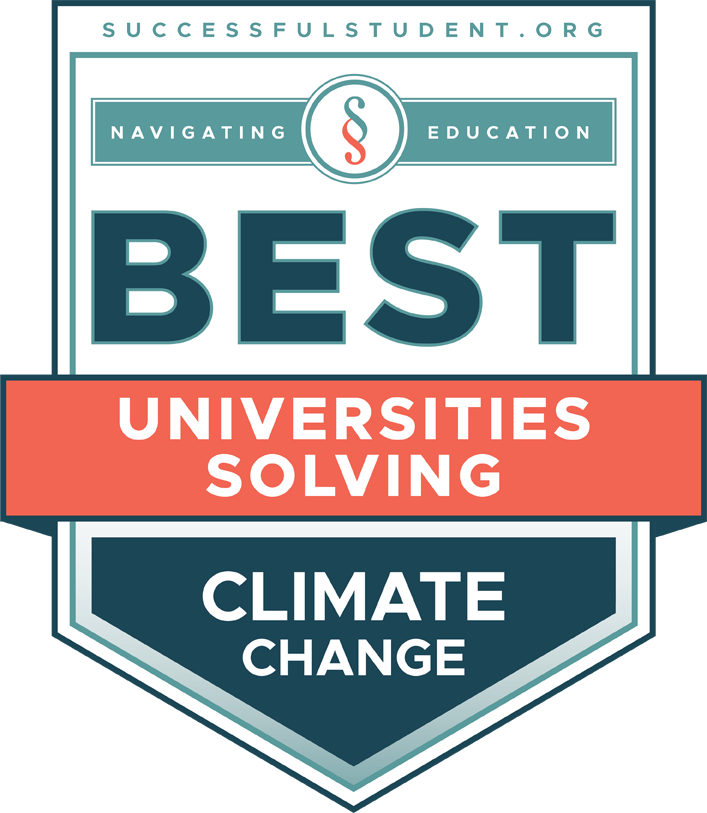 International Universities Climate Alliance
University Climate Change Coalition
The Best Universities Solving Climate Change | Ranking Guidelines
20 Best Environmental Science Degree Programs
22 Best Sustainable and Renewable Energy Colleges
The Best Universities Solving Climate Change
The Best Universities Solving Climate Change | Ranking Guidelines
There is no ranking of importance (or any other ranking factor) of schools, programs, initiatives, etc., in this list. Each university is contributing in important ways to solving climate change. The order is arbitrary.
The 26 Best Universities Fighting Human Trafficking is a list of the best universities located in the U.S. that are studying and fighting human trafficking.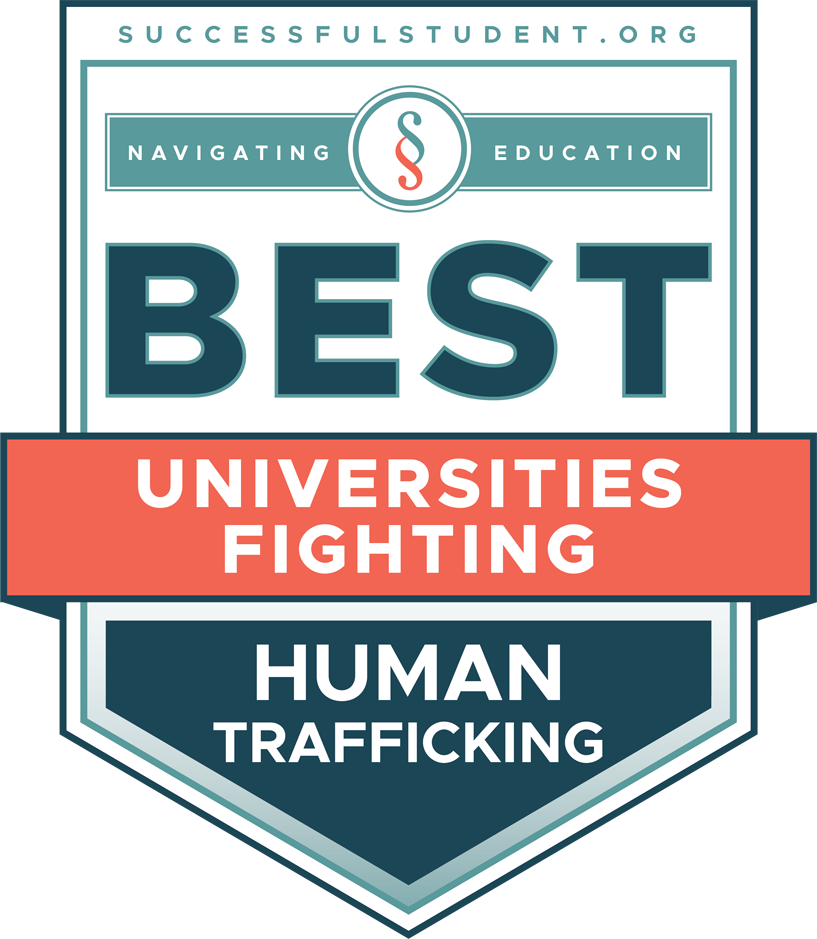 These universities offer various academic programs, resources, and initiatives for understanding, tracking, and fighting human trafficking locally, federally, and internationally. The first five universities in this list offer various degree options in the subject of Human Trafficking.
The scope of human trafficking can and often does cross international borders. But it is also a domestic issue facing the United States. These universities are at the front lines of academic pursuits to understand and fight human trafficking domestically and abroad.
What is Human Trafficking?
The U.S. Bureau of Justice Statistics defines it:
[H]uman trafficking has occurred if a person was induced to perform labor or a commercial sex act through force, fraud, or coercion. Any person under age 18 who performs a commercial sex act is considered a victim of human trafficking, regardless of whether force, fraud, or coercion was present.
---
Q: What Are Relevant Degrees to Fight Human Trafficking?
A: Relevant Degrees for Fighting Human Trafficking |Jump Down Page to Degrees|
---
Q: What are Human Trafficking Statistics?
A: Human Trafficking Statistics |Jump Down Page to Statistics|
---
Public and Private Agencies Fighting Human Trafficking
U.S. Government Investments to Combat Human Trafficking |Jump Down Page To Agencies|
Department of Homeland Security | Human Trafficking Hotlines |Jump Down Page To Hotlines|
---
The Best Universities Fighting Human Trafficking
These universities and colleges are not ranked by any order of importance or by any other qualitative criteria. The universities that offer degrees make up the first five positions in this list.
---
Relevant Degrees for Fighting Human Trafficking
Forensic Science:
Digital Forensics assists in tracing, finding, and prosecuting human traffickers. It is Digital Forensic Analysts who find the hidden data and online presence of these traffickers. Digital Forensics extracts and makes sense of digital data from traffickers, such as you would find on computers and hard drives. These data are often crucial for successful prosecutions, and for finding new trafficking operations.
Forensic Accounting follows the money. Human trafficking is at bottom a for-profit criminal enterprise, where people are the commodity, and money changes hands from buyers to sellers. These buyers may be buying humans for sex or labor, or organ harvesting. Forensic Accounting detects the criminal activity in these financial transactions, and assists law enforcement in prosecutions.
See our Online Forensic Science Degrees.
See our 10 Best Forensic Science Colleges.
See our 15 Best IT Security Colleges Online.
---
Criminal Justice
Criminal Justice degrees provide the necessary entry into law enforcement. From there, graduates can focus on working at the relevant departments in federal and local government, such as:
FBI
Police Departments
Department of Homeland Security
Bureau of Justice Assistance
U.S. Customs and Border Protection
U.S. Immigration and Customs Enforcement
Many Criminal Justice degrees are available online. Online Criminal Justice degrees have many different focuses of study, such as Criminology, Social and Criminal Justice, and others.
See our Online Criminal Justice Degrees
See our Criminal Justice Degree: 50 Best Programs
See our Best Online Social Justice Degrees
---
Homeland Security
A degree in Homeland Security enables graduates to work in different capacities for the Department of Homeland Security. This department was formed after the hijacked planes attacked U.S. soil on 9/11/2001. The Department of Homeland Security is the federal agency responsible for fighting human trafficking. Homeland Security has careers in law enforcement in these domains:
U.S. Customs and Border Protection
Federal Law Enforcement Training Center
U.S. Secret Service
U.S. Immigration and Customs Enforcement
Federal Protective Service
See our Online Homeland Security Degrees.
See our 26 Best Homeland Security Colleges Online.
---
Political Science
International Political Science majors in particular are pertinent for understanding and fighting international human trafficking operations. Degrees in Political Science help students understand how political systems work, whether democratic, socialistic, communistic, etc.
This includes the means by which international trade is conducted, and whether borders are porous and can allow for trafficking, and how to stop it using political means. An example of this would be the southern border of the U.S., and whether the wall that's being built will have any deterrence on human trafficking with Mexico.
See our Best Online Humanities Degrees for Careers article for the relevant Political Science degree information.
---
Human Rights Studies
Human Rights degrees study the national and international aspects of rights as given to their respective citizens. A Human Rights approach to human trafficking is ensuring that the victims' rights are upheld in the process of the victims' recovery, and prosecuting This can include advocating for the rights of rescued children. One such right that may need bolstering a the victims' right not to be involved more than they want to be in the criminal prosecutions of the traffickers.
See our Best Human Rights Studies Programs for 2020.
---
Social Work
A degree in Social Work can allow graduates to work in a Social Work setting for those who have survived human trafficking. Helping to get them back on their feet and stabilized in society again. This may also involve working with Child Protective Services and helping children to get out of abusive situations and potentially prevent trafficking. Working with children who've been rescued from traffickers, such as getting children adjusted after going home, may also be a key duty. It may also involve getting rescued children placed into a foster families.
See our Online Degrees in Social Work.
See our 20 Best Online Social Work Colleges.
---
Public Health
According to the U.S. Department of Health and Human Services, a Public Health approach to fighting human trafficking:
"[R]ecognizes the social and economic determinants of health and well-being that may lead to the crisis moment of trafficking. Interventions would go beyond the criminal justice and social service response and incorporate prevention strategies based on needs of specific populations. While human trafficking can impact anyone, some populations are more vulnerable to human trafficking due to experience of prior violence, stigma, and disconnection."

U.S. Department of Health and Human Services
A degree in Public Health allows for the recognition of patterns in targeted victims. What is the socio-economic background of those most trafficked? A Public Health degree helps to understand things such as the predominant gender, age group, location, and other demographics of those most at risk of being trafficked.
See our 10 Best Master's Degree Programs in Public Health.
---
Law
Law degrees are relevant to fighting human trafficking in a number of ways. A lawyer may wish to work as a prosecutor of traffickers. Another option that a law degree may afford is getting into politics and effecting laws that fight human trafficking. A degree in International Law is especially relevant to understanding and fighting international human trafficking.
See our Law School rankings:
---
Department of Homeland Security Phone Numbers for Reporting Human Trafficking:
Federal Law Enforcement: 1-866-347-2423
National Human Trafficking Hotline: 1-888-373-7888
---
Resources on Human Trafficking
---
U.S. Government Agencies:
U.S. Department of Health and Human Services
U.S. Customs and Border Protection
U.S. Immigration and Customs Enforcement
U.S. Immigration and Customs Enforcement (I.C.E.) is a federal government agency that is, as the name implies, responsible for enforcing immigration and customs policing and policies. As part of these duties, they are heavily involved in combating human trafficking in the U.S.
Here is I.C.E.'s Most Wanted Human Traffickers List. Please call the national hotline for I.C.E. is 1-866-DHS-2-ICE (TTY for hearing impaired: 802-872-6196) if you have information about human trafficking.
Department of Homeland Security: Blue Campaign The Blue Campaign is designed to raise public awareness and train law enforcement and the public to better detect and respond to human trafficking.
Internet Crimes Against Children Task Force The Internet Crimes Against Children Task Force consists of 61 task forces across the U.S., comprised of over 4,500 individual federal, state, local law enforcement, and prosecutorial agencies. Their purpose is to protect children from abuse that may occur through the internet. To this end they train law enforcement, partner with similar groups, and work to prosecute violators.
---
International Agencies:
International Labour Organization ILO is part of the United Nations, and consists of 187 member states. The ILO stated purpose is:
"[T]o set labour standards, develop policies and devise programmes promoting decent work for all women and men."
To this end, they have implemented the Forced Labor Protocol, which member states are obliged to adopt and enforce.
---
Private Agencies:
Operation Underground Railroad O.U.R. is a non-profit organization started in the U.S., whose mission is to combat human trafficking, at home and abroad. Led by Tim Ballard, an American private citizen, O.U.R. has domestic and international offices. O.U.R. partners and works in tandem with American and foreign nations to combat human trafficking.
Tim Tebow FoundationNational Center for Missing and Exploited ChildrenPolaris Project
---
U.S. Government Investments to Combat Human Trafficking:
Justice Department Awards $35M for Housing of Traffic VictimsU.S. Attorney General William Barr and Ivanka Trump Pledge $100M from Federal Government
---
Human Trafficking Statistics:
Human Trafficking Statistics according to the U.S. Customs and Border Protection as of 2016:
Estimated 40.3 million people are in modern slavery:

24.9 million in forced labor, working in these capacities:

16 million people are exploited in the private sector such as domestic work, construction or agriculture
4.8 million persons in forced sexual exploitation
4 million persons in forced labor imposed by state authorities

15.4 million in forced marriage

5.4 victims of modern slavery for every 1,000 people in the world
1 in 4 victims of modern slavery are children
This is a ranking of the best Artificial Intelligence journals in the United States.
Where do advances in research of Artificial Intelligence and Machine Learning get published? In various professional Artificial Intelligence and Machine Learning journals. These are the repositories of AI advancements and a window into the current state-of-the-art, and in large part its knowledge base.
Papers in AI journals get cited by other AI researchers and publications. And so the new findings and new research is shared and built upon, which contributes to the pace of AI advancements. Which in turn accelerates the speed in further Artificial Intelligence research, advancements, and capabilities.
Artificial Intelligence is the future, but it's also the 'now'. Artificial Intelligence investments broke records in 2019 for the most money invested by venture capitalists. More and more businesses are benefitting from AI, Machine Learning, and Big Data to make sense of business decisions and opportunities.
To make this ranking of the Best Artificial Intelligence Journals, we looked at the h-index for these journals, taken for each journal as a whole. This was done by consulting with Scimago Journal and Country Rank. We selected Computer Science: Artificial Intelligence: United States: Journals: 2019. We then sorted the journals by h-index score.
For more information about h-index and how it's used as a scoring and ranking system at SuccessfulStudent.org.
These 10 universities are contributing to solving the Coronavirus pandemic in various important ways.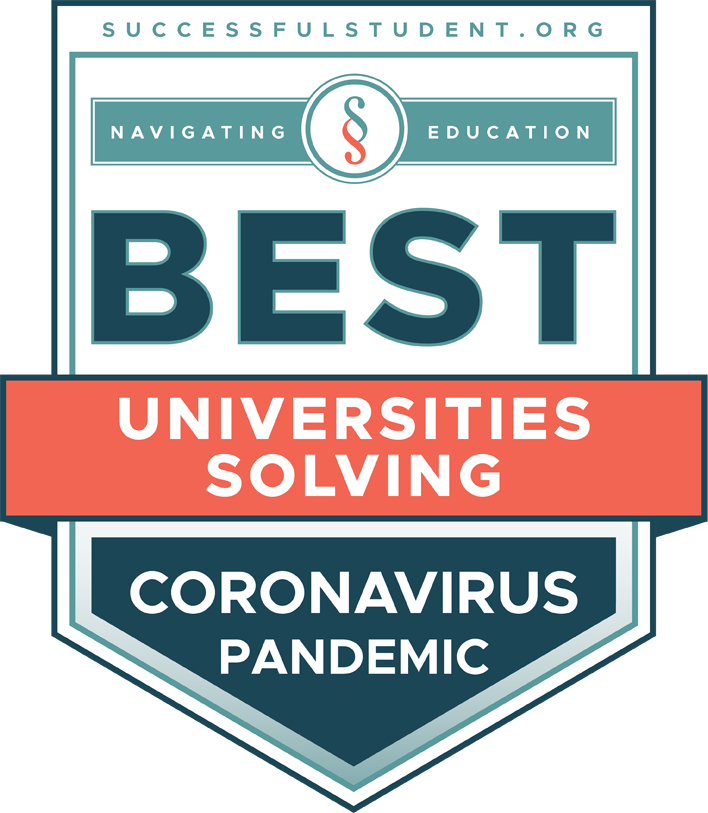 Treatments (vaccines, therapeutics)
Testing and Diagnostics
Contagion Mapping
Contact Tracing
Data Collection and Analyses
Education
Certain universities are researching and developing solutions in many of these domains at the same time. All of these areas are important and work together synergistically toward the common goal of defeating the virus and its effects on the world as much as can be achieved.
---
University: Research
---
Harvard University: Vaccines
University of Oxford: Vaccines
The Eli & Edythe Broad Institute of MIT and Harvard: Diagnostics, Clinical Testing, Therapeutics, Surveillance, Disease Biology, Data & Portals, Videos and Seminars
Colorado State University, Fort Collins: 25+ Projects, including Vaccines
Johns Hopkins University: Interactive Contagion Mapping, Testing Results Numbers, Free Online Contact Tracing Class
University of Georgia: Vaccines
University of Michigan, Ann Arbor: Vaccines, Covid-19 Research Index
University of Montana: Vaccines
University of Pittsburgh: Vaccines
University of Wisconsin-Madison: Vaccines
---
Related:
---
Best Universities Solving the Coronavirus Pandemic
---
These universities are not ranked in any order of importance or ranked by any other factor. This list is a collection of 10 universities that are contributing in vital ways to solving the Coronavirus pandemic.
Academic influence is an objective way of making sense of the influential nature of academic authors. This influence can be extended to groups of authors, degree programs, academic departments, colleges, universities, states, and countries as a whole. This influence is established by something called the h-index (named after Jorge E. Hirsch, professor of Physics at the University of California, San Diego, who developed the h-index in 2005).
What is the h-index?
An h-index is a number assigned to an author to represent his or her publishing productivity in hard numbers, but also their influence among other academics by the hard numbers of citations to their publications.
---
How is the h-index calculated?
The h-index is an author's number of publications, which also individually reach the same number in citations. So if an academic author has published 20 papers, and each of those 20 papers has been cited 20 times, then the author has an h-index number of 20.
Calculating the h-index in this two-pronged approach, ensures that the author is productive in publishing, but also that the publications are of high enough quality to be cited.
This is an understandable way of measuring the academic influence of scientists, academics and academies. For example, publishing only a few papers (though they be cited many times) means that the author (or by extension the university) isn't very productive in publishing papers. And publishing many papers that are hardly ever cited, means that the author (or university) isn't influential with regard to others authors citing their work. It's an objective number that conveys quantity and quality, productivity and influence.
It also protects against an imbalance of publications and their citations giving a misleading overall picture. Imagine an author, having published 20 papers, with the first paper receiving 1,000 citations. However, the remaining 19 papers received at most only three citations. If the h-index included all of the citations taken together, it could appear that this author had many citations across all papers.
The difficulty that this kind of scoring metric presents to authors, is that the more prolific the author, the more citations he or she must illicit to keep the h-index score commensurate with their publication output. If an author has published 60 papers, each one of those must have a minimum of 60 citations to get an h-index of 60. But at the same time this raises the bar to make the publications perform at the highest levels.
---
h-index Calculators:
A given author's h-index may differ between different databases, given that the respective databases rely on their internal citation numbers.
School can be made easier. Follow these
7 Characteristics of Successful Students
to excel in school. These strategies can be used in high school and college (at the undergraduate and graduate levels). These skills translate to better understanding, being persuasive, increasing comprehension, and being more articulate in writing. As you go through grade school and into college, you will be taught a large variety of subjects, such as Math, English, History, etc. What you're usually not taught, is how to be a successful student. The skills to run the gamut of education should've also been taught to you by your educators; instead of teachers and professors expecting you to know it on your own. These are the most salient points for being a successful student, which will make your life much easier, and may produce academic scholarships if your academics merit it. A lot of these skills hang together. As you improve in one or more, you improve in related ones.
---
7 Characteristics of Successful Students
---
1. Use "The Deep Approach to Learning"
Find a subject that you're actually interested in studying. This will facilitate what's called the "Deep Approach To Learning". This term was coined by Dr. Ken Bain in his book
What The Best College Students Do
. It turns out that having a genuine interest in the subject will mean that students like you will learn more and score higher in tests.
---
2. Stop Wasting Time and Learn to Manage It
Use a Calendar App and Set Alerts
Google Calendar is helpful for this. You can set a notification to alert you to some deadline on a particular date. You can control whether it alerts you 30 minutes before, ten minutes before, at the time of the event, etc. You can also share the event with others, and see if they've accepted the invitation.
Think of your schedule as allotting time to get the work done, but also think of schedules as allowing time for your other pursuits in life, like your social life. It's the schedule that allows for these other pursuits to be attained. It's not just that a schedule sets aside time for the work or studying, it also carves out the rest of the time for you to do whatever you want.
---
3. Supercharge Your Vocabulary
The best way to improve your vocabulary:
Read. And read books that challenge you, because those are the books that elevate your understanding.
Get a dictionary app, and use it every time you encounter a word that you don't know.
Top 10 Big Words on Campus. These are the most searched for words by students in college. Professors use these words, and students aren't sure what they mean, so the searches for these words spike on dictionary apps and dictionary websites each school year.
Learn words such as malfeasance, avarice, albeit, auspices, rubric, and corpus, and learn to actually use them in conversation.
---
4. Develop These Reading Strategies
School requires reading. Reading can be your friend. Developing a facility for reading will be one of the most important aspects of your intellectual life, in school and after.
Read at short intervals. If it's academic writing, allot about 45 minutes to reading non-stop, and then take a break. Your brain will need a chance to assimilate what you've read.
Summarize what you've just read. When you summarize, you formulate what you've read into your own words. This tactic is a test to make sure that you understand the material, and can recite it from memory. This is a way to ensure that the content is understood and remembered.
Rote memorization isn't always helpful when it comes to remembering content with meaning. Rote memorization is helpful when it's something like the Greek Alphabet, which of course isn't a concept or meaning in itself, but rather a set of characters which is necessary to learn before reading Greek. The meaning will come as a result.
Read Mortimer J. Adler's book called How to Read a Book.
Read old books. This will give you an advantage, because almost everyone is reading modern books. Old books take us out of the modern world of assumptions and things we, rightly or wrongly, take for granted as truth. They take us out of the modern zeitgeist. In taking us out of the modern set of assumptions and worldview, we can step into another point-of-view, and from there have a basis to compare the modern world's set of assumptions. Understanding another worldview will teach us to question things that we assume and take for granted (and have often times uncritically consider true).
---
5. Learning to Write by Learning to Think
Writing is learning to think. It takes the idea and makes it concrete, or at least more solid. It clears the room of smoke that was a hazy set of unarticulated ideas in your mind. Think of writing as an exercise in learning to think. Not as an exercise in writing out thoughts. People who have lost loved ones and are grieving are often told to journal, because writing helps them sort through their grief. It does that by having to face and specifically articulate their thoughts, as uncomfortable as they may be. And what they find is that they're comforted in doing so. The exercise is cathartic and therapeutic. Why? Because writing requires self-assessment, and therefore fosters clearer thinking when the vague thoughts and notions have to be articulated in specific words. This word and not that word. So the things that grieving people are not wanting to face, such as a lifetime without their loved one, has to be not only faced, but also articulated and described. An avenue of hope and better understanding will emerge in doing so. Whenever you face the thing you don't want to face, it shrinks and you grow. The exercise teaches you how to sift through the unarticulated haze of thoughts in your mind (especially for people who are grieving), and turn it into meaningful and understandable order. Use the Hemingway app to check your work. The Hemingway app is helpful because it detects difficult language and helps you to parse it down into more understandable sentences.
---
6. Rest, and Do Something Mindless
The brain learns best by being exposed to whatever it is, such as reading, math, music lessons, etc., in fairly short intervals (about 45 minutes), and then needs time to rest. In its rest it assimilates the new information. Think about the assimilating as happening in the background, while you're doing the mindless thing or resting. It updates like an app on your phone while you're busy doing other things with it, like checking email. This also ties in to the necessity of good and restful sleep. There is a lymphatic system equivalent in your brain that washes your brain clean whenever you sleep and clears it of toxins. Resting is just as important as studying. Get on a good schedule of sleeping and waking up at the same time every morning.
---
7. Learn How to Argue and Persuade, and Avoid Logical Fallacies
You'll probably have to make a lot of arguments in college, in papers, and especially if you pursue graduate education. See our article on this subject called
The Art of Argument: Persuasion and Logical Fallacies
. This article teaches the three tenets of making a persuasive argument:
Ethos: Ethos is the character of the speaker. Your character, which establishes why the listener should attend to what you have to say, needs to be established right up front.
Pathos: Pathos is the emotional appeal to the listener. This establishes the importance of the argument and why the listener ought to care.
Logos: Logos is the content of the argument itself.
Your bona fides (ethos), your emotional appeal (pathos), and your argument's contents (logos) all need to be in place to make the most persuasive arguments. Then, concerning the Logos aspect of the persuasion technique, it's important to avoid logical fallacies. There are many logical fallacies. Our article goes through 15 of them, with explanations and videos.
---
7 Characteristics of Successful Students
---
Logical Fallacies | Frequently Asked Questions
The Top 10 Logical Fallacies to Avoid in Arguments
1. Straw Man Fallacy
The Straw Man Fallacy is misrepresenting the position of the opponent. This is done by replacing their position with an altered position (a straw man), and then attacking that altered position. A Straw Man is a weak and fake version of a man, which is easy to defeat. This fallacy sets up an easy and false version of the opponent's argument, and then knocks that down or argues against that false position. Meanwhile, the actual argument of the opponent hasn't been addressed at all. Arguments cannot be conducted under these fallacious conditions because the subject of the argument itself isn't actually being addressed.
---
2. Begging the Question (Circular Reasoning) Fallacy
Re-stating or reaffirming the premise (or premises) as the conclusion (without any further explanation or information). Assuming the conclusion in the premises. The problem with this fallacy is that it never progresses the argument past the premise(s). The premises are simply reasserted as the conclusion. Or, the conclusion is put into the premises, and the reasserted as the conclusion. The premise of an argument has to be different in content and meaning than the conclusion. And the conclusion has to be separate in content and meaning than the premises, albeit related by being the logical conclusion.
---
3. Ad Hominem Fallacy
Attacking the person and not their argument. One manifestation of this argument fallacy is saying that the identity of a person disqualifies them from making or engaging in the argument itself. It's attacking a person instead of their position in the argument. An example would be to say that Cliff cannot be correct that squares have right angles because he is a bad person and has been known to steal ideas and credit them for himself. The position that squares have right angles or not has been left untouched and not dealt with by this fallacy. You can see this playing out in the political sphere in modern American politics, such as "You say that freedom should be a priority over social justice because you are a Republican." Or putting it the other way, "You say that social justice is more important than freedom because you are a Democrat."
---
4. Post Hoc Fallacy "post hoc ergo propter hoc" (after this, therefore because of this) Fallacy
Assuming causality from order of events. Claiming that since B always happens after A, then A must cause B is the fallacy. Order of events doesn't mean causation, necessarily. Actual causation would remain unexplained. The sequence of events needs actual causation to be understood in order for causation claims to be made.
---
5. Loaded Question Fallacy
Asking a question which includes the desired outcome of the questioner, and against the position of the person answering the question. The classic example of the Loaded Question is "Are you still beating your wife?" Whether the person answers yes or no, the answerer is still painted as a wife beater.
---
6. False Dichotomy (False Dilemma, Either/Or) Fallacy
Dichotomy means "a division or contrast between two things that are or are represented as being opposed or entirely different." A False Dichotomy is when the arguer is presenting only two possible options or outcomes to a position, when in reality there are more. It's done to narrow the opponent's position to only two possible outcomes (often to outcomes which are untenable or ridiculous to both parties of the argument). It's a rhetorical tactic designed to lead to unwanted conclusions.
---
7. Equivocation (Doublespeak) Fallacy
To "Equivocate" means to "use ambiguous language so as to conceal the truth or avoid committing oneself." The goal behind this fallacy is to mislead the listener. Often the meaning of a word is changed mid-argument to serve the purposes of the one who is being misleading.
---
8. Appeal to Authority (ad verecundiam) Fallacy
The authority's bona fides needs to be established. Even then it can be fallacious to cite them as an authority, depending on the authority's claim. This one is tricky because it depends on the circumstances and scenario. There are experts (authorities) on opposing sides of court cases. They can both be right in certain domains, or within the same domain one can be more right than the other. The fallacy would be to make more of a claim than just an expert
opinion
.
Being an expert on a given topic doesn't mean then that anything that the expert claims is therefore correct.
---
9. Hasty Generalization Fallacy
Making an unwarranted claim about the group from the particulars or characteristics of a select few within the group. The characteristic or characteristics of a person who belongs to a group doesn't therefore necessarily translate those characteristics to the group taken as a whole, or to most of the members of the group. People have varied characteristics, and often the categories that people belong to are often based on one thing, and are unidimensional. Once their individual characteristics are really parsed out, the differences become apparent between individuals who belong to a category or group.
---
10. Appeal to Popular Opinion (ad populum) Fallacy
Making an argument that a position is true or has validity because a great number (or the majority) of people hold to that position. The fallacy here is that the majority may be factually wrong as a result of being misled or having partial information and drawing wrong conclusions. We've seen this in history, in which the majority of people have been misled by their media or by their government or by wrong scientific assumptions.
---
Other argument types that aren't necessarily fallacious:
1. Slippery Slope:
I'm not including the
Slippery Slope
argument type in this list of fallacies, because it's not always fallacious. There are perfectly true instances where the person making the slippery slope argument has the foresight to see the future consequences of the first action and correctly predicts what results at the bottom of the slope. There are instances in which the slippery slope argument is used that turn out to be factually wrong, but as an argument type in and of itself, there is nothing in the structure of the argument that makes it necessarily fallacious. Let's look at the
Stanford Encyclopedia of Philosophy's
entry on the Slippery Slope:
"15. The fallacy of the slippery slope generally takes the form that from a given starting point one can by a series of incremental inferences arrive at an undesirable conclusion, and because of this unwanted result, the initial starting point should be rejected. The kinds of inferences involved in the step-by-step argument can be causal, as in:

You have decided not to go to college; If you don't go to college, you won't get a degree; If you don't get a degree, you won't get a good job; If you don't get a good job, you won't be able to enjoy life; But you should be able to enjoy life; So, you should go to college.

The weakness in this argument, the reason why it is a fallacy, lies in the second and third causal claims. The series of small steps that lead from an acceptable starting point to an unacceptable conclusion may also depend on vague terms rather than causal relations. Lack of clear boundaries is what enables the puzzling slippery slope arguments known as "the beard" and "the heap." In the former, a person with a full beard eventually becomes beardless as hairs of the beard are removed one-by-one; but because the term 'beard' is vague it is unclear at which intermediate point we are to say that the man is now beardless. Hence, at each step in the argument until the final hair-plucking, we should continue to conclude that the man is bearded. In the second case, because 'heap' is vague, it is unclear at what point piling scattered stones together makes them a heap of stones: if it is not a heap to begin with, adding one more stone will not make it a heap, etc. In both these cases apparently good reasoning leads to a false conclusion."
It is not the structure of the argument as a Slippery Slope type argument that is the issue at hand that makes this example fallacious, it is the poor reasoning within the argument. Perfectly valid logical constructions can become invalid by erroneous reasoning. It doesn't follow that the structure of the argument is itself fallacious. It only means that in this example a false inference was made. That doesn't render the argument type as fallacious. I'd like to prevent the idea that using a Slippery Slope argument is, by definition, a fallacious argument. It isn't. Slippery Slope argument is rejecting an initial starting point, action, position, or step, because negative consequences will follow. Doing so doesn't always involve poor reasoning. It can involve perfectly valid reasoning that comes true. Even if the consequences don't come true in one example, they could come true in another. What's at play in the "beard" and "heap" is a question of
Identity
(at what point one identity is altered sufficiently to become a new identity). It is a large, ongoing philosophical question, independent of its use in a Slippery Slope argument. This is a philosophical question as old as Heraclitus, mentioned by Plato, and referred to as the "Ship of Theseus". Whether you maintain that, things that are in flux, they still maintain their original identity, or that the flux is sufficient to produce a new identity, has to be done on a case-by-case basis. It can be reasonably discussed, and doesn't render a Slippery Slope argument as fallacious.
---
2. Appeal to Emotion:
I'm also not going to include
Appeal to Emotion
, as sometimes it's appropriate to appeal to the emotion of the listener to make an argument that is "right". Sometimes being morally right is more important than being logically right. Morality can supersede logic when the logical position of the argument is sufficiently reprehensible. And when it's doing damage to our moral sensibilities. Sometimes the only way to awaken the moral implications of an argument is through the appeal to emotions. Example: Without any appeal to morality, an argument can be made to harvest the organs of handicapped people (such as those with Down's Syndrome and severely autistic people) to use for the transplant needs of people who contribute the most to society. If the sole aim is the betterment of society considered as a whole, and that these means justify the end, this argument is logical. However, it is considered sufficiently morally reprehensible to kill and harvest the organs of people, no matter how much they're handicapped (and it's especially wrong to victimize the helpless). No one wants to live in a world that operates like this. More is involved in actual life than just acting on logical constructions in isolation. A logical argument can tell us what could be, a moral argument can tell us what ought to be. Sometimes the only way to interject the moral understanding in the argument is through the appeal to emotion. As an argument type in and of itself, this isn't always fallacious.
Logical Fallacies | Frequently Asked Questions
1. What are examples of logical fallacies?
2. How would you explain a logical fallacy?
As an argument in which the conclusion doesn't follow from the premise or premises. The premises could be wrong, or the conclusion could be wrong, or both. First, identify which logical fallacy is being used. From there you can describe the fallacy by giving a hypothetical example that your listener will understand. An over-exaggerated example works best, because it draws-out, by exaggeration, where in the argument the fallacy is. Then you can explain exactly how (at the over-exaggerated point) the break in logic occurred, and how the conclusion isn't supported by the premise(s). For example, with a Straw Man fallacy, you can make another Straw Man type of argument that's more directly obvious as being fallacious by grossly misrepresenting the opponent's position. This should illustrate the point of where the mistake occurred.
3. What makes a logical fallacy?
What makes a logical fallacy is an incorrect conclusion; conclusions that are not supported by the premise(s). You may have correct premises, but yet through fallacious reasoning you've arrived at an incorrect conclusion.
4. Is generalization a logical fallacy?
Hasty Generalization is a logical fallacy. The relevant part of this is the "hasty' nature of the generalization, which means generalizing the group erroneously and without supported evidence, based on the particulars of a few within that group. As explained above, it's "Making an unwarranted claim about the group from the particulars or characteristics of a select few within the group." Generalization by itself is not necessarily a fallacy. You would have to look at what's being generalized, and on what grounds the generalization is based.
5. What is a fallacy example?
Appeal to Authority Fallacy: appealing to an authority in an argument doesn't settle the question of the cogency of the argument at hand. Authorities can be wrong. As explained above: "The authority's bona fides needs to be established. Even then it can be fallacious to cite them as an authority, depending on the authority's claim. This one is tricky because it depends on the circumstances and scenario. There are experts (authorities) on opposing sides of court cases. They can both be right in certain domains, or within the same domain one can be more right than the other. The fallacy would be to make more of a claim than just an
expert opinion.
"
6. Why are logical fallacies important?
Knowing and understanding logical fallacies is important because it stops the exchange of untruth. They're only so good as they root out what's not true, so that, when determined, an argument ceases to be valid, and hopefully ceases to be asserted and/or believed. It's also important because identifying where the mistake in logical occurred allows for correction. Logical fallacy identification is the corrective for bad argumentation.
7. How do you respond to a logical fallacy?
The best way to respond to a logical fallacy is to identify it and call it out by name, and then explain what the fallacy is and how it was used in the argument.
8. Why should you avoid logical fallacies?
You should avoid logical fallacies to make true arguments, or at least arguments that aren't false in their formulation.
9. What is the best way to prevent making logical fallacies in arguments?
The best way to avoid making logical fallacies is first to learn the most common fallacies. Secondly, and just as important, is to assess your own arguments, and see if the arguments you're making are using any logical fallacy, and if so, which one(s)? This requires self-assessment, analyses, and reflection. The goal is to be able to have an ongoing ability to determine this as the argument is being made (not after the fact, but while the conversation is occurring). It requires having an internal monitor as to the cogency of what you're saying or writing. If you're reading this on your phone, look up and look around. You'll probably see a number of people still looking at their phone. Technology has made it so that it's difficult to be without your phone at all. Since your phone is now an extension of your life, use it to your advantage and develop these life skills. Outside of social media and apps, there's a lot your phone can do for you. Get a handle on these basic technology skills for which you need to be using your phone, and start filling your resume (yes, your resume!) with the results.
---
1. Research, Referrals, & Reservations
Facebook makes it easy for you to ask your local friends for any recommendation from a mechanic to a restaurant, creating a map of recommended locations. But you may not wind up with many leads or much of a variety, so use a search engine to find what you're looking for. Compare businesses by their reviews – remember to check for quantity and date of reviews (the more recent, the better) and not just how highly they're ranked. Whether it's dining out, needing a rental car, or booking a hotel, making reservations is a skill with which you need to be familiar. You can make many reservations clicking through automated systems, but developing your conversational and people skills is a great opportunity. Life is full of people you'll have to interface with, so get in some practice by making phone calls. Positions in Human Resources are filled with opportunities to conduct interviews and engage in conflict resolution, so strengthen your communication skills early.
---
2. Online Bill Pay, Banking, and Tech Support
Paperless billing makes online payments easier than ever, but even mailed statements frequently have the option to pay online or over the phone. Have your credit or debit card in hand, or your account and routing numbers handy if using a checking account. Your routing number is 9 digits long. This is shorter than your phone number, so just memorize it to save time. If an auto-pay option is helpful for you, take advantage of it. Don't forget to mark the recurring payment date on your phone's calendar with a reminder so you can make sure the funds are available. It seems like common sense to say, "Check your bill closely," but sometimes statement errors occur. Clear up confusion or resolve errors by contacting customer service in either a phone call or live chat. Customer service can be an exercise in patience! Resolve ahead of time to speak courteously to the rep you have on the line. Remember that any error on your bill isn't
their
personal fault. This seems like a small thing, but developing excellent people skills can increase the longevity of your job. Employers like employees who can keep their cool and get along with others. (Customer service reps don't have their jobs for nothing! They're using this skill set when you call.)
Online Banking
Keep track of your spending and paychecks by logging in to your online banking account once every evening. Balancing a checkbook isn't just an obsolete habit of your parent's generation. The goal is making sure the figures always match. Compare deductions to your shopping receipts and online bill-pay amounts, and deposits to your paycheck stubs. Sometimes online banking errors occur. Checking daily can help catch them early and avoid overdraft charges, catch unusual activity and possibly detect fraud.
Tech Support
Outages drive everyone nuts, whether it's your internet, power, or utilities. Reporting outages to your provider can help assist and give them information about your location. In turn, you may find out what you need to know about what's causing the outage and how long is expected until things are running again. Keep a paper copy of must-have numbers to have on hand for your different providers, in the event you can't look them up due to an online outage. If it's a minor issue, like an appliance or piece of home technology that's gone out, contact tech support. You may be able to troubleshoot it over the phone with an expert giving real-time advice.
---
3. Scheduling, Renewals, and Clerical Apps
Your mother won't always be scheduling your dental appointments for you…or any other kind of routine appointment. Start making your own appointments. Do you have a pet? Schedule their check-ups as well. Make sure you have a copy of your family's health insurance card. If you don't have one, contact your health insurance customer care line and ask. Use the calendar app on your phone to log all appointments the moment you get them. The little business card with appointment reminders can get lost before you know it, and missed appointments frequently carry high no-show costs if you forget to arrive. Ask your provider if they have patient paperwork information you can fill out online in advance, to save time in the waiting room, and then use your phone to do it.
Renewals
You can register to vote or
make online changes to your voter registration here
. Renew insurance policies and other registrations before they lapse. Most insurance companies have apps, find yours and download it. You can retrieve your insurance policy, for car insurance for example, from the app. There is usually a grace period of a few days between the expiration date and when it's technically "late," but again, use your calendar app to set a reminder so you don't wind up with any late fees. To assist in paying your insurance on time, set up automatic payments, monthly, with the insurance company.
Excel & PowerPoint
Learning to use Excel can actually serve you as a marketable skill. Put the Excel app on your phone and use it to keep track of everything from color-coded lists to budgeting. Many employers prefer their applicants to have a working knowledge of Excel, as it is used in a wide array of careers. Likewise, using the PowerPoint mobile app on your phone can give you the opportunity to learn skills that may come in useful throughout your college studies and future career. And it's another office skill you can include on your job application.
---
Conclusion
Many modern jobs need both strong technological skills
and
people skills to thrive. Take these opportunities to develop and strengthen your communication and technology skills by using your phone in these practical ways. Using your smart phone in smart ways can put you ahead of the game. You already have your phone in your hand, put it to the best use. A large number of online students receive financial aid. Students attending a college, university, graduate school or a career school online or on-campus can receive federal financial aid and other types of financial aid. Online and on-campus students basically use the same financial aid process. Every student should complete the Free Application for Federal Student Aid (FAFSA) form. Certain factors affect the type and amount of financial aid students receive. Online programs consider the students' enrollment status such as full-time or part-time and may require students to meet a set number of credit-hours.
---
Financial Aid Guide for Online College Students
---
Accreditation and Federal Financial Aid
Schools must receive accreditation from an accrediting agency which has recognition from the Department of Education in order to receive federal financial aid funds.
---
Federal Loans
Choosing a federal loan has many benefits, students do not need a credit check to receive federal student aid, including most federal student loans, whereas many organizations providing private loans consider credit history. Federal loans provide:
Low, fixed interest rates
Income-based repayments
Loan cancellation options
Deferment/postponement options
Many private loans do not allow such flexibility.
---
When should students apply for financial aid?
Overall, the earlier a student applies for loans or grants the better as financial aid dollars are limited. A few federal student aid programs have limited funds, also several states have financial aid programs with limited funds and some types of financial aid have deadlines. Some states and colleges provide their financial aid on a first-come, first-served basis. Students should complete the FAFSA application as soon as the application is available.
---
Free Application for Federal Student Aid (FAFSA)
The majority of financial aid granting institutions, from private colleges to the federal government, use the FAFSA to evaluate a student's economic need. All students (including U.S. citizens, nationals, and legal permanent residents) gain access to grants, loans, scholarships, and more through the FAFSA. Students complete the FAFSA annually to remain eligible for federal student aid.
How to complete the FAFSA
Students complete and submit the FAFSA online starting October 1
st
of each year and have until June 30
th
to submit the application. To begin, students create a user name and password. The FAFSA requires information from a student or family's most recent income tax return. The U.S. Department of Education evaluates the FAFSA and responds with the Student Aid Report. Colleges determine a student's financial aid based on the Student Aid Report. Programs such as the IRS Data Retrieval Tool help save time and effort.
---
Submit a Free Application for Federal Student Aid:
FAFSA form
FAFSA4caster
The FAFSA4caster estimates student eligibility for federal student aid. Individuals provide the appropriate information and a worksheet generates an estimated net cost of attending a selected institution.
---
Federal Direct Subsidized Loans
The federal government offers Federal Direct Subsidized Loans (also known as Stafford Loans) only to undergraduate students who meet financial need criteria. The school's evaluation of a student's financial need is the deciding factor for the sum of money the student can borrow. The Department of Education covers the interest rate for the loan while the student is enrolled at least part-time, up to 6 months upon graduation, and during any periods of deferment. Typically, students receive up to $5,500 annually based on their grade level and dependency, however this is subject to change. Students make payments to the Department of Education.
---
Federal Direct Unsubsidized Loans
Different from a Subsidized Loan, students do not need to prove their financial aid needs when applying for a Federal Direct Unsubsidized loan. Undergraduate, graduate and professional students can receive this type of government loan. The schools decide the appropriate amount of the loan based on the cost of the student's attendance, and any different financial aid the student receives. The student is responsible for the interest of the loan at all times, which accumulates during any periods of deferment. The government may award up to $20,500 based on the student's grade level and dependency status.
---
Federal Pell Grants
To apply for the Pell Grant, a student must complete the FAFSA annually and be an undergraduate who has not yet earned a degree. However, under certain circumstances, students getting a post-bachelor's teacher's certification may get a Pell Grant. Except under specific circumstances students do not have to repay the money. The government awards up to $5,775 based on:
Financial need
Cost of attendance
Enrollment status
Yearly attendance
---
Parent Plus Loans
The Department of Education awards the Parent Plus Loan, available through the Direct Loan Program, to the parents of dependent undergraduate students to cover costs their children's aid packages do not already cover, up to the full cost of attendance. The Parent Plus Loan has no cumulative limit. The applicant does not need to demonstrate financial need. However, the Department of Education considers the applicants prior credit history.
---
Grad Plus Loans
The Department of Education funds the Grad Plus Loan and uses the FAFSA to determine student eligibility. Only graduate and professional students qualify for the loans. The loans allows students to borrow up to the full cost of attendance minus any other financial aid. Students do not demonstrate financial need for this loan. The federal government reviews a student's prior credit history. Students with poor credit history require a cosigner or a document detailing the extenuating circumstances. Fixed interest on the loan accumulates immediately after disbursement of the loan, minus an origination fee.
---
Grants
Numerous establishments provide students with grants including:
Colleges
State and Federal Government
Private Organizations
Employers
Most often the College awards the grant. Also known as 'gift aid', students do not repay a grant. The establishment providing the grant typically considers the student's financial circumstances when determining the amount of the grant.
---
Teacher Education Assistance for College and Higher Education Grant
Also known as the TEACH Grant, this program awards up to $4,000 annually to students in a Teach-Grant-eligible program which leads to a bachelor's degree or master's degree or is a post-baccalaureate program (not eligible if provided from a school which also provides a bachelor's degree in education). Students must also agree to the following stipulations:
Complete the FAFSA
Maintain academic achievement requirements
Sign the TEACH Grant Agreement to Serve
The TEACH Grant Agreement to Serve requires individuals to work for a minimum of four years in a high-need field at an elementary school or a secondary school or educational service agency serving students from low-income families. Individuals have up to eight years to complete this requirement after graduation.
---
Iraq and Afghanistan Service Grants
Students must complete the FAFSA each academic year to apply for this grant. Student must meet the following criteria:
Have a parent or guardian who died in Iraq or Afghanistan post 9/11 as a result of military service
Be under the age of 24 or enrolled in college at least part-time at the time of the parent or guardian's passing
Meet the majority of the requirements for the Federal Pell Grant with the exception of the Expected Family Contribution
The Iraq and Afghanistan Service Grant awards annually up to the same amount as the Federal Pell Grant. The amount cannot exceed the cost of attendance.
---
Federal Supplemental Educational Opportunity Grant (FSEOG)
Undergraduate students who demonstrate exceptional financial need on the FAFSA qualify for the FSEOG. Not all schools participate in the FSEOG. Financial aid offices at each college provide information and administer the grant directly to qualifying students. Students can receive between $100 and $4,000 annually. Usually, students do not repay the FSEOG, except under certain circumstances.
---
Volunteer Work in Exchange for Loan Forgiveness from the Federal Government
The following organizations provide loan forgiveness in exchange for volunteer work:
AmeriCorps
The Federal Government forgives the balance of student loans after 10 years of full-time work at an eligible nonprofit or government agency. The federal government expects Individuals to make loan payments based on living allowance during this time. Acceptable career areas include:
Social Work
Teaching
Emergency Management
Disability Assistance
Military Service
---
Peace Corps
Service in the Peace Corps may count towards Public Service Loan Forgiveness. The Public Service Loan Forgiveness program forgives the balance of a Federal Direct Loan after a minimum of 10 years of work or 120 qualifying payments. The federal government forgives other types of loans only if students have them consolidated under a Federal Direct Loan.
---
Volunteers in Service to America
Students provide 1,700 hours or more of volunteer service to private, non-profit groups working to eliminate hunger, homelessness, poverty and illiteracy. Students receive up to $4,725 in exchange for their work.
---
Teaching and Loan Forgiveness
The National Defense Education Act forgives up to $17,500 for eligible individuals' Stafford or PLUS loans. Full-time teachers at elementary and secondary schools serving low-income families are eligible for the program. The American Federation of Teachers provides a list of loan forgiveness programs and funding opportunities for teachers.
---
Employer Tuition Assistance
Some students work full-time or part-time while pursuing higher education. Both graduate and undergraduate students can inquire about employer education assistance benefits. These benefits apply whether or not the student is seeking a degree. The Internal Revenue Service, per section 127, grants employers up to $5,250 for an employee's academic courses tax-free each year. Each employer has different policies for students to follow.
---
Federal Education Tax Credits and Deductions
An education tax credit reduces the amount a student owes on his or her federal income tax. If the amount a student owes reduces to less than zero, the student receives a refund. The American Opportunity and the Lifetime Learning offer education tax credits individuals can deduct from their federal income tax.
---
American Opportunity Tax Credit
The American Opportunity Tax credit is an extension of the Hope and Lifetime Learning credit and allows students a maximum annual credit of $2,500. If the credit amount owed reduces to zero, people can have up to 40 percent, or $1,000, refunded to them. The credit is available during the first four years of college. Students must meet the following eligibility requirements:
Pursuing a degree
Enrolled at least part-time at the beginning of the tax year
Attending college four years or less
Have not claimed the credit for more than four years
No felony drug conviction
---
Lifetime Learning Credit
The Lifetime Learning Credit helps pay for qualified tuition and other educational expenses for undergraduate, graduate, and professional degree courses. Students can claim the credit indefinitely as long as they meet the eligibility requirements. The government awards up to $2,000 per tax return.
---
Federal Work-Study Programs
Work Study programs offer eligible students part-time jobs on or near campus. Typically, a student receives the current federal minimum wage and the money earned helps to pay educational expenses. The school awards a work-study program based on a student's financial need and the funding availability. The financial aid office or the employer considers a student's class schedule and academic progress when arranging work hours. The Federal Work-Study program encourages community service work and work related to a student's course of study. To apply, students complete and submit the FAFSA.
---
Many public and private organizations offer educational funding to military personnel or their family members. The programs have unique qualifying requirements and paid benefits. The Military's Tuition Assistance Program is one example of a service which pays up to 100 percent of the cost of tuition. Certain Reserve and National Guard units also provide tuition aid. See more information
here
.
---
---
here
.
---
---
st
each year. See a list of participating institutions
here
.
---
Financial Aid Guide for Online College Students
---