Higher education is more accessible than ever before for online learners. Arizona has many top online universities and colleges that accommodate different learning styles and needs for students pursuing undergraduate or graduate degrees. We have done the research for students to be informed of the best online colleges in Arizona and their tuition rates. Also learn about financial aid opportunities and explore trends in education online.
Synopsis:
This article provides an overview of the top online colleges in Arizona, including accreditation, flexibility and affordability.
It also covers financial aid options such as scholarships, grants and loans for Arizona residents.
Online education trends in Arizona involve the growth of online programs and hybrid learning models to create greater flexibility for students.
Arizona has a large number of prestigious online universities, including Arizona State University Online, University of Arizona Global Campus, Northern Arizona University Online, and Grand Canyon University Online.
These institutions offer a large variety of online degrees, including online bachelor's programs, which are often flexible for professionals, parents, or anyone else. With the convenience of distance learning, online learners can pursue higher education without sacrificing other commitments.
But how do these colleges compare against one another? Each institution has unique features and benefits. In the school rankings below, we show the degree levels of these top online colleges in more detail along with tuition and accreditation information, providing an overview to help prospective students be informed of college degree options.
The Best Online Colleges in Arizona
Arizona State University
Scottsdale, Arizona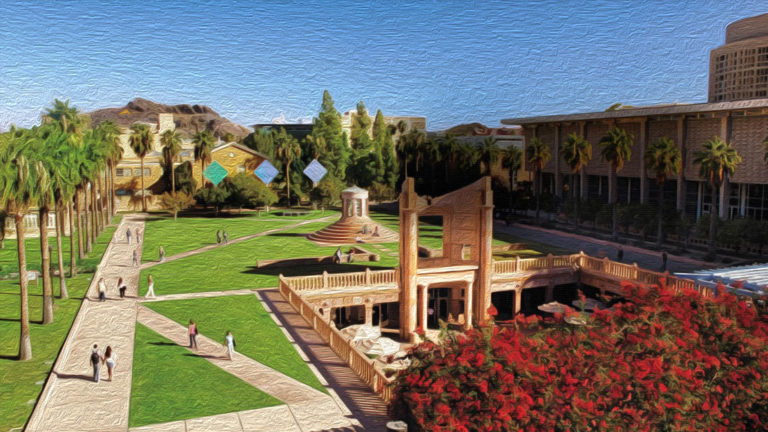 Arizona State University (ASU) Online, a public research university, sets the bar high with its respected faculty and diverse range of online programs in areas such as business, digital media, engineering, and sustainability. ASU has earned a reputation for academic excellence.
With a large variety of undergraduate and graduate programs available, online learners can pursue degrees in many subjects and at their own pace.
Bachelor's degrees:
$561–$661 per credit hour
Master's degrees:
$543–$1,343 per credit hour
Certificates:
$543–$1,099 per credit hour
The yearly tuition for online bachelor's degrees for Arizona state residents paying in state tuition is $14,349. For out of state students tuition is $16,553. In state tuition rates are slightly lower.
For online master's the tuition rate is $12,737 for in state or out of state students.
ASU is regionally accredited by the Higher Learning Commission, indicating the institution's commitment to quality higher education.
University of Arizona - Global Campus
Tucson, Arizona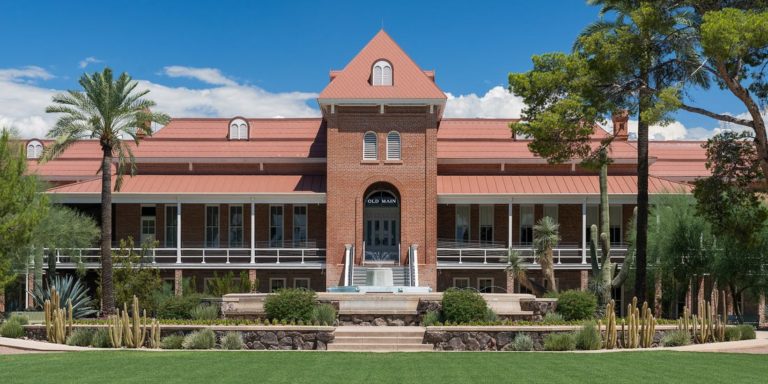 The University of Arizona, the oldest university in the state, offers its own online division known as the University of Arizona Global Campus (UAGC). UAGC is a public institution that offers online degrees.
UAGC is one of the best online colleges in part because they provide frequent online start dates, allowing online learners to begin their academic studies in a timely manner.
With online associate through doctorate degrees available, including childhood education, business administration, organizational management, accounting, and healthcare administration, prospective students have many choices.
The education cost for undergraduate tuition is $510 a credit for online courses. Online master's tuition rates are between $655 - $740 per credit. Online tuition for doctoral degrees is $1082 per credit.
The University of Arizona has regional accreditation through the Higher Learning Commission.
The University of Arizona, Global Campus has regional higher education accreditation through WASC Senior College and University Commission.
Grand Canyon University
Phoenix, Arizona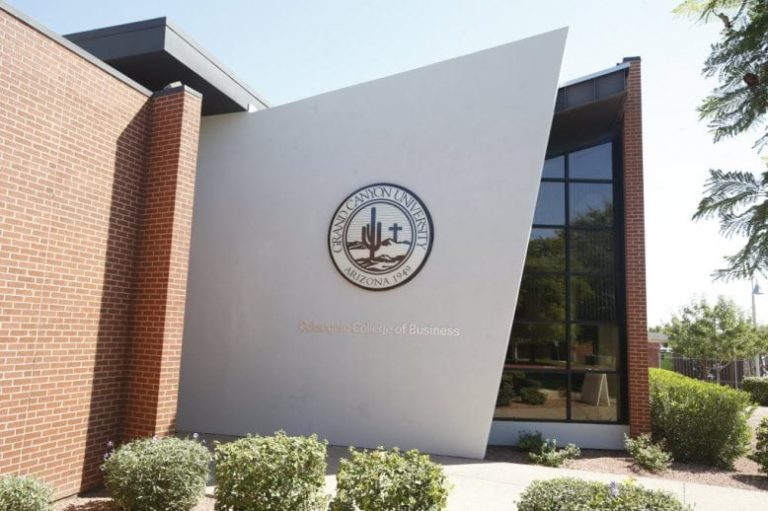 Grand Canyon University (GCU) Online offers flexible and career-oriented programs for students seeking a high quality education on their schedule. GCU's learning management system encourages communication and collaboration, providing students with the necessary tools to succeed in their degree subject.
GCU will accept a GED or high school diploma for consideration for undergraduate programs, providing that a wide range of students can access their education.
GCU has the same school reduced tuition rates since 2009 for on campus programs.
Education costs for online courses for academic year 2023 - 2024 are:
Between $120 for Continuing Education to $725 for doctoral degrees per credit.
Undergrad is between $340 - $485 per credit depending on the subject.
Graduate programs are between $410 - $725 per credit.
The tuition of a Bachelor's degree online is approximately $11,040 per year. Graduate students getting a degree online will have a tuition of $8,752 per year for a master's and $8040 for a doctoral degree online.
GCU has regional accreditation through The Higher Learning Commission (HLC).
Northern Arizona University
Flagstaff, Arizona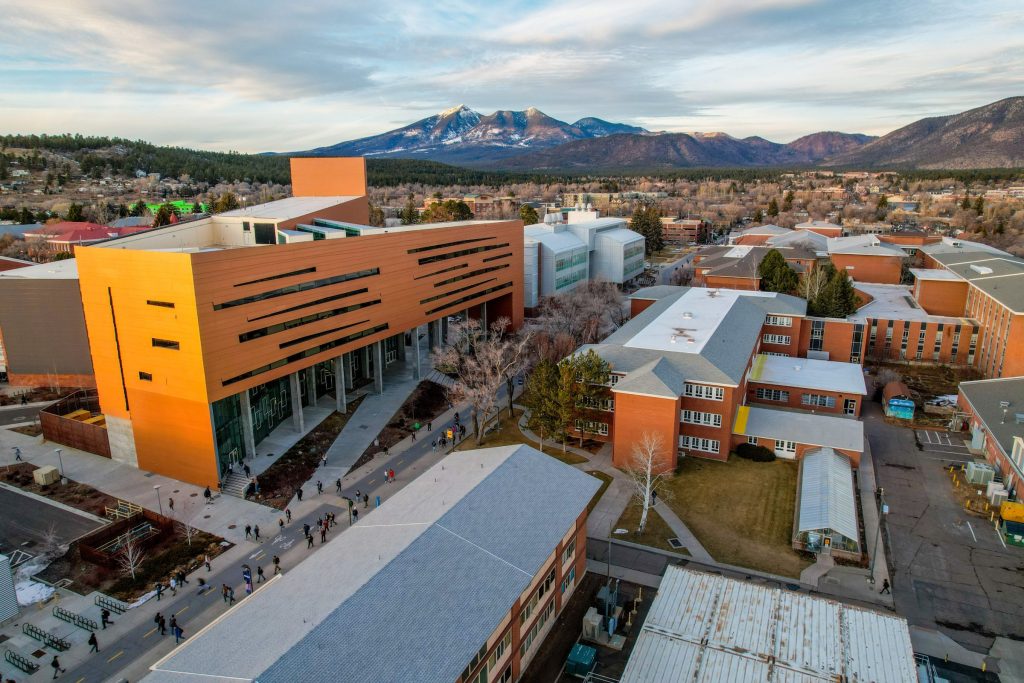 Northern Arizona University (NAU) Online sets itself apart from other online colleges in Arizona by offering weekly start dates for its online programs, making it an appealing choice for students seeking flexibility.
NAU Online provides personalized information through its LOUIEgo platform, tracking campus shuttles in real-time, and offering access to the dining services portal, which are helpful for the student experience in their online learning.
Undergraduate degree online tuition is $11,160, and the tuition for online graduate students is $14,040 per year.
Arizona Christian University
Glendale, Arizona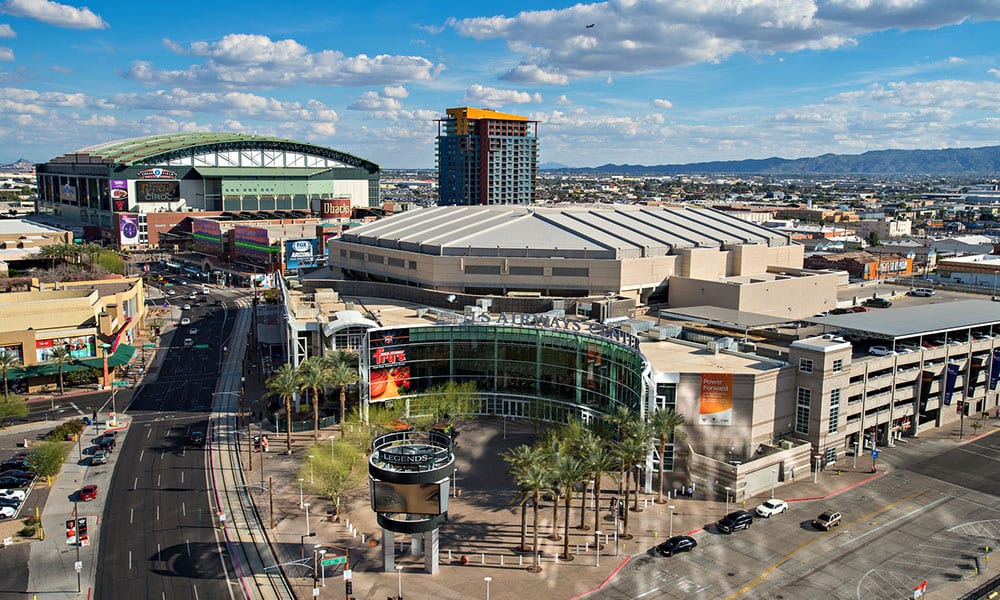 Arizona Christian University (ACU) is a non-profit, private, Christian liberal arts school, which offers online associate's, bachelor's, and master's degrees. Tuition is $450 per credit hour.
ACU teaches biblical principles in many subjects, including:
Education
Business Administration
Biblical and Theological Studies
Social and Behavioral Sciences
Human Development and Family Studies
ACU is regionally accredited by The Higher Learning Commission.
It's also worth noting that students attending online colleges in Arizona may benefit from the Western Undergraduate Exchange (WUE) program, which stipulates that students pay no more than 150% of in-state tuition costs for approved online programs at other participating WUE-qualified online schools in the state. This provides an additional incentive for students and working professionals to consider online colleges in Arizona when making their decision. Arizona State University, Arizona State, and Northern Arizona University all participate in the WUE.
Comparing Online Degree Programs in Arizona
When choosing a college, it's essential to evaluate various factors to ensure that the program aligns with your needs and budget. In this section, we'll compare online degree programs in Arizona based on three key criteria: accreditation, program flexibility, and affordability.
Understanding these factors will help you make an informed decision and ultimately find the most suitable online degree program in Arizona. Let's dive deeper into each of these criteria to help you assess your options.
Accreditation
Accreditation is a process in which a private entity evaluates a school or programmatic degree to decide if it meets and maintains pre-established standards of quality and academic excellence. Accreditation is important for online degree programs because it guarantees that the programs meet certain standards of quality, illustrating that the degrees obtained from accredited institutions are legitimate. In short, accreditation is a standard that can potentially impact your education and potentially your job prospects.
Program Flexibility
Program flexibility is essential for online degree programs in Arizona, as it allows students to balance their studies with work and family life, and complete coursework at their own pace. Online colleges in Arizona offer a range of flexibility options, including accelerated courses, self-paced courses, and hybrid courses, providing students with the opportunity to tailor their learning experience to meet their individual needs and objectives.
Affordability
Affordability is another factor to consider when choosing an online program. Tuition costs for students enrolled online can vary depending on whether a school distinguishes between in-state or out-of-state tuition rates, or gives a flat rate for online school. Generally, in-state tuition rates are cheaper than out of state tuition rates.
Research the cost of each program and any financial aid opportunities available to help offset tuition expense.
Financial Aid for Online Students
Paying for an online program can be a daunting task, but prospective students can access a variety of financial aid options to help ease the burden. Understanding and applying for financial aid can make a significant difference in your ability to afford higher education.
We explore financial aid opportunities available to online students, including scholarships, grants, and loans. Each financial aid option has its own set of eligibility requirements and application processes, so it's to do your own research and apply for any options relevant to your situation.
Scholarships
Scholarships are an excellent way to finance your education in Arizona, as they do not require repayment. There are numerous scholarships available in the state, including the healthcare scholarship, Navajo language and government scholarship, women over 21 scholarship, welding technology scholarship, and project management scholarship.
Each scholarship has its own eligibility requirements, so research and apply for those that align with your academic goals.
Grants
Grants, like scholarships, do not require repayment, making them another valuable financial aid option for Arizona students. The Arizona College Access Aid Program (ACAAP) and the Arizona Leveraging Educational Assistance Partnership (AzLEAP) are two need-based grant programs available to low-income Arizona residents pursuing an undergraduate education.
Researching and applying for these grants can help alleviate the financial burden of higher education.
Loans
Loans are another financial aid option for online students in Arizona, although they do require repayment. Federal Pell Grants and Direct Student Loans are available to online students, and there may be additional scholarships, grants, and Arizona student loans to help cover the cost of education.
Online students in Arizona can apply for loans through the Free Application for Federal Student Aid (FAFSA). It's important to research and apply for any loans that may be relevant to your financial needs.
Financial Aid Guide for Online Students
Support Services for Arizona Students and Online Degrees
When starting the college journey and securing financial aid, it's important for students to have access to support services that can benefit their education. These services can help students overcome challenges, maintain their academic goals, and connect with resources that can aid in their success.
In this section, we'll explore the support services provided by Arizona colleges, including advising, career services, and support. Knowing what services are available and how to access them can make a significant difference in your overall college experience.
Academic Advising
Academic advising is a vital support service for college students taking classes online, as it provides essential tools, information, and assistance to help students take responsibility for their educational plans and meet their individual, academic, and professional purposes.
Arizona colleges offer various advising services, including one-on-one advising, group advising, and online advising, giving incoming students, new students, in state students, out of state students, and undergraduate and graduate students the guidance they need throughout their studies. A school search should include this factor, as it makes the entire process more manageable. Students benefit from advising.
Career Services
Career services can als0 play a large role in the success of students in Arizona - helping identify career goals, find resources, and decide on a method to attain them. Arizona colleges typically provide career counseling, job search assistance, resume and cover letter writing, mock interviews, helping students with tools and resources. Career services are valuable for students who may not have access to the same resources as on-campus students. Career counselors can help with strengths and weaknesses, developing a career plan, and providing guidance on how to best market themselves to employers.
Technical Support
Support is essential for distance learners, as it helps them address technical issues that might hurt their school progress. Access to reliable technical support helps students manage and use digital learning resources, such as online libraries or journals.
Arizona online colleges offer a range of technical support services, including technical assistance, troubleshooting, software installation, and hardware maintenance.
Online Education Trends in Arizona
If you're doing a school search, it's good to know about the latest trends and developments of online schools. In this section, we look at trends in education, focusing on the growth of online programs, and the subsequent emergence of hybrid options.
Understanding these trends can help you make more informed decisions about your educational path and ensure that you're taking advantage of the latest innovations in online learning.
Growth of Online Programs
Online degree program enrollment within Arizona's public universities has seen an impressive 82.1% increase, illustrating the growing demand for flexible and accessible education. This is partly due to the pandemic for 2020 and 2021, but also due to the increase in different degree subjects being offered online.
For example, Grand Canyon now offers many doctoral degrees online. The growth of online programs at Arizona schools is also indicative of the benefits of education online, such as flexibility, cost-effectiveness, and many online undergraduate and graduate degrees offered.
As more students enroll in online programs, Arizona colleges and universities continue their online offerings to meet the diverse needs of their students.
Hybrid Learning Options
Hybrid learning models have also emerged as a trend in Arizona, combining the benefits of both in-person and online learning to create a hands-on and flexible education.
Hybrid learning can allow for flexibility for students and teachers, addressing the needs of various learning styles and preferences, and opening degree options that would otherwise be fully on-campus, such as Nursing. The growth of hybrid learning in Arizona shows the ongoing prominence of online education.
Transfer Students and Online Colleges in Arizona
Transfer students face unique challenges when it comes to finding the right college, and navigating the complexities of transfer credits and application requirements. In this section, we'll explore the factors that online transfer students should consider when choosing a college in Arizona.
Understanding credit transfer policies and application requirements can help transfer students make a smoother transition to their new college.
Transfer Credits
Transfer credits for online colleges in Arizona generally accept credits from other regionally accredited colleges and universities. It's important to keep in mind that transfer credit policies can and likely do vary by school.
For example, the University of Arizona does not designate its upper limit of transfer credits, but allows for students to transfer a maximum of six general electives and up to three physical education courses. If you're going to transfer credits, see each credit acceptance policy, which can help be a deciding factor in your school search.
Transfer Requirements
Transfer credit requirements for online colleges in Arizona can vary, but they generally include submitting transcripts from your previous college, or providing proof of graduation, and providing your identification information.
Familiarize yourself with the requirements for transfer students at your online college to help provide a smooth process.
Navigating online education in Arizona can be daunting, but with the right information and resources, you can likely find the online college to fit your needs. Whether you're a first-time student or a transfer student, Arizona offers a large number of online colleges, financial aid opportunities, and support services. As you start on this school search, Arizona is at the forefront of distance learning.
Frequently Asked Questions
What is the #1 online college in the U.S.?
With many exceptional undergrad and graduate programs and comprehensive support services, Penn State University World Campus is the #1 online college in the United States.
Do Arizona Colleges offer online classes?
Yes, Arizona College does offer online classes. ASU Online and the University of Arizona have developed expansive portfolios of online learning options to allow students from around the world to access their educational resources.
Are any online colleges worth it?
For those who can manage their own time well, attend classes remotely and still remain engaged, an online college program is worth considering. With the convenience and flexibility of online courses and lower costs relative to on campus programs, getting a degree online can be a worth it for many distance learners.
Bachelor's degree holders earn more over their lifetime than associate degree graduates on the whole as a national average income. This is also true for graduates of online bachelor's programs. Associate degree programs provide more lifetime earnings than a high school diploma as the highest level of education attained. In terms of lifetime earning potential, online degrees can definitely be worth it compared to a high school education.
Is Arizona State University online regionally accredited?
Arizona State University (ASU) is a regionally accredited institution by the Higher Learning Commission, which means that it meets high quality academic standards. This shows prospective students who want to get online degrees from ASU that they will get an education that meets these academic standards.
More resources: