The Top Music Schools & Conservatories in the U.S.
Successful Student has compiled a list of the Top Music Schools & Conservatories in the U.S. to help students turn their passion into a musical profession.
About this ranking
This ranking is designed to help music students make informed college and degree decisions concerning the best music schools. We ranked the schools by criteria most important to students.
When it comes to careers in music, the job market is competitive. Getting a degree can be an essential component to becoming a professional musician in any genre of music. These music schools are the best in the nation.
Personal skills and connections and the reputation of one's school or conservatory are just a few of the aspects taken into consideration when employers are screening an applicant for a prestigious concert seat or teaching position.
Knowing the competitive nature of the field, the programs available at the various schools and conservatories are equally diverse and challenging.
Students can also learn composition and music production in online music school programs.
After graduating with a bachelor's degree, students may also wish to pursue an online master's in Music Business, to assist in self-promotion efforts or to work for other artists.
---
Online Music Schools Ranking:
---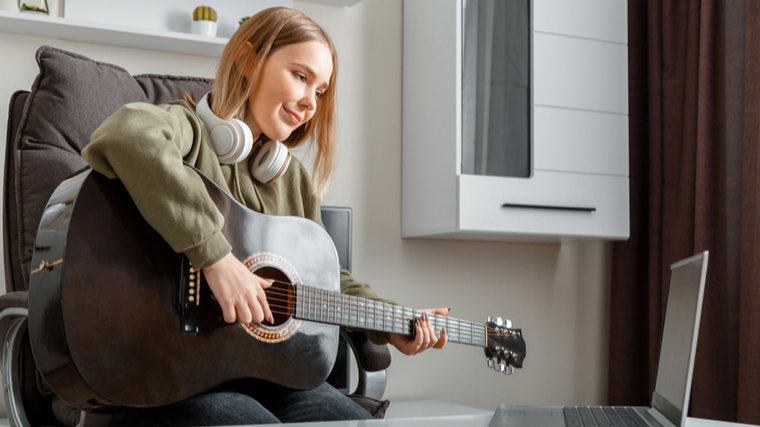 The Top Music Schools & Conservatories in the US
All of the schools ranked are highly reputable within music education, offering a variety of programs with affiliated successful professors and alumni, making ranking challenging. Nevertheless, this article attempts to take into consideration overall reputation, acceptance rate, diversity of programs offered, and success of alumni in music.
1. The Juilliard School
In 1905 Dr. Frank Damrosch founded the Institute of Musical Art, the precursor to the distinguished Juilliard. Juilliard is one of the most renowned schools of music in the country, offering degrees in Dance, Drama, Music, and Liberal Arts.
The Music division is the largest of the programs with approximately 600 students enrolled from over 40 countries. Areas of study include Historical Performance, Jazz, Music Performance, and Opera Studies.
With more than 200 part-time and full-time faculty members, Juilliard boasts of a three to one student-faculty ratio, allowing for a more intimate and personalized education. Alumni include Pianist and Composer Philip Glass, Musician Yo-Yo Ma, and Conductor, Musician, and Composer John Williams.
2. Curtis Institute of Music
Arguably equal in reputation and prestige to Juilliard is the highly competitive Curtis Institute of Music, located in the city of Philadelphia.
With a limited enrollment of 175 students, or enough people to maintain a full symphony orchestra, opera program, and a few select other programs such as the resident string quartet, the approximate acceptance rate at Curtis is only four percent. With that said, all of those who are enrolled receive full tuition scholarships and an exceptional quality of education.
Even with the small body of students, there are approximately 20 nations represented each year. Students may choose from the Diploma program, a Bachelor of Music, a Master of Music for opera students, or a Professional Studies Certificate for vocal students.
All students, and the 113 faculty members, will participate in over 200 concerts performed each year. Following this model of education since its opening in 1924, Curtis has produced many successful musicians including the late Leonard Bernstein and Samuel Barber.
3. The New England Conservatory of Music
Founded in February of 1867, the New England Conservatory of Music is recognized as one of the oldest independent schools of music in the country, and the only one designated as a National Historic Landmark. The 750 total student body represents 46 states and 39 countries.
Undergraduate and graduate study is offered in performance and composition. Conducting, Music Theory, Vocal Pedagogy, Collaborative Piano, and Musicology are only available for graduate students.
The Conservatory has also collaborated with Tufts University and Harvard University 'to provide five-year programs for students seeking intensive study in both music and academic subjects'.
The school is well known for its chamber music program in addition to the departments of strings, woodwinds, and brass. There are approximately 600 concerts held per year in Jordan Hall, the school's primary concert hall.
Affiliated faculty and alumni include Fred Hersch, Kenneth Amis, and Regina Carter.
4. Berklee College of Music
Though still separate institutions, in 2015 the board of Trustees at each location voted unanimously to slowly integrate the Berklee College of Music and the Boston Conservatory.
The College of Music was opened in 1945, and was one of the first schools to teach jazz, while the Conservatory was founded in 1867, and was one of the first to admit African Americans and women to its programs.
Both currently offer undergraduate and graduate level study. Berklee also offers a few select programs and individual courses online and manages various institutes including the Global Jazz Institute, the Popular Music Institute, the Mediterranean Music Institute, and the Planet MicroJam Institute.
Berklee offers the online Master's in Music Business (sponsored) in conjunction with Southern New Hampshire University.
Berklee is affiliated with over 250 Grammy Award and Latin Grammy Award winners including Esperanza Spalding, Quincy Jones, Lalah Hathaway, Annie Clark (St. Vincent), Danilo Perez, Howard Shore, Susan Tedeschi, John Scofiled, or Branford Marsalis.
The Conservatory has been associated with names such as singer and songwriter Katharine McPhee, musician Constantine Maroulis, and jazz pianist Sam Rivers.
5. University of Rochester
In 1921 the first professional school, the Eastman School of Music, was founded at the University of Rochester. Currently under the direction of saxophonist and arts leader Jamal Rossi, the school offers Bachelor of Music, Master of Arts, Master of Music, Doctor of Philosophy, and Doctor of Musical Arts degrees in numerous areas. These areas include opera, jazz, historical, and unique student composed pieces.
The school also manages the Sibley Music Library, recognized as the largest academic music library in North America.
Admission to the school is challenging with only 280 students selected from over 2,100 applicants. The student body is comprised of approximately 500 undergraduates and 400 graduates, 25 percent of who are international.
Students are taught by 95 full-time faculty members, many of whom are Pulitzer Prize or Grammy Award winners.
Well known alumni of the Eastman School of Music include Renee Fleming, Ron Carter, Paul Freeman, Peter Mennin, Mark Volpe, and Doriot Anthony Dwyer.
6. Manhattan School of Music
From humble beginnings as a community Neighborhood Music School in 1918, the Manhattan School of Music now offers a new Bachelor's degree in Musical Theater, added in the 2016-2017 school year.
This is in addition to the pre-existing programs of Bachelor of Music, Master of Music, Doctor of Musical Arts, and the Professional Studies Certificate and Artist Diploma.
There are over 900 undergraduate and graduate students enrolled from over 50 countries who participate in either classical or jazz training.
Currently under the direction of President Dr. James Gandre, both students and faculty participate in more than 700 performances each year, from fully-staged operas and orchestral concerts, to student and faculty recitals.
Faculty members are affiliated with the New York Philharmonic, the Metropolitan Opera, the New York City Opera, and the Chamber Music Society of Lincoln Center, to name a few.
Distinguished alumni include Tony Award winner Larry Hochman, Broadway pianist Joseph Joubert, and Grammy- and Academy Award-winning composer Elliot Goldenthal.
7. Oberlin Conservatory
Founded in 1865, Oberlin Conservatory has been recognized as one of the oldest continuously operational institutions of its kind in the country. It is also one of the few conservatories to be attached to a liberal arts college, namely Oberlin College, making it easier for students who wish to double major.
There are currently eight undergraduate majors offered by the conservatory, including composition, electronic and computer music, jazz studies, music education, 42 performance areas, and a double major in piano and vocal accompaniment.
Approximately 580 students are enrolled in the Conservatory representing 45 states and 22 countries. All students and the more than 100 faculty members will participate in nearly 500 concerts each year, including performances from the 25 student ensembles and numerous guest artists.
Affiliated alumni include Grammy Award winners Marc Cohn, Alex Klein, Rhiannon Giddens, and Charles Harbutt.
8. Colburn School Conservatory (Los Angeles, CA)
Despite being a relatively young Music program, being established in 2003, the Colburn Conservatory maintains a high standard of education and a competitive admission process offering full tuition, room, and board to those who are admitted.
The School itself was founded in 1950 as a Community School for the Arts offering a small music program as part of the University of Southern California.
Currently, there are four academic units, the Colburn Conservatory, the Colburn Music Academy, the Colburn Community School of Performing Arts, and Dance Academy.
There are approximately 120 students enrolled in the Conservatory pursuing the Bachelors of Music, Performance Diploma, Professional Studies Certificate, Artist Diploma, or the Master of Music degree. Students in the Conservatory should expect to participate in over 150 recitals and performances each year.
Though the school does not offer a music composition or electronic music program, it is well known for its faculties of strings, winds, percussion, and brass.
9. Mannes College - the New School for Music (New York City, NY)
In 1916 the concertmaster of the New York Symphony Orchestra, David Mannes, founded his own school of music known simply as Mannes College.
In 1960 Mannes College merged with the Chatham Square Music School, and in 1989 joined with the New School, formally changing its name to Mannes College: the New School for Music in 2005.
Currently the school maintains two academic divisions, the College and the Preparatory School. There are approximately 775 students enrolled between both divisions.
The College offers Bachelor of Music, Bachelor of Science, Master of Music, and Professional Studies Diploma focusing on classical music. Jazz and contemporary studies are not available.
There are 10 organized ensembles including the Mannes Opera, the Baroque Chamber Players, and the American Composer Ensemble.
The College is affiliated with names such as composter Craig Walsh, classical musician JoAnn Falletta, American jazz pianist Bill Evans, and Professor Helmut Blume who taught six-time Grammy Award winner and three-time Academy Award winner Burt Bacharach.
10. Cleveland Institute for Music (Cleveland, OH)
Established in 1920 as a private educational institution for higher education, the Cleveland Institute for Music is now under the direction of Paul Hogle, previous Executive Vice President of the Detroit Symphony Orchestra. There are 26 music programs including Audio Recording, Eurythmics, Harpsicord, Orchestral Conducting, and Opera available for both undergraduate and graduate students.
CIM also partners with Case Western Reserve University to give students access to a more broad educational experience. Each year there are approximately 450 students in attendance, including new and returning students.
While the CIM Orchestra performs about 10 times each year, the total number of performances given, including ensembles and individual recitals, is over 300, the majority of which are free to the public. This includes two fully staged opera productions each year.
The school is most well-known for its string and piano chamber music. Alumni from the school include violinist Jasper Wood, concert master of the New York Philharmonic Frank Haung (attended the pre-college program at Cleveland), and the late composer David Diamond.
11. Johns Hopkins Peabody Institute (Baltimore, MD)
At the Peabody Institute, students may enroll in four degree programs covering undergraduate and graduate level studies, or three diploma tracks.
Areas of study include:
Jazz Performance
Computer Music
Music Education
Music Theory Pedagogy
Recording Arts
When it comes to student admissions, the Peabody Institute does not use quotas, but rather works to balance student talent with the available ensembles.
Those who are accepted are also considered students of Johns Hopkins University at large and may enroll in any classes or activities offered by the School of Arts and Sciences.
Being founded in 1857, Peabody Institute has over 150 years of experience shaping young, talented musicians for successful careers in the field.
The effectiveness of the programs can be seen in well-known alumni such as Rebecca Pitcher - musical actress known for her role as Christine in Phantom of the Opera, Sylvia Meyer - first female member of the National Symphony Orchestra, pianist Andre Watts, and composer Joshua Fineberg.
12. University of Southern California Thornton School of Music (Los, Angeles, CA)
Known as the oldest continually operational cultural institution in the Los Angeles area, the Thornton school of music has been educating students since 1884.
The school has been on the cutting-edge of music performance since the start, being one of the first institutions to offer degrees in jazz, film scoring, and music industry.
These programs continue to be recognized as some of the best in the country, in addition to the unique program offered in solo guitar performance.
In 2014 the Thornton School was named the first official university affiliate of The GRAMMY Museum, giving students and professors access to quality educational material and in-the-field networking.
In addition to the traditional performance halls, students also have the opportunity to perform at the Ground Zero Performance Cafe.
Affiliated alumni include four-time Grammy award winner Marilyn Horne, jazz guitarist Lee Ritenour, New York Philharmonic violinists Sheryl Staples and Cynthia Phelps, and American opera baritone Rodney Gilfry.
13. Yale School of Music (New Haven, CT)
As far back as 1854, Yale University has been educating students in the 'science of music'. In 1889 the subject was promoted to its own department, and is now one of 12 graduate professional schools within the University.
The Yale School of Music offers three graduate degrees: a Master of Music, a Master of Musical Arts, and a Doctorate of Musical Arts. Undergraduates have the option to enroll in a Certificate in Performance, an Artist Diploma, or a joint Bachelor of Arts/Master of Music program in conjunction with Yale College. Each year approximately 200 students are admitted to the school and their eight different ensembles.
Students and faculty will participate in more than 200 performances per year. Facilities managed by the school include the Institute of Sacred Music and the Center for Studies in Music Technology.
Well-known alumni include television composer Marco Beltrami, who scored the 2004 film Hellboy and the 2013 film The Wolverine, Jahja Ling, director and conductor of the San Diego Symphony, and Martin Leung, also known as the Video Game Pianist.
14. Northwestern University Bienen School of Music (Evanston, IL)
Previously known as the Northwestern University School of Music from 1895 till 2008, the Bienen School of Music offers a wide variety of programs.
There are six degrees leading to a Bachelor of Music, Bachelor of Arts, dual Bachelor's, Master of Music, Doctorate of Musical Arts, or PhD.
The dual Bachelor's track allows students to combine the study of music with Engineering, Liberal Arts, Journalism, Communications, or Education and Social Policy. There are approximately 410 undergraduate and 210 graduate students under the tutelage of 125 full and part-time faculty members.
Students may major in all orchestral instruments, jazz, conducting, music history, music theory and cognition, and more.
A total of 16 ensembles are maintained. Successful alumni include Sheldon Harnick, well known for his work in Fiddler on the Roof, George N. Parks, previous director of the University of Massachusetts Minuteman Marching Band, and Steve Rodby former drummer for the Metheny Group.
15. Carnegie Mellon School of Music (Pittsburgh, PA)
The city of Pittsburgh offers an abundance of cultural and musical opportunities for the faculty and students at the Carnegie Mellon School of Music. The Carnegie Music Hall itself dates back to 1895, and was home to the original Pittsburgh Symphony Orchestra.
Seating just less than 2,000 people, the Hall continues to be the main public performance of the Carnegie Mellon Philharmonic and the Wind Ensemble.
The Music School was not formally founded until 1912 and is managed as one of the five divisions of the College of Fine Arts. Undergraduate, graduate, and Artists Diplomas, and various certificate programs are offered.
Majors include every orchestral instrument, bagpipes, voice, and composition, to name a few. The curriculum holds a strong emphasis on contemporary music and conducting.
Alumni of the school include actor and singer Megan Hilty, known for her role in the musical Wicked, and the late Earl Wild, legendary concert pianist and composer.
16. San Francisco Conservatory of Music (San Francisco, CA)
Ada Clement and Lillian Hodghead founded the Ada Clement Piano School in 1917. This became the forerunner to what we know today as the San Francisco Conservatory of Music.
Now with an enrollment of approximately 400 undergraduate and graduate students, the Conservatory offers a number of degrees leading to a Bachelor of Music, Master of Music, Artist Certificate in Chamber Music, Professional Studies Diploma in Instrumental Performance or Historical Performance, or a Postgraduate Diploma in Vocal Performance.
There are 14 departments offering studies in Roots/Jazz, and American Music, Conducting, or Technology and Applied Composition.
The Conservatory maintains 11 ensembles, gives students access to over 100 Steinway and Yamaha pianos, and presents more than 500 performances each year.
Affiliated alumni include actress Barbara Eden, known for her lead role in I Dream of Jeannie, Arthur Russell, American cellist, composer, producer, singer, and musician, and Gwendoline Yeo, voice actress and musician known for her role in Desperate Housewives.
17. Indiana University - the Jacobs School of Music (Bloomington, IN)
Since its establishment in 1921, the Jacobs School of Music has admitted students based solely on the results of a live or recorded audition. With more than 1,600 students in attendance, the Jacobs School is the second largest music school by enrollment accredited by the National Association of Schools of Music.
To accommodate the high volume of students and the more than 180 full-time faculty members, the Jacobs school maintains over 200 practice rooms, rehearsal rooms, recording studios, and electronic labs.
There are 24 departments and four academic facilities, the Center for Electronic and Computer Music, the Center for History of Music Theory and Literature, Historical Performance Institute, and the Latin American Music Center.
More than 1,100 performances are presented every year including seven fully staged operas. Well-known alumni include violinist and conductor Joshua Bell, opera singer Sylvia McNair, dramatic soprano Angela Brown, and jazz bassist Larry Ridley.
18. Bard College Conservatory of Music (Annandale-on-Hudson, NY)
At Bard College Conservatory, all undergraduate majors must pursue a double-degree. Unique to this conservatory, the five year dual-degree program allows students to graduate with a Bachelor of Music and a Bachelor of Arts in a field of their choice.
This challenging but rewarding curriculum creates more well-rounded individuals with great potential for success in the field. The Bachelor of Music curriculum includes aural skills, a four-semester Conservatory core sequence, and private lessons.
The Orchestra performs throughout the year at the Richard B. Fisher Center for the Performing Arts, and at the Eastern New York Correctional Facility as part of the Bard Prison Initiative.
Graduate programs include the Graduate Vocal Arts Program led by renowned American soprano Dawn Upshaw, the Graduate Conducting Program in connection with the Conductor's Institute, and a Post-graduate Collaborative Piano Fellowship.
Affiliated alumni include musician and co-founder of the band Steely Dan, Donald Fagen, and guitarist for the band Yeah Yeah Yeahs, Nick Zinner.
19. Belmont University School of Music (Nashville, TN)
In the heart of music city, Nashville, Tennessee, at the end of historic Music Row, students will find the Belmont University School of Music.
This comprehensive institution for higher education offers undergraduate degrees leading to a Bachelor of Music, Bachelor of Fine Arts in Musical Theatre, or a Bachelor of Arts with a major in Music. A graduate level Master of Music degree is also available.
Students may choose to major in various subjects including Church Music, Commercial Music, Music Therapy, Composition, or Music Education.
There are more than 25 musical ensembles and groups for students to join, including the New Music Ensemble, the Rock Ensemble, and the Classical String Quartet.
Additionally there are 15 Vocal ensembles such as the Belmont Pops, the Jazzmin, and the Women's Choir, and four faculty ensembles.
Successful alumni affiliated with the school include country musician and Grammy Award winner Brad Paisley, singer and songwriter Kimberley Locke, and American country music singer and songwriter Lee Ann Womack.
20. Shenandoah University Conservatory of Music (Winchester, VA)
One of the seven schools which comprise Shenandoah University, the Conservatory of Music has been growing the tradition of teaching successful musicians since 1886.
Today there are approximately 450 undergraduate students and 140 graduate students under the direction of 62 full-time faculty members.
The Conservatory offers over 60 majors leading to the Baccalaureate, Master's, Post-Master's Artist Diploma, or the Doctorate. These majors include Collaborative Piano, Conducting, Jazz Studies, Music Production and Recording Technology, and Music Therapy.
More than 30 performing ensembles participate in over 420 concerts each year including the Clarinet Choir, Pit Orchestra, Cantus Singers, Jazz Combos, and Little Big Band.
As of 2015 all of the 96 pianos available at the school are now Steinways. Well-known affiliates of the school include the legendary jazz trumpeter and Grammy Award winner Wynton Marsalis who recently completed his residency at the Conservatory.
21. UCLA Herb Alpert School of Music (Los Angeles, CA)
Formally established as the University of California's first music school in 2016, the Herb Alpert School of Music has been providing competitive, quality education since its founding in 2007.
Offering bachelor's through doctorate levels of study, there are just under 500 students enrolled under the tutelage of 118 established professors. There are three unique departments: Ethnomusicology, Music and Musicology, and the Herb Alpert School of Music.
The department of Ethnomusicology was opened in 1960 and remains the world's only department of its kind, studying a varied array of music cultures.
Equally as diverse is the Musicology department, which offers courses in jazz, heavy metal, musical theater, techno, European classical music, and more.
Facilities of the school include the Center for Music Innovation, the Center for Latino Arts, the World Music Center, and the Thelonious Monk Institute of Jazz Performance, known simply as the Monk Institute.
22. McNally Smith College of Music (Saint Paul, MN)
Formerly known as Musictech College, the McNally Smith College of Music was founded in 1985 by Jack McNally and Doug Smith. This small, private institute for higher education maintains a yearly enrollment of approximately 600 students taught by 100 faculty members.
Diplomas, Associate's degrees, and Bachelor's degrees are available. There are 15 majors and programs including Live Sound, Audio Engineering, Music Production, and the first nationally accredited diploma in Hip-Hop studies.
Currently there are nine groups of ensembles for students to join such as Vocal, Jazz, or Rock, with further subdivisions such as Contemporary Vocal Ensemble, New Orleans Brass Band, or Indie Rock.
Students will need to attend two to six ensemble groups depending on their program of study for graduation.
Affiliated alumni include Kyle Frenette, founder of Amble Down Records, Justine Bonhiver, member of Quietdrive, and Zack Carroll, member of the band This World Fair.
23. Lipscomb University School of Music (Nashville, TN)
Under the new direction of Grammy Award winner Charlie Peacock, the Lipscomb University School of Music holds a unique commitment to offering a Christian liberal arts education.
This atmosphere lends itself to an exclusive opportunity for students to participate in an interdisciplinary major in Worship Ministry in collaboration with the College of Bible and Ministry.
Other degrees offered include the Bachelor of Music, Bachelor of Arts in Music, and a Bachelor of Science in Music.
Students may major in Instrumental Performance, Composition, Contemporary Music, Music Education, and more.
The 14 ensembles include A Cappella Singers, Jazz Band, Opera Workshop, and various chamber groups. All majors and music theatre minors must pass a piano proficiency exam.
To gain entry into the Department of Music, students are required to sit for the Associate Board of the Royal Schools of Music exam.
Lipscomb's School of Music is the first in the nation to require this of music majors.
24. Los Angeles College of Music (Los Angeles, CA)
The Los Angeles College of Music was founded as a private, for-profit school in 1996, with an emphasis on teaching students the contemporary and rock music of the times.
There are unique six-quarter Bachelor's and Associate's degrees offered as well as Diploma programs. Students should be aware that the Associate's degrees are 'classed as 'professional' and are not transferable to other colleges or universities'.
Major areas of study include Music Performance, Songwriting, Music Production, Music Business, and Composing for Visual Media.
There are approximately 150 students in attendance and all faculty members are current music professionals. The various ensembles available include Jazz Ensemble, Chamber Ensemble, Concert Band, Guitar Ensemble, Instrumental Ensemble, and Vocal Ensemble.
Alumni of the school have attained successful careers and have been affiliated with names such as Ricky Martin, Jeff Beck, Natasha Bedingfield, and the Black Eyed Peas.
25. New World Symphony (Miami, FL)
Also known as America's Orchestral Academy, the world's only full-time institution of its kind, the New World Symphony was founded by Michael Tilson Thomas and Lin and Ted Arison in 1987.
Students who apply for this three-year fellowship should already have a Bachelor's degree. With just under 100 musicians accepted, admission to the program is highly competitive.
In addition to traditional and modern orchestral music, students are also exposed to numerous guest conductors and visiting faculty, and have the opportunity to perform around the world.
There are currently over 1,000 alumni of the school worldwide.
The most recent alumni success stories include Kristin Baird, now affiliated with the Florida Orchestra, Max Blair, accepted to the Pittsburgh Symphony, and Elizabeth Breslin now playing for the Milwaukee Symphony.
Musician Career Information
Musicians and singers hourly wage was $31.40 in 2020. The lowest 10% was less than $11.17 per hour, and the highest 10% was more than $87.47 per hour, according to the Bureau of Labor Statistics.