The Best Online Screenwriting Colleges 2021
Show More
This is a ranking of the best Online Screenwriting Colleges, ranked for 2021. This ranking was designed for online students to make the most informed decisions concerning online Screenwriting colleges and degree options.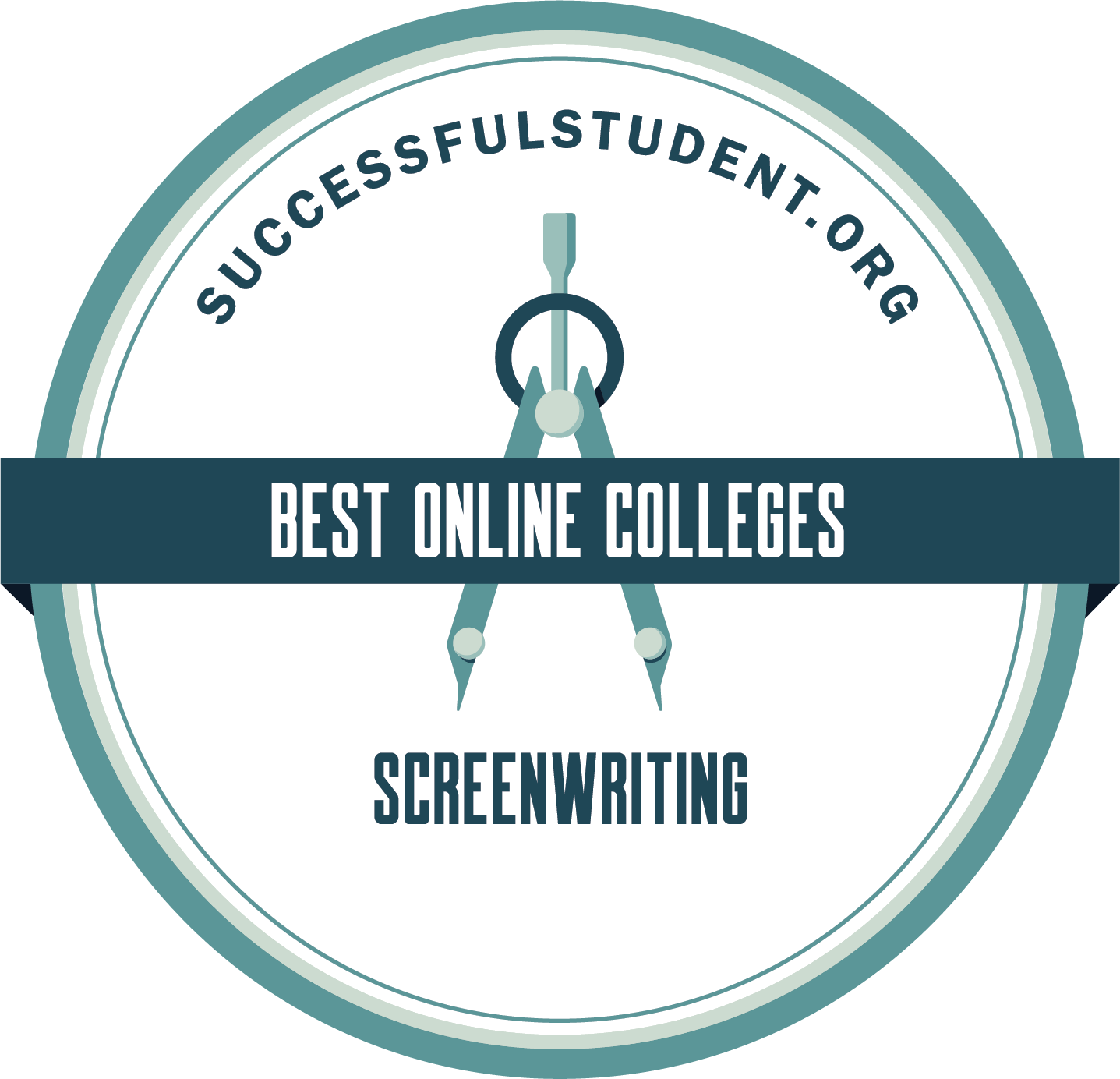 Screenwriters combine storytelling, art, and music in what may be the perfect fit for those with such creative talents. We have ranked the best online screenwriting colleges in the US. This ranking was made for online students.
Whether it's for the big screen, television, or even video games, screenwriting is a varied and unique field which tends to have flexible hours, a median wage of over $61,000 per year, and is expected to have a two percent job growth according to the Bureau of Labor Statistics.
Many within the field are self-employed or work freelance developing content for advertisements, movies, music videos, and many other types of media. Other tasks of screenwriters include developing scripts for shows, promoting or selling their stories, and editing or doctoring scripts to fit the needs of show directors. Factual research may be required depending on the script.
Screenwriters can work at all levels from the local theater with live actors to Hollywood and the big screen shows.
---
Related:
The Best Online Bachelor's Degrees in Film for 2021
---
The key skill for screenwriters is to be able to combine dialogue with visual features to create an engaging and attractive performance for the target audience. Without a screenwriter, there is no show. A minimum of a bachelor's degree is often required for full time positions.
Screenwriting from Professionals
Next Step: Get Information for Online Screenwriting Degrees
Ranking Methodology
This ranking was created using Successful Student's ranking algorithm. This algorithm uses the following data points to calculate a school's ranking placement:
Acceptance rate
Graduation rate
Cost of undergraduate tuition
Percentage of first time undergraduates awarded aid
Percentage of students who are fully online
Academic influence
Learn more about our methodology
.
The Best Online Screenwriting Colleges 2021
1.
Grand Canyon University
College of Fine Arts and Production
Phoenix, Arizona
Grand Canyon University is a non-profit university with many online degree options. The College of Fine Arts and Production offers the Online Bachelor of Arts in Digital Film: Screenwriting program. This comprehensive undergraduate degree requires 120 credits broken down into:
34-40 general education credits
60 major credits
20-26 open elective credits
Students will cover a variety of class topics including:
Acting, financing, budgeting and distribution
Audio production and design
Advanced screenwriting
Development and production of television commercials
Visual storytelling and the creative team
Online courses run seven weeks in duration. Upon graduation students can apply to entry level potions in advertising agencies, digital design agencies, corporate film production agencies, and other creative entities.
Get Information
2.
Southern New Hampshire University
Manchester, New Hampshire
Southern New Hampshire University, one of the most prolific and largest online schools in the U.S., offers the Online Bachelor of Arts in Creative Writing and English: Screenwriting degree. The Screenwriting degree teaches students how to write creatively for different genres of film, including:
Feature-length and short films
Television episodes and miniseries
commercial and internet-based video
Online students learn how to create the structure of stories, and how to develop characters. SNHU offers students the opportunity to publish their writings in their online journal called The Penmen Review.
SNHU doesn't require SAT or ACT scores, and also doesn't require an application fee.
Program Length: 120 credits
SNHU accepts up to 90 credits in transferred classes, and offer credit for prior learning, which can be an advantage for students.
Get Information
3.
Regent University
School of Communication and the Arts
Virginia Beach, Virginia
Regent University operates the School of Communication and the Arts which offers the Master of Fine Arts in Film – Television: Script Writing. This is both an on-campus and online terminal degree program, consisting of 44 total credit hours. Course topics include:
Aesthetics for the Contemporary Communicator
Redemptive Film
Story Structure for Stage and Screen
Playwriting
Upon graduation, students should expect to have a portfolio of three full-length scripts minimum. Other similar degree programs offered at the undergraduate level include the Bachelor of Arts in Animation, and the Bachelor of Science in Professional Studies with a concentration in English.
4.
Academy of Art University
San Francisco, California
The mission of the School of Motion Picture and Television at the Academy of Art University in San Francisco is to foster "creativity and independence in film-making as an art" in all of its students.
All of the degrees offered, from the Associate of Arts through the Master of Fine Arts, are taught by industry experienced professors who work in conjunction with over 60 of the top online entertainment specialists to bring a quality curriculum to all students. The various fields of study offered include:
Cinematography
Directing
Editing
Screenwriting
Producing and Production Design
Screenwriting is available online as an Associate's or Bachelor's of Fine Arts. A total of 132 units are required for graduation with 36 core units, 42 major units, nine elective units, and 45 liberal arts units.
5.
University of California-Los Angeles
Los Angeles, California
The School of Theater, Film, and Television offers a Professional Program in Screenwriting Online. This graduate level certificate track occurs over three academic quarters. Students will participate in 30 video lectures and weekly screenwriting workshops.
The video lectures expose students to the theories and techniques of analyzing films and other scripts, providing ample exercises and sample writings. The screenwriting workshops allow students to submit their own work for reviews and critiques by professors and peers.
With a limited class size of eight students, the workshops allow for a more personalized educational experience and bonding with fellow classmates. At the end of the three quarters students will be awarded a certificate of completion.
6.
The New School
School of Media Studies
New York, New York
For the Certificate in Screenwriting from the School of Media Studies at the New School in New York City there is no formal admissions process. Students must meet basic eligibility requirements with most being accepted to the program. There are six total courses, with four required sequential classes:
Script Analysis
Screenwriting 1: The First Act
Screenwriting 2: Writing the Screen Play
Screenwriting 3: Rewrite and Polish
The additional two elective courses may be selected from the Screenwriting or Film Studies curriculum. Examples of these courses include:
Sitcom Writing 1: Writing the 'Spec' Script
Sitcom Writing 2: Writing the Original Plot
Episodic and Procedurals: Crafting the Original One-Hour Pilot
Screenwriting for the Web
7.
Missouri State University-Springfield
Springfield, Missouri
Missouri State University offers a Graduate Certificate in Screenwriting for Television and Film. To apply for the program, students must submit a writing sample of five to ten script pages, or five to ten pages of prose. Once granted admission, students get a 15 hour graduate type of experience, which prepares the students' script portfolio for working submissions on a professional level.
Students who wish to further their education may pair the Graduate Certificate training nicely with terminal degrees such as the Master of Professional Studies: Producing and Screenwriting, Master of Arts in Communication, Master of Arts in Writing, or the Master of Arts in English.
8.
New York Film Academy
Burbank, California
The passion and mission of the New York Film Academy is to prepare its students to succeed in all areas of the visual and performing arts. As such, screenwriting is at the heart of the curriculum. New York Film Academy offers online workshops in Screenwriting.
Online screenwriting workshops include:
Story and Structure workshop
Television Spec workshop
Television Pilot workshop
Writing for Comic Books
Online workshops typically run for 15 weeks with weekly classes. Instructors will provide feedback between sessions and may be available for live Skype discussions upon request.
Find Your Degree!