Successful Student has ranked the best Film Schools online in the U.S.
This ranking is designed for prospective online students to be informed of college and degree options for attending film school online.
The film industry generates over 45 billion in revenue, and is one of the largest industries in the world.
There are many online film degree programs available to prospective students at online film schools. Attending school online can offer some unique advantages, including getting a bachelor's or master's degree faster, the flexibility to create their own curriculum, and learn at their own pace.
In online education, several schools stand out as premier higher education institutions, offering comprehensive programs designed to create filmmakers and other experts in the field, including producers and screenwriters.
Our research has found the best online film schools, their degrees offered, and what prospective students can expect in the programs.
These degrees are offered from accredited universities with online bachelor's and/or master's degrees in film and other degrees related to the film industry.
This ranking includes related degrees, such as:
Film Studies
Digital Cinematography
Screenwriting
Digital Media: Film Production
When choosing which film school to attend and what degree to pursue, online students have many great options.
Related:
The Best Film Schools Online
New York Film Academy
New York, New York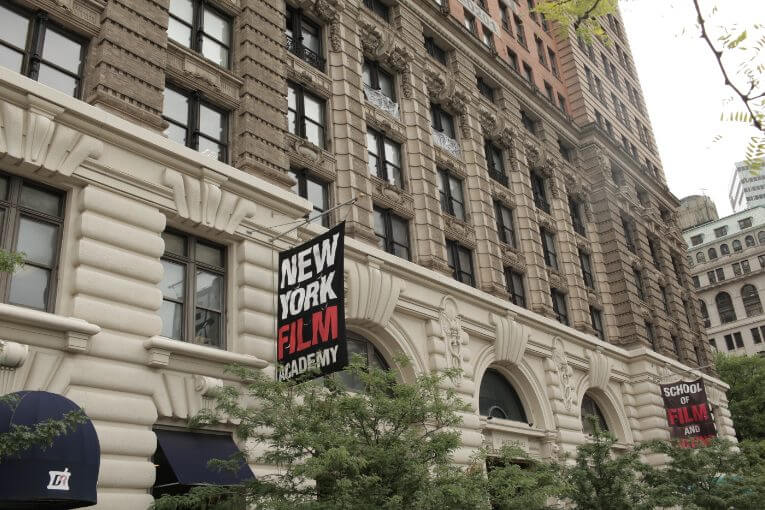 The New York Film Academy offers a unique online program for aspiring filmmakers.
The online Master of Arts in Entrepreneurial Producing and Innovation degree is a smart choice for students to learn how to become entrepreneurs as a producer for television shows and films, including independent films.
This program teaches students business, marketing, and creative principles. The program fits students who want to develop their own studios or production and media companies, or other entrepreneurial businesses in film.
Courses include:
Producing Essentials
The Art of Pitching
Producing Alternative Media
Los Angeles Film School
Hollywood, California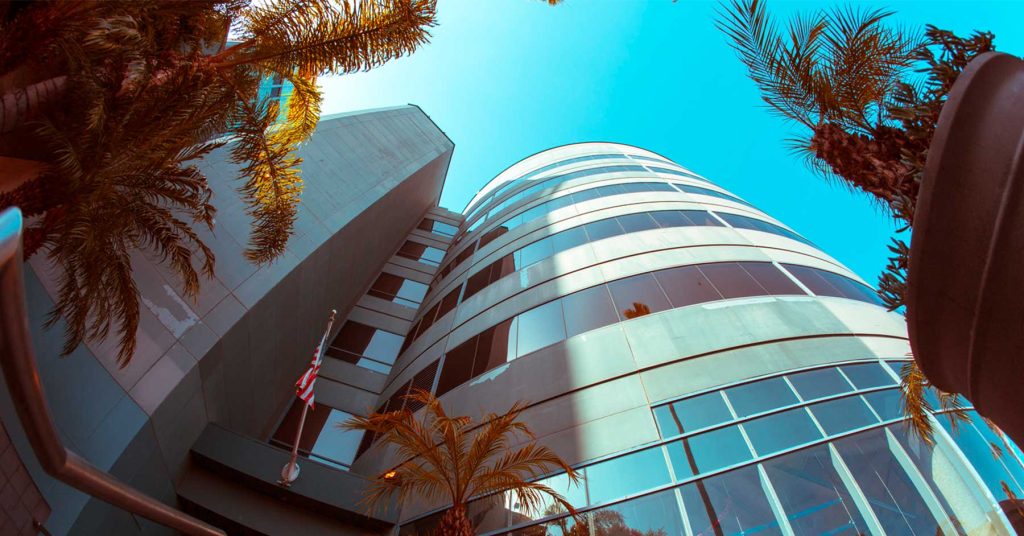 Los Angeles Film School offers the Bachelor of Science in Digital Filmmaking degree online. The program is 36 months, and students complete 120 credit hours to graduate. Online students learn how to create digital video and films.
Online courses include:
Digital Literacy
Introduction to Filmmaking
Screenwriting
Location Scouting
Producing
Directing
This online film degree teaches students the skills to be competent in today's film industry. Students will learn the art of digital cameras, visual effects, and digital production design in this respected and sought-after online film degree.
Graduates can potentially become film and video editors among other careers in the film and television industry.
University of Massachusetts-Amherst
Amherst, Massachusetts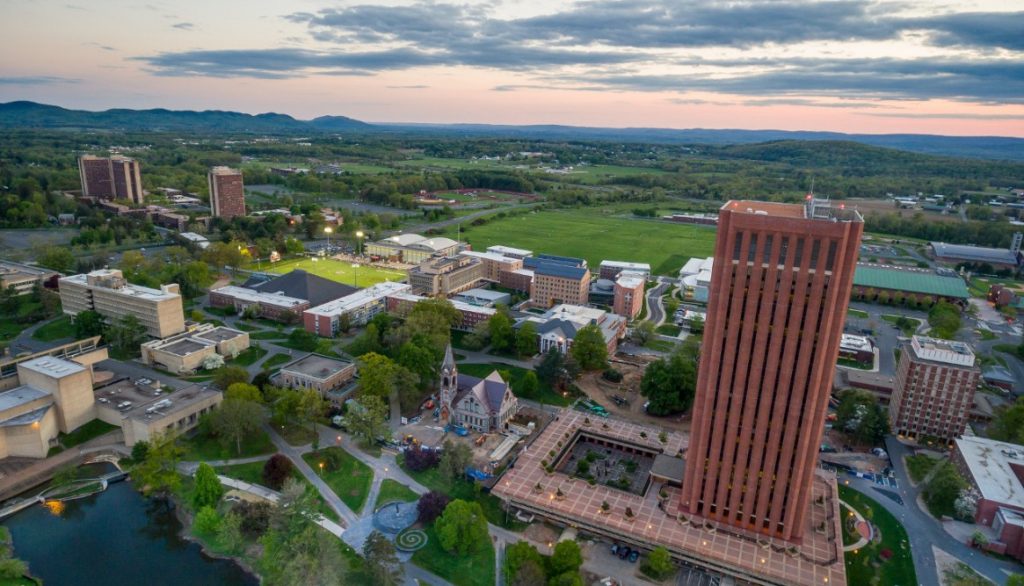 The University of Massachusetts-Amherst offers a bachelor's degree in Interdisciplinary Studies online with a focus in film and media studies degree.
This film degree can be tailored, where students choose what online courses they're most interested in learning. Online courses include:
film and TV law
film theory
filmmaking
film criticism
media literacy
public relations
screenwriting
TV pilot script
visual storytelling
media representation of sex and race
news writing and reporting
media and education
social media
digital narrative production
This online bachelor's degree is a film studies program, and as such studies the film industry, and provides film analysis. It doesn't teach aspiring filmmakers the technical or vocational skills to create cinematic film arts.
This online film school is more attuned to prospective students who want to learn film history or become a film critic.
Arizona State University-Tempe
The College of Liberal Arts and Sciences
Tempe, Arizona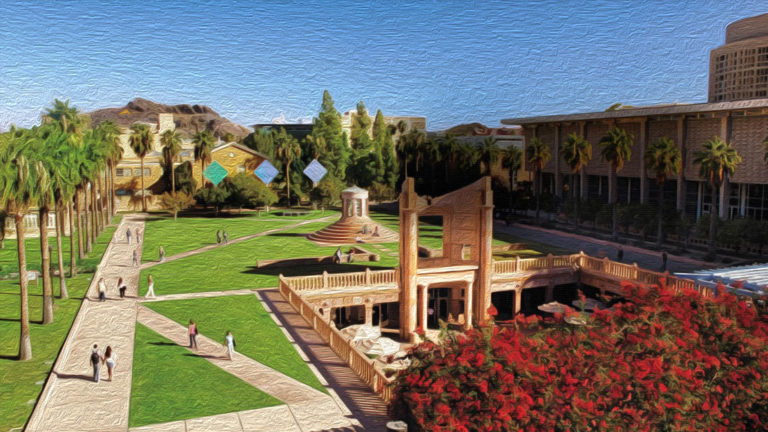 Arizona State University offers the Bachelor of Arts in Film: Film and Media Studies degree online.
The BA in film and media studies teaches students how to analyze screenwriting, digital media, television, and film. Graduates can think and write stories critically concerning the intersection of culture with film and digital media.
Courses include:
First Year Composition
Social-Behavioral Sciences
Literacy and Critical Inquiry
Emerging Digital Media
Race and Gender in U.S. Media
Online students learn how these media, such as movies and television programs, are interpreted and how they shape and influence our culture.
Southern New Hampshire University
Manchester, New Hampshire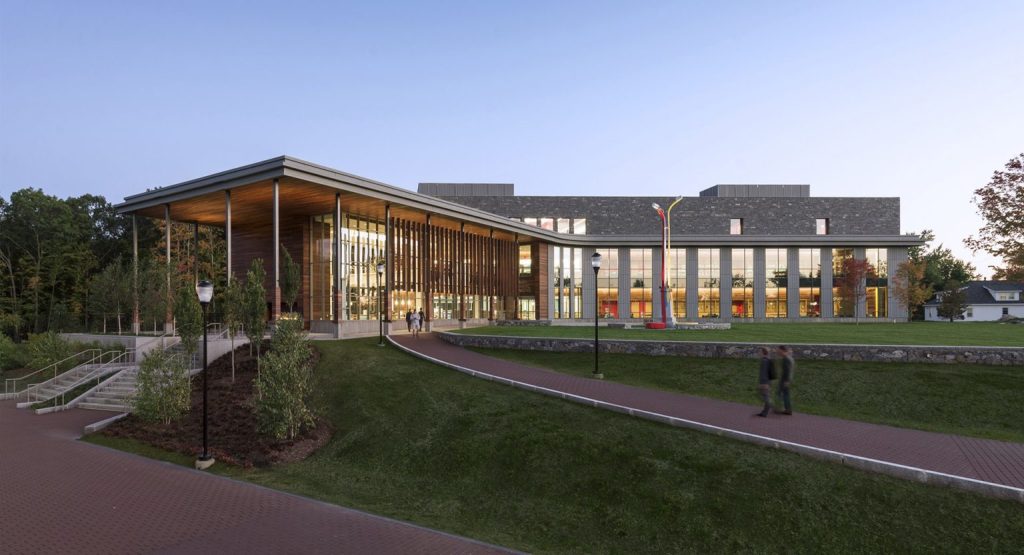 Southern New Hampshire University (SNHU) offers the Bachelor of Arts in Creative Writing And English: Screenwriting online degree.
Students learn how to create screenplays for short films and feature length films.
Courses include:
New Media: Writing and Publishing
Advanced Screenwriting Workshop
Playwriting Workshop
SNHU is a non-profit university, that offers fast track online bachelor's programs that can be completed in 18 months. SNHU also has the same tuition since 2012, which is one of the lowest in the nation for online degrees.
Grand Canyon University
Phoenix, Arizona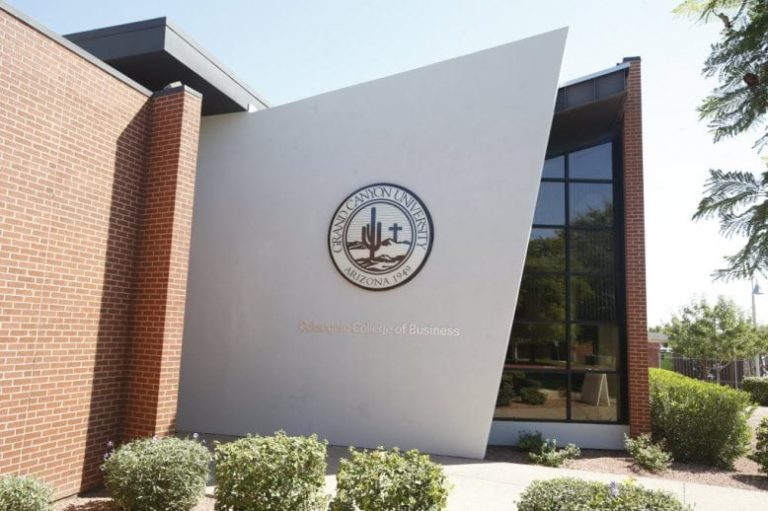 Grand Canyon University offers the online Bachelor of Arts in Digital Film: Screenwriting degree, and the online Bachelor of Arts in Digital Film: Production degree.
The program offers two specializations: Screenwriting and Production. The Screenwriting specialization focuses on the art of storytelling and teaches students how to write compelling screenplays. The Production specialization focuses on the technical aspects of film production, such as cinematography, lighting, and sound.
Grand Canyon University is a leader in campus-based and online education, offering bachelor's through doctorates in a large variety of subjects. Their tuition has been the same for on-campus students since 2009.
Grand Canyon offers accelerated online programs that allows students to finish their bachelor's in a faster timeframe compared to traditional programs.
Wilmington University
College of Technology
New Castle, Delaware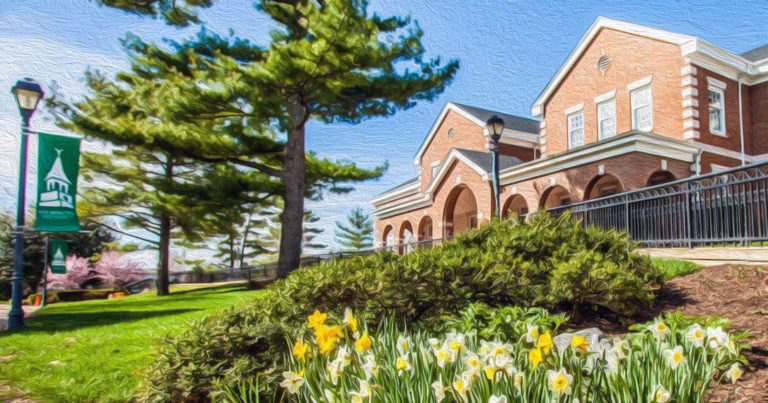 Wilmington University offers the online Bachelor of Science in Video and Film Production degree.
This program consists of 40 courses, and is 120 credits.
Tuition averages $1,227 per three credit course ($409 per credit).
Courses include:
Concept Development
Camera and Cinematography
Story Design Methods
Producing the Documentary
Video & Film Production Senior Project
Students learn filmmaking for professional studios and for freelance careers in film. For students who already have an associate's degree, this program is available is a degree completion program, where students can transfer in acceptable credits, and only be required to take the major courses.
Full Sail University
Winter Park, Florida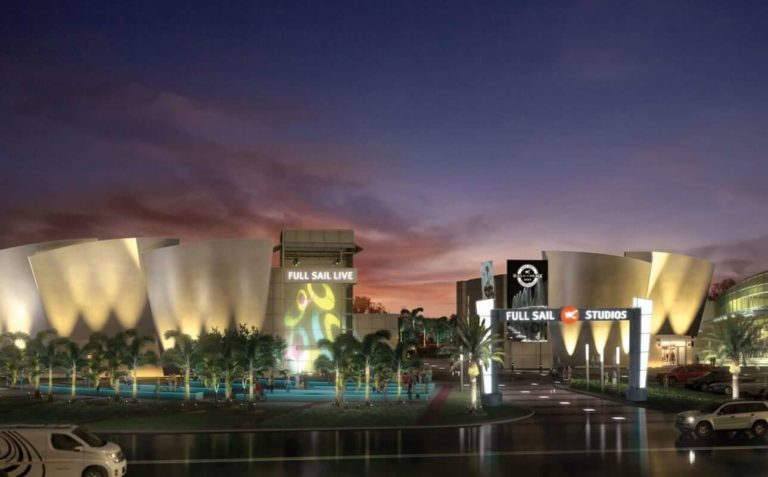 Full Sail University offers the online Bachelor of Science in Digital Cinematography degree.
Students learn competencies relevant to the real world workflow of professional studios, which includes:
Production Planning
Script development
Art design and location shooting
Directing
Filming
Post production
Distribution
Courses include:
History of Motion Picture Arts
Scriptwriting Techniques
Introduction to Postproduction
Film Criticism
Online learners are taught how to create professional content for independent films, online media, broadcast television, and mobile applications.
Academy of Art University
San Francisco, California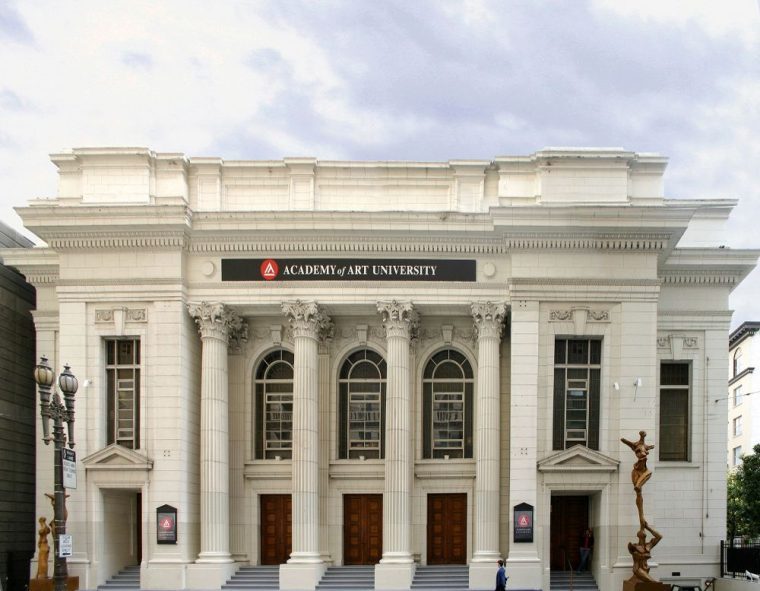 Academy of Art University offers the Bachelor of Fine Arts in Writing for Film, Television and Digital Media online degree.
Based in San Francisco, the Academy of Art University offers a rich selection of online programs in filmmaking.
Their School of Motion Pictures & Television offers an Online Award of Completion in Film and a variety of degrees including an AA, BFA, MA and MFA in Motion Pictures and Television.
Ranking Methodology
This ranking was created using Successful Student's ranking algorithm. This algorithm uses the following data points to calculate a school's ranking placement:
Acceptance rate
Graduation rate
Cost of undergraduate tuition
Percentage of first time undergraduates awarded aid
Percentage of students who are fully online
Academic influence
Frequently Asked Questions
Can you take film school online?
Yes. Many traditional, accredited universities and colleges in the United States offer film degrees completely online. These online programs include degrees in Film and related subjects, such as Digital Cinematography, Screenwriting, Film Studies, and Film Production. Some of these programs are available online as bachelor's and master's degrees.
Where can I study filmmaking online?
Filmmakers may study filmmaking at a variety of colleges and universities in the United States. Here is our list of where film students can study filmmaking online: University of Massachusetts-Amherst, Grand Canyon University, Southern New Hampshire University, Arizona State University, Full Sail University, Academy of Art University, Wilmington University.
What is a digital filmmaking degree?
Digital Filmmaking degrees teach students how to use digital cameras and softwares to make digital broadcast media for film, television, mobile apps, commercials, documentaries, news, and other media.
Regardless of the online film school you may choose, it's important to determine how well the curriculum aligns with your career aspirations.
Investigate the program's faculty, student success stories, and any relevant film industry connections and networks.
The best online film school is likely the one that most adheres to your education goals, learning style, and career ambitions.
Online film schools can offer relevant pathways for ambitious students looking to potentially enter the film industry.
Whether it's learning the art of storytelling and screenwriting, understanding cinematography, or developing film editing skills, these schools provide the tools, mentorship, and industry insights needed to flourish in the film industry.