Online students can become certified to work on heating, ventilation, and air conditioning systems through an online HVAC certification. These include residential and commercial air conditioning and refrigeration systems.
There are many colleges and trade schools across America that offer online HVAC Certification programs.
Prospective students looking to start or further their careers in HVAC can benefit from enrolling in one of the best online HVAC certification programs and completing their online classes.
Here's a step-by-step guide on what's involved in getting an online HVAC certification - designed for students.
Sponsored Listings
HVAC Certification Online – A Guide for Students
Online HVAC certification programs can certify students to work on heating, ventilation, and A/C systems. Be sure to check with your state for certification requirements.
To get an HVAC certification, first find an accredited online HVAC school that offers an online HVAC Training program. HVAC training online programs are available across the U.S. Second, complete and pass the program. Third, pass a certification exam (and maintain the certification through continuing education if required).
To become an HVAC technician, the first thing to do is to find an online training program that's been accredited by a reputable accrediting organization (see below for accreditation bodies).
What Are HVAC Certification Programs Online?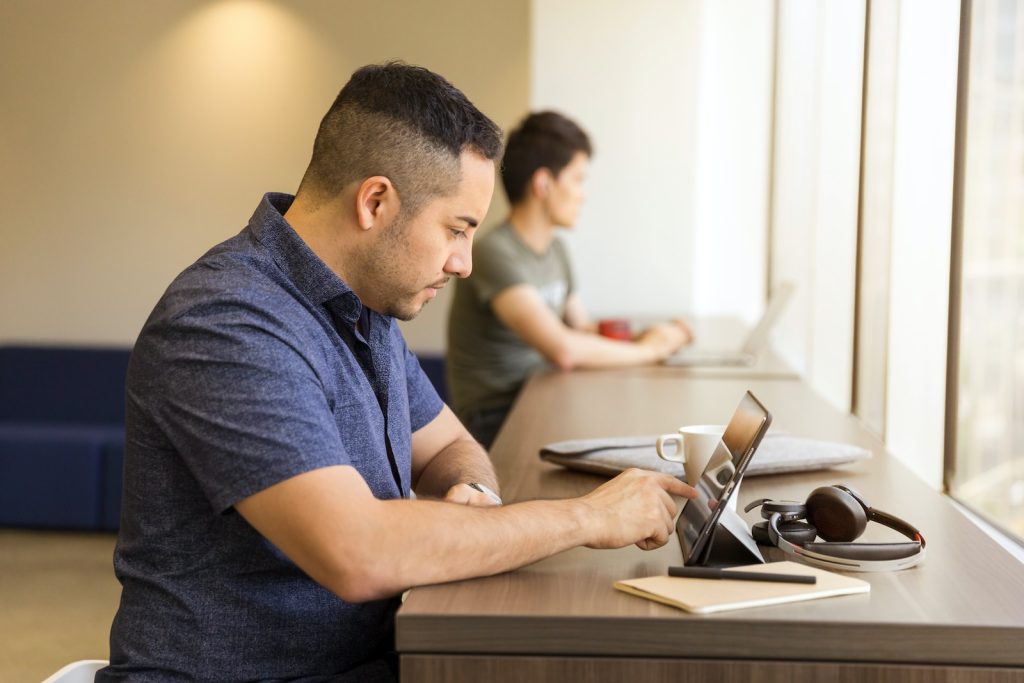 An HVAC technician program generally comprises courses that delve into the realm of heating, ventilation, A/C, and refrigeration. Participants can expect to immerse themselves in lessons covering the basics of HVAC system operations and their components, as well as more specialized topics like electrical systems, environmental controls, and building codes.
Hands-on experience may also be offered through virtual simulations or online lab exercises, offering students a chance to apply what they've learned in real-world scenarios. And of course, exams will likely be included to test knowledge and mastery of the subject matter in the online HVAC school.
Whether you're looking to upgrade your skills or launch a new career, online HVAC certificate programs are a dynamic, convenient, and impactful way to get the education you need!
Enroll in a program, where you'll delve into courses on HVAC-related subjects, such as installing and fixing HVAC system problems, deciphering blueprints and schematics, and operating HVAC tools and equipment safely.
Upon finishing a program, graduates take hvac excellence certification exams. These include the NATE certification exams and Specialty Test certification exams.
Ace the exams, and you'll be officially recognized as an HVAC technician, establishing the credentials earned from the training program and exam as proof of your expertise and competence.
To maintain the validity of your certification, you may be required to take up continuing education courses, and renew your certification by fulfilling the specified number of continuing education hours before its expiration.
Online HVAC schools are the go-to destination for individuals eager to master the intricacies of Heating, Ventilation, and Air Conditioning systems.
Online HVAC training program details
Online HVAC training programs offer the ultimate convenience with flexible scheduling. They cover a range of topics from A/C to commercial refrigeration to green mechanical council certifications. HVAC training can help individuals master core skills and manage technicians.
HVAC Excellence certification options and others like Emerson Climate Technology certifications (including HVAC R) demonstrate a tech's knowledge and skills. The HVAC Excellence Certification Exams test expertise. There are numerous HVAC excellence certifications.
The demand for HVAC technicians is on the rise, especially with the increasing sophistication of HVAC R systems. To succeed in the field, techs must have a deep understanding of various systems and components, including geothermal heat pumps, domestic appliances, and expansion devices.
In short, HVAC and HVAC R professionals can boost their careers through online and in-person training programs and certifications, including HVAC Excellence, NATE, and EPA. Maintaining advanced HVAC R systems requires a solid understanding of shop practices and formal training. The sky's the limit in the HVAC and HVAC R industries.
Many online HVAC program options available place an emphasis on practical skills, including things like shop practices and the EPA certification required for handling refrigerants and maintaining HVAC systems.
Online programs cover all aspects of A/C and refrigeration, giving students a comprehensive understanding of HVAC systems and equipping them with the skills necessary for a successful HVAC R career.
HVACR technician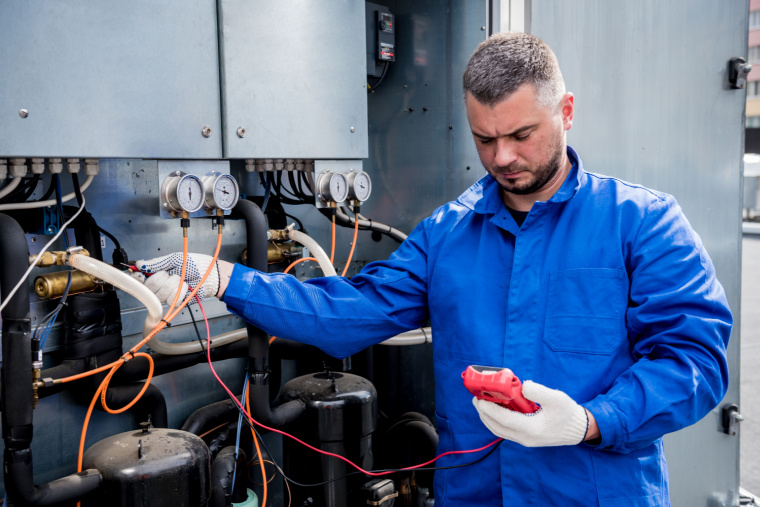 Get ready to dive deep into the world of HVACR with an online training program. HVACR is Heating, Ventilation, Air Conditioning and Refrigeration. Students learn skills such as understanding automatic controls, commercial refrigeration components, electric motors and variable refrigerant flow to become an HVACR tech pro. Learn everything from automatic control components to commercial refrigeration and be prepared to take certification exams.
The demand for HVACR technicians is on the rise, and with online HVAC schools, you'll be ahead of the game. Flexible and convenient, online courses give you the opportunity to master HVACR skills and join the forefront of the industry.
HVAC Systems and Air Conditioning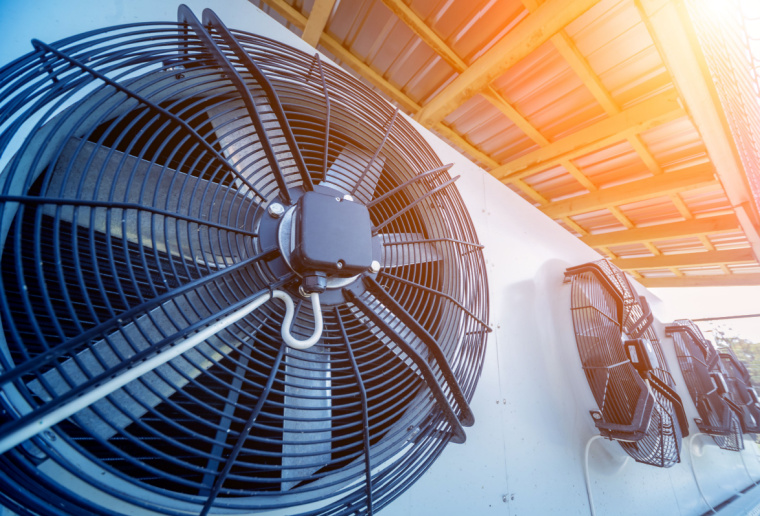 HVAC air distribution systems are in both commercial and residential buildings. HVAC professionals play a key role in regulating temperature, air quality, and humidity levels and in maintaining HVAC operations overall. Air distribution is a critical aspect of maintaining optimal indoor air quality and comfort in buildings.
The field of HVAC offers numerous opportunities for professionals to earn certifications demonstrating their exceptional skills and knowledge in air distribution. Air conditioning contractors
The HVAC Excellence Core represents the foundation of competencies and knowledge that all HVAC professionals must possess.
A combination of online HVAC training, hands-on experience, and certification exams can be your entrance into a career in the HVACR industry. Embrace the challenge and join the ranks of HVAC R technician professionals today.
HVAC Training Online Curriculum
Get ready to dive into the exciting world of HVAC with an online training curriculum that covers all the essential topics to launch you into a successful career. Here's what you can expect to learn:
The Theory of HVAC Systems: This section is the foundation of HVAC and covers everything from thermodynamics to air flow. You'll get a comprehensive introduction to their inner workings and components.
Electrical Systems: Power up your knowledge of electrical circuits, wiring diagrams, and safety procedures. You'll learn how to diagnose and fix electrical issues with confidence.
Refrigeration: Discover the secrets of the refrigeration cycle and how to install, maintain, and repair refrigeration systems.
Air Conditioning: Learn about split systems, packaged units, and central air systems and how to expertly install, maintain, and repair them.
Ductwork: Master duct design, fabrication, and installation, and understand the crucial role air flow plays.
Controls: Get up to speed on control systems and automatic controls, including thermostats, zoning systems, and control valves. You'll diagnose and repair control problems with ease.
Service and Maintenance: Emphasizing the importance of routine maintenance, you'll learn how to perform it and troubleshoot common HVAC problems.
The online training curriculum also often includes opportunities for hands-on training, such as virtual labs, simulation software, and internships, so you can gain real-world experience. And for those interested in specialized areas like geothermal systems, heat pumps, and commercial refrigeration, these subjects are also covered.
Certification and Licensing Preparation
To become a certified HVAC tech, you need to show that you're a professional in the heating, ventilation, and A/C industry. It's a multi-step process that involves completing an accredited training program and/or gaining practical experience, passing a certification exam that tests your knowledge of how to maintain HVAC systems and regulations, and potentially obtaining a license by passing a separate licensing exam and meeting state-specific requirements.
Need to provide training for your workers?
If you're the boss of HVAC techs, it's time to step up and show 'em who's in charge! Managing these experts in heating, ventilation, and air conditioning is all about leading the way, making sure they have what they need, and keeping everything in line with company policies and industry regulations. So, let's break it down:
Schedule and get to work: You're the master of assignments, ensuring projects are completed on time and with precision.
Skill up: Give your technicians the training they need to be the best. Empower them with knowledge and experience.
Gear up: Make sure your team has the tools and supplies to get the job done right.
Monitor and motivate: Keep a close eye on performance, provide feedback, and inspire your team to be their best.
Safety first: Ensure that all safety regulations, codes, and standards are met.
Financial finesse: Keep the finances in check and control the budget, from preparation to analysis.
Managing HVAC technicians is all about being a dynamic leader, having a deep understanding of the tech, and being organized to support your team's success.
What to Consider When Choosing One of the Best Online HVAC Certification Programs:
Choosing an online HVAC certification program is an important move towards getting an HVAC tech career. But, with many options from which to choose, how do you pick the right one? Here are some important things to consider:
Accreditation: Make sure the program is accredited by a reputable organization. This will guarantee that you'll receive a reputable education. The accreditation organizations are mentioned farther down this article below.
Reputation: Do your research, ask others, and read online reviews.
Check that the program covers everything you need to know to become a certified HVAC tech.
Flexibility: Online HVAC training programs often allow for flexible self-paced schoolwork.
Cost is an important factor: Compare prices and look for programs that offer financial aid, scholarships, and/or payment plans, and compare their tuition rates.
Support: Make sure that the program offers support like tutoring and job placement.
How long does it take to get an online HVAC Certification?
The length of an online HVAC certification program can range from two years to three years, with 10-20 classes.
How much does an online HVAC Certification cost?
The cost of a program typically falls between $1,000 to $4,000.
Do you need a high school diploma to become an HVAC technician?
HVAC schools typically do require that students have a high school diploma or GED, and be at least 18 years old for admission.
How long does it take to become an HVAC technician?
Typically HVAC education requires two years of classes, though it varies by the school and the number of required courses.
Salary Information:
The Bureau of Labor Statistics serves as a valuable resource for those seeking information on job outlook, pay, and other important data for HVAC technicians and related occupations. In 2021, the median salary was $48,630 per year as the national average.
The Bureau of Labor Occupational Outlook Handbook is crystal clear about the demand for technicians with advanced systems and automatic control knowledge in the HVAC industry. These technicians not only work with air conditioners and refrigeration systems but also with complex cooling towers and chilled water systems. The industry is expected to grow 5% in the next ten years, adding 20,200 new careers.
The industry is on the rise and with the surge in popularity of online HVAC programs, becoming an HVAC technician has never been more accessible. The program director of one such online program stresses the importance of being an air conditioning contractor and the advantages of obtaining HVACR certification through exams such as NATE.
Customers in need of service for their air conditioners, domestic appliances, and commercial refrigeration systems want to make sure their HVAC technician is knowledgeable and certified. That's where HVAC Excellence Instructors come in - providing the training to prep technicians for these crucial HVAC Excellence certifications.
Professional Organizations:
HVAC technicians can be members of professional organizations such as ACCA, ASHRAE, SMACNA, NADCA, and RSES. Each organization provides education, resources, and events related to the HVAC industry.
The ACCA is a premier HVAC contractors trade association that offers a wealth of education, training, and resources to its members.
ASHRAE is a non-profit organization that's dedicated to driving innovation and advancing education in the heating, ventilation, and air-conditioning industry. This organization is responsible for researching and setting industry standards.
SMACNA is the go-to trade association for contractors and professionals in the sheet metal and HVAC industries, representing their interests and providing support.
NADCA is the national trade association for companies in the HVAC system cleaning and maintenance sector, providing resources and support to its members.
The Refrigeration Service Engineers Society (RSES) is a professional organization aimed at educating and training HVAC technicians and refrigeration professionals, working to ensure their expertise and advancement in the industry.
The HVAC and HVAC R technician industries offer many opportunities for growth and advancement through various online and in-person training programs and certifications.
A high school diploma is the minimum requirement to be admitted into a program. Certifications like HVAC Excellence can help techs stand out to customers.
What organizations provide accreditation for online HVAC school programs?
Get ready to take your HVAC education to the next level with the best online certification programs backed by professional accreditation bodies.
Here are some of the industry's most respected organizations that provide accreditation to schools offering online HVAC training:
These accrediting bodies have been recognized by the U.S. Department of Education and are responsible for ensuring that online HVAC programs meet the highest standards of quality and academic excellence.
If you're looking for an online HVAC certification program, make sure it's accredited by one of these organizations to get a credentialed and good education.
Sponsored Listings
More resources: