The Best Colleges For Cryptocurrency and Blockchain Education

| Rank | School | Location |
| --- | --- | --- |
| 1 | University of Southern California | Los Angeles, California |
| 2 | Fordham University | Bronx, New York |
| 3 | University of the Cumberlands | Williamsburg, Kentucky |
| 4 | South College | Knoxville, Tennessee |
| 5 | University of Pennsylvania | Philadelphia, Pennsylvania |
| 6 | Massachusetts Institute of Technology | Cambridge, Massachusetts |
| 7 | Cornell University | Ithaca, New York |
| 8 | Columbia University in the City of New York | New York, New York |
| 9 | University of California-Los Angeles | Los Angeles, California |
| 10 | University of Illinois Urbana-Champaign | Champaign, Illinois |
| 11 | Duke University | Durham, North Carolina |
| 12 | Stanford University | Stanford, California |
| 13 | University of California-Berkeley | Berkeley, California |
| 14 | Princeton University | Princeton, New Jersey |
| 15 | New York University | New York, New York |
| 16 | University at Buffalo | Buffalo, New York |
| 17 | Arizona State University-Tempe | Tempe, Arizona |
We have ranked the best colleges and universities to get a cryptocurrency and blockchain education in the U.S.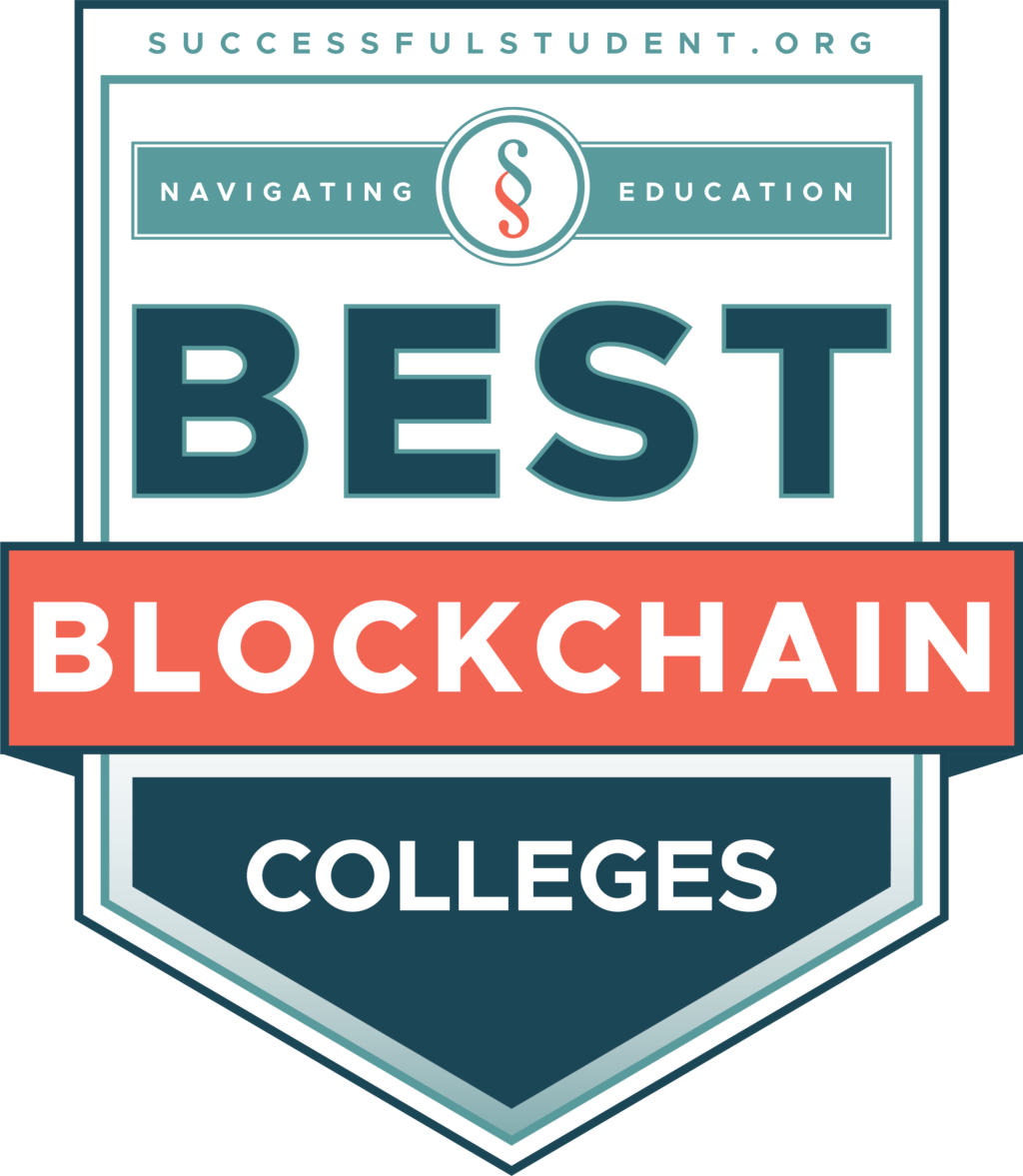 We have created this ranking using factors designed for students to make informed college and degree decisions. This ranking was developed by looking at the following criteria: the degrees or certificates offered, and associated labs, clubs, and research initiatives, and academic influence.
Degrees are ranked higher than certificates, and certificates are ranked higher than individual courses. This ranking has a criteria specific to this article. Learn more about our general ranking system here: College Denominator.
Students can learn blockchain on-campus and online (in certain programs).
These blockchain programs include certificates, degrees, research initiatives, and student-led clubs, all centered around blockchain technologies and their implications and effects.
Blockchain technology is used in domains such as business (i.e. accounting, supply chains, and insurance), in culture (gaming, art, NFTs), money (finance, loans, cryptocurrency, DeFi - decentralized finance), and in the alternative universe known as the Metaverse.
Featured online programs:
The Best Colleges For Cryptocurrency and Blockchain Education
University of Southern California
USC Viterbi School of Engineering
Los Angeles, California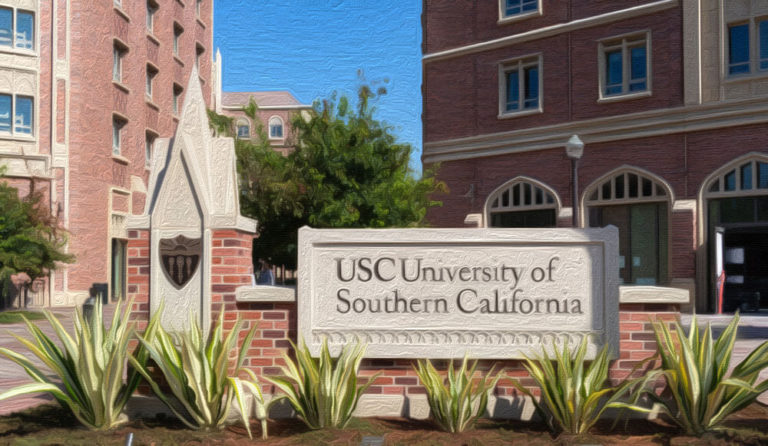 USC's Viterbi School of Engineering offers the Minor or Specialization in Blockchain. Undergraduate students may major in any subject offered at USC, and Minor or Specialize in Blockchain. The Minor requires 16 credits, and the Specialization requires eight (see below for more details).
Students will learn relevant skills such as smart contracts, Solidity (the Ethereum programming language), cryptocurrency, and feasibility analysis using the Ethereum blockchain network.
Minor, four required courses: each course is 4 credits (16 required)
Blockchain
Blockchain: Decentralized Applications
Blockchain: Advances and Use Cases
Blockchain: Capstone
Specialization, two required courses: each course is 4 credits (8 required)
Blockchain (core requirement)
Students choose one out of these two courses:
Blockchain: Decentralized Applications
Blockchain: Advances and Use Cases
Students can learn to develop decentralized applications and smart contracts on the blockchain.
Fordham University
Gabelli Graduate School of Business
Bronx, New York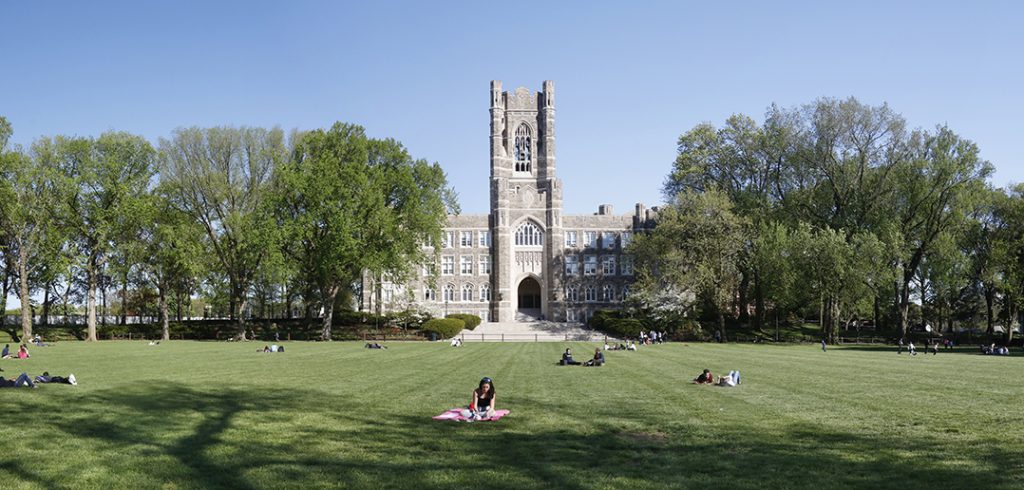 Fordham University offers a Master of Business Administration: Secondary Concentration in Blockchain degree. MBA students can customize their program, by choosing a primary concentration and a secondary concentration.
Students taking the Secondary Concentration in Blockchain learn blockchain fundamentals, funding with cryptocurrencies, and regulation and legal concerns of blockchain technologies.
Students are required to take 9 credits from these class options:
Blockchain, Virtual Currencies, and Tokens: An Examination of Business and Legal Issues (3 credits)
Blockchain: Industry Disruptor and Creator (3 credits)
Blockchain Tech & App Dev (3 credits)
Digital Currencies (1.5 credits)
Blockchain (1.5 credits)
Here are the MBA program's Primary concentration options:
Accounting Concentration
Accounting Technology Analytics Concentration
Communication and Media Management Concentration
Finance Concentration
FinTech Concentration
Information Systems Concentration
Management Concentration
Marketing Concentration
Public Accountancy Concentration
Students can customize their MBA to pair the Secondary Blockchain concentration with a Primary concentration above. Each Primary concentration is five classes, and the Blockchain concentration is three or four classes (depending on which classes are chosen).
Also, students can participate in the Fordham Fintech Network and the Enterprise Ethereum Alliance.
University of the Cumberlands
Williamsburg, Kentucky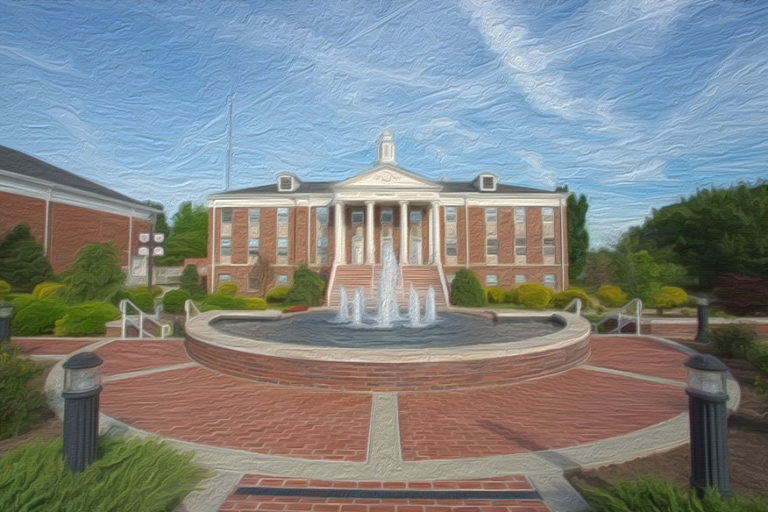 University of the Cumberlands offers the online Master in Global Business with Blockchain Technology degree. This is an online master's degree program with a focus on blockchain technologies, and how blockchain applies to global business.
Online master's students will learn the intersection of business and blockchain, which includes study in these areas:
Development of code to incorporate crypto assets, and data-mine blockchains
Create and/or use cryptocurrencies, Ethereum, hyper ledgers, and decentralized applications
Assess blockchain technology's effects on business
Learn to create solutions to challenges in blockchain technology
This 31 hour program is an IT and Business degree program. Online students should be prepared to take the Certified Blockchain Professional (CBP) certification exam, administered by the Institute for Certification of Computing Professionals.
The purpose of this program is to teach students the necessary skills to take this certification, develop marketability, and become impactful in global business.
Required courses include:
Blockchain Development
Data Mining
Blockchain Implementation
Introduction to Blockchain and Cryptocurrencies
Fundamentals of Database Systems
Finance and Blockchain
Cryptography
Accreditation: the Southern Association of Colleges and Schools Commission on Colleges (SACSCOC)
South College
Knoxville, Tennessee
South College offers the online Bachelor of Science in Computer Science: Concentration in Blockchain and Cloud Computing degree. This program duration is 42 months for students who take online classes full time.
Online students will get a computer science training, with an emphasis in blockchain and cloud computing. This involves understanding how to secure, process, manage and store data.
Students learn Computer Science and blockchain in the domains:
Algorithms
Database applications
Programming
Computer architecture
Networking
Data structures
Operating systems
Students learn networking software and hardware systems that are distributed over large networks of servers, which are the backdrop for understanding Blockchain transactions and cloud computing.
Accreditation: Southern Association of Colleges and Schools Commission on Colleges
University of Pennsylvania
Wharton Executive Education
Philadelphia, Pennsylvania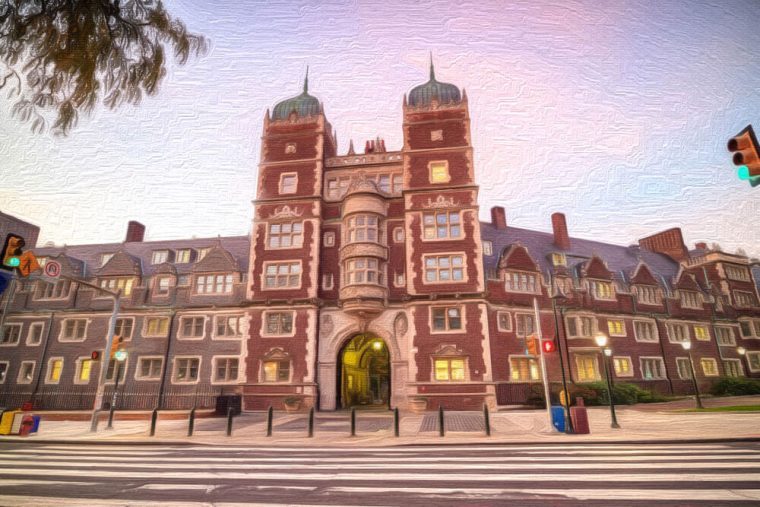 Wharton Executive Education, which is within the Wharton School at the University of Pennsylvania, has partnered with Prysm Group (an online education provider and financial consulting firm) to offer the online Economics of Blockchain and Digital Assets certificate program.
The online programs are asynchronous. Students learn through a comprehensive curricula which teaches about all relevant domains of blockchain for business professionals, which includes decentralized organizations (DAOs), blockchain regulations, use cases of digital assets including NFTs and cryptocurrencies.
Students take an introductory course and six modules. The modules in order are:
Blockchain Protocols
Digital Assets
Smart Contracts and Blockchain Applications
Decentralized Finance (DeFi)
Valuation and Investing
From Theory to Practice, Choosing a Blockchain and Launching a Digital Asset
This program is especially oriented for the benefit of financial analysts and technical and business professionals.
Massachusetts Institute of Technology
Cambridge, Massachusetts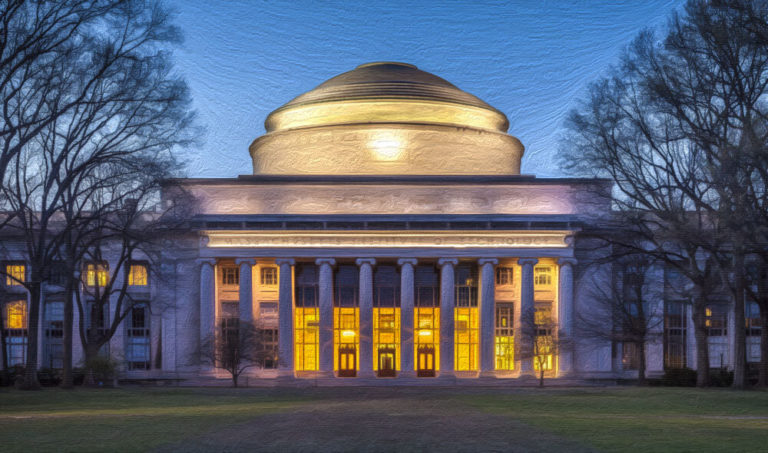 MIT offers a Professional Education Certificate of Completion for students who complete their MIT Professional Education Digital Plus Blockchain: Disruptive Technology program.
This course is taken online over 8 weeks, and students who complete this course will receive 6.4 continuing education units.
Students learn blockchain fundamentals and applications in these domains:
Cryptocurrency
Public vs Private Blockchains
Ethereum (Proof of Work vs Proof of Stake)
PKI, Encryption, Digital Signatures and Hashing
Smart contracts, Tokens, and ICOs
Governance and Stable Coins
Students in this online program learn about blockchain from technical and historical perspectives, and learn the functional implementations and the various applications of blockchain and cryptocurrencies.
Cornell University
Cornell Tech
Ithaca, New York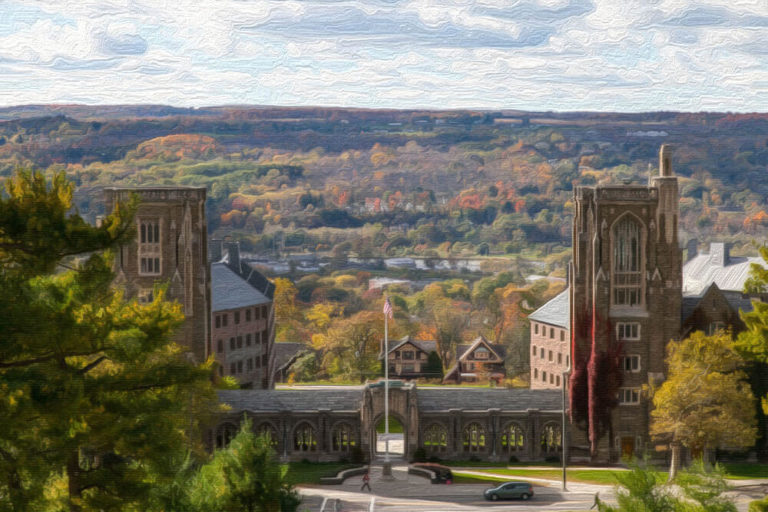 Cornell University offers the online Certificate in Blockchain Essentials program.
Blockchain experts at Cornell Tech teach students the mechanics behind how cryptocurrencies, such as Bitcoin, use blockchain technology in digital peer-to-peer transactions.
Learn the problems for which blockchain can potentially be a solution, and how to implement blockchain technology solutions in business. The goal is to teach creative solutions using blockchain for use cases in business or other organizations.
Students take these classes in this order:
Cryptocurrencies and Ledgers
Cryptography Essentials
Blockchain Fundamentals
Applications of Blockchain Technology
Each course is two weeks long, and the entire program is two months in duration. The time commitment is 3-5 hours per week, and is taken fully online.
This course is particularly relevant to business owners or technology professionals wanting blockchain solutions for business applications, such as business leaders, entrepreneurs, software engineers and developers.
Columbia University in the City of New York
Columbia Business School
New York, New York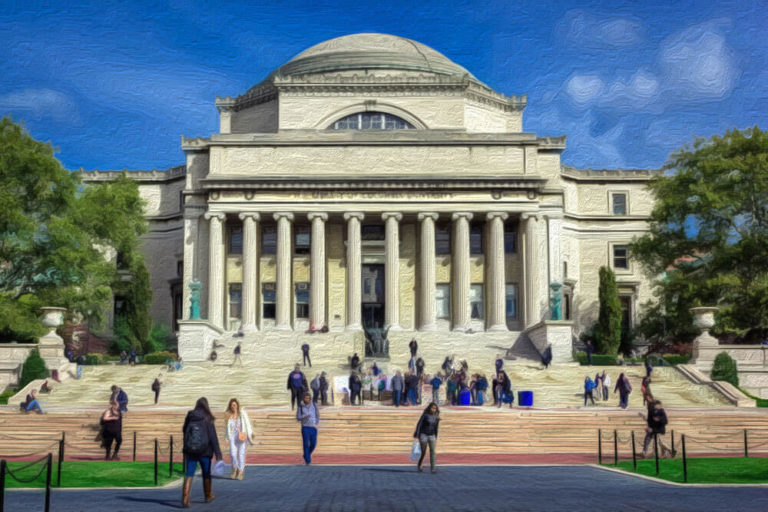 Columbia University in the City of New York offers the online Blockchain in Business: Beyond the Hype program. Classes are taken over two months, and require approximately a 4 to 6 hour weekly time commitment.
The Columbia Business School Executive Education will provide students who finish the program with a certificate of participation.
This online program consist of the following modules:
Technical Foundations: Distributed Consensus, Hash Functions, and Cryptography
What is Money? Introduction to Bitcoin
How Bitcoin Uses Blockchain: Intro to Blockchain and Transaction Fees
Ethereum, Smart Contracts, and Tokens
Applications of Blockchain: Governance Challenges, Opportunities, and Incentives & Permissioned Enterprise Blockchains (IBM)
Blockchain for the Executive Decision Maker and the Future of Blockchain
Students learn from real use cases for opportunities and challenges of cryptocurrencies and blockchain in business, including IBM, Prysm Group, and Yugen Partners.
Students will also learn to use hash functions, simulate blockchain creation, and analyze a cryptocurrency for the capstone project.
University of California-Los Angeles
UCLA Extension, Anderson School of Management
Los Angeles, California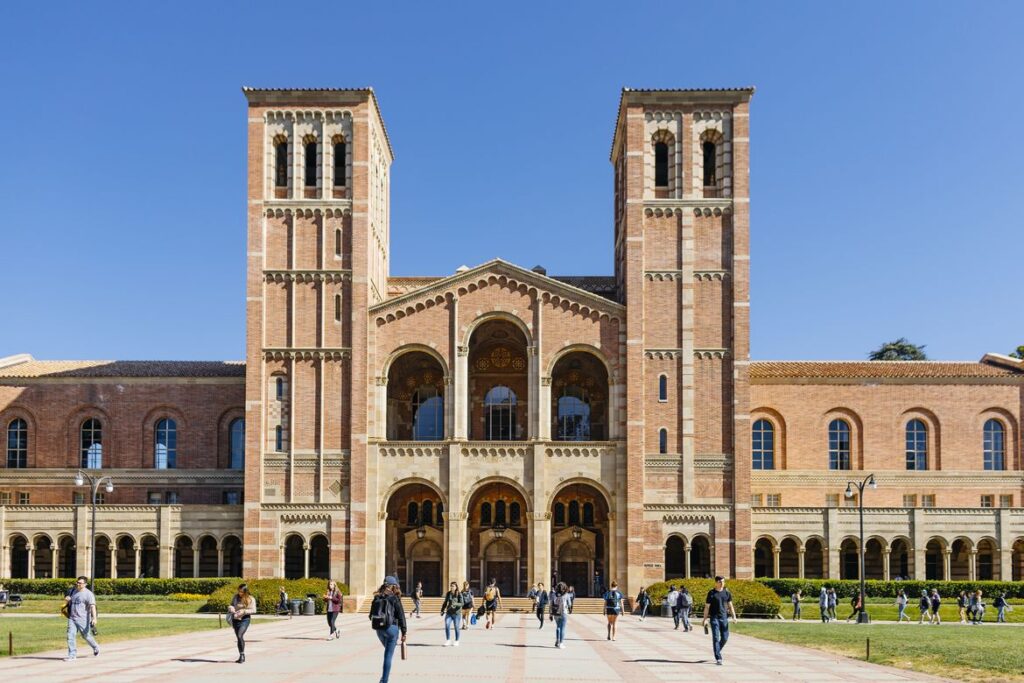 UCLA offers the Certificate in Blockchain Technology Management.
Four classes are required: two required courses and students choose two electives out of three (see below). This certificate program approaches blockchain education holistically as it pertains to business.
It's designed to teach students how to implement blockchain in any business setting to provide solutions. The courses were made in collaboration with the Anderson School of Management at UCLA.
Students learn blockchain in these areas:
Blockchain fundamentals
Blockchain evaluation in organizations, and in relation to Industry 4.0 and 4IR technologies
Blockchain's practices, governance, regulatory concerns, and benefits
Real applications of blockchain to solve problems in business
Required courses:
Blockchain Solutions, Governance, and Collaboration
Fundamentals of Blockchain Technology
Electives: students must take two
Blockchain Cryptocurrency Applications in Business and Finance
Blockchain Technology Adoption and Implementation
Digital Transformation: Blockchain, IoT, AI and Trusted Data
University of Illinois Urbana-Champaign
Gies College of Business
Champaign, Illinois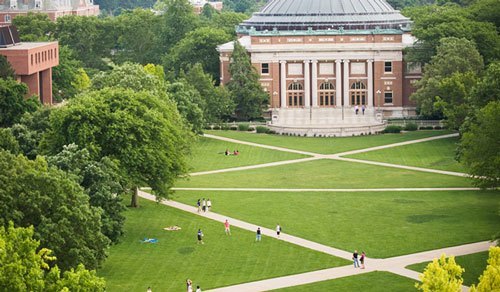 The Gies College of Business at the University of Illinois has launched the Disruption Lab initiative to prepare students and corporate partners for the rapidly changing business world due to technological and social innovations. Ernst & Young has joined as a founding corporate member to support the initiative.
The lab aims to provide extracurricular learning opportunities for students, create entrepreneurial opportunities, and strengthen relationships between the college and its corporate partners. The lab focuses on student projects and provides education and training for emerging technologies.
In addition to the lab, the Gies College of Business offers the Blockchain, Tokens, and Their Application in Business course.
Students explore the development of blockchain technology and its applications in business, including digital currencies, distributed ledgers, smart contracts, tokens, and decentralized autonomous organizations. There are no prerequisites for the course, and it is open to students from any college.
This course has three objectives:
to inform students of the historical and societal forces that led to the emergence and growth of blockchain
to introduce the technologies that power blockchain and enable new applications
to explore the application of blockchains to business, including areas such as employment, contracts, finance, organizational structure, and the future of the internet.
The course consists of internet-accessible resources, including articles, blogs, videos, and interviews.
Gies College of Business has created its own blockchain, called iBlock, to be used for teaching and research, and the first blockchain created by a business school. The iBlock blockchain is scalable and built on Ethereum, and faculty and students can sign up for their own account and view transactions through the iBlock website.
Professors can "check out" their own blockchains and use the Disruption Lab's library of decentralized apps or smart contracts so students can interact with it. Students can also contribute to the blockchain by writing their own smart contracts and user interfaces.
The Disruption Lab is also working on creating a blockchain-as-a-service portal where anyone can create their own blockchain and decentralized applications with a click of a button.
Additionally, Gies is developing a skills wallet application where instructors can publish student certifications as NFTs, a marketplace where students can create and trade their own NFTs, and a Gies merchandise store where people can spend a "Merch Coin" to buy Gies apparel.
Duke University
Durham, North Carolina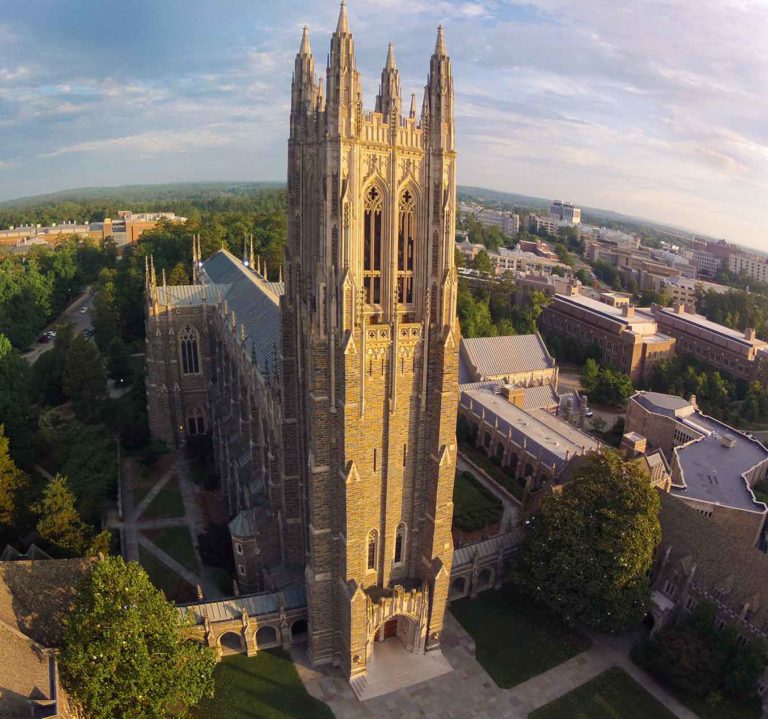 Duke University has partnered with Coursera to offer an online Blockchain Applications Certificate. Students can think of this program as a foray into Duke's Master of Engineering in Financial Technology (FinTech) program. This certificate can be completed online in three months, and consists of three courses:
Foundations of Blockchain
Transacting on the Blockchain
Solving Problems with Blockchain
Students will complete four projects:
Create a Cryptocurrency Wallet
Develop a Token for a Blockchain
Create Smart Contracts
Create a Blockchain application
Students will not gain credits towards the Master of Engineering in Financial Technology. However, students who complete this certificate are eligible for a 10% scholarship, and an accelerated application process for acceptance.
One thing that's really unique from this certificate program is that Duke provided students who completed the program their certificates of completion as NFTs on the Polygon network.
Stanford University
Center for Blockchain Research (CBR), and the Stanford School of Engineering
Stanford, California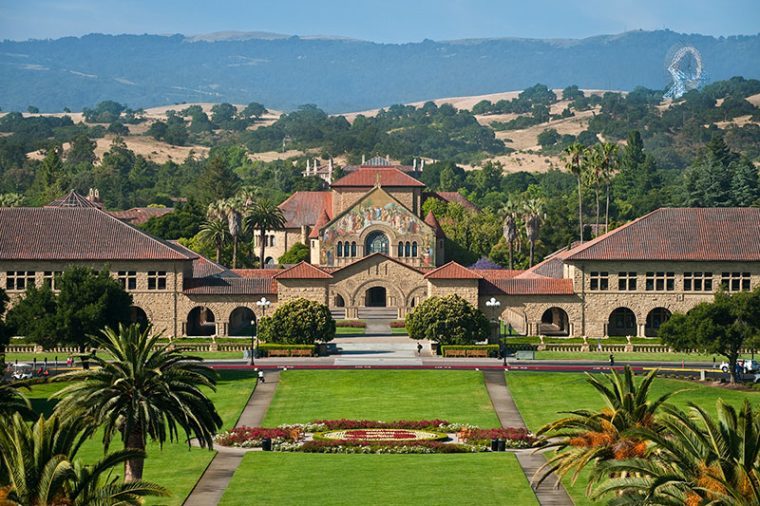 Stanford University has strong involvement in blockchain with the Stanford Center for Blockchain Research, courses in blockchain, cryptography, and cryptocurrency, the Stanford Blockchain Club, and a monthly blockchain seminar.
Blockchain courses:
The Cryptocurrencies and Blockchain Technologies course, and the online Blockchain and Cryptocurrency: What You Need to Know course.
The Cryptocurrencies and Blockchain Technologies course is comprehensive and teaches all facets of blockchain technologies and cryptocurrencies, including:
Applications
Distributed consensus
Economics
Scalability
Smart contracts
This course focuses on Bitcoin and Ethereum in particular.
Students learn about blockchain in these domains:
Bitcoin Mechanics
Consensus protocols
Ethereum and decentralized applications
Decentralized finance and economics
Privacy on a public blockchain
Scaling the blockchain
Lectures include:
Intro to cryptography & cryptocurrencies
Wallets: managing and protecting crypto assets
Large Scale Consensus: Availability/Finality, Randomness Beacons, VDFs
Consensus: network models, corruption tolerance, sybil resistance
Scaling the blockchain: Optimistic Rollup, ZK-Rollup, and Validium
Stanford offers the online course Blockchain and Cryptocurrency: What You Need to Know through the Stanford School of Engineering. This online program focuses on what blockchain and cryptocurrencies are, how to use them, and where and how they are going to be used in the future.
Students learn about blockchain and cryptocurrencies in these domains:
The fundamentals of blockchain technology
Where Blockchain and Cryptocurrency is headed in the future
Applications for Blockchain to potentially change the world
The methodology for creating, transacting, and storing cryptocurrencies
What securities are and their implications for blockchain technologies
The challenges of digital currency adoption
University of California-Berkeley
Department of Electrical Engineering and Computer Sciences
Berkeley, California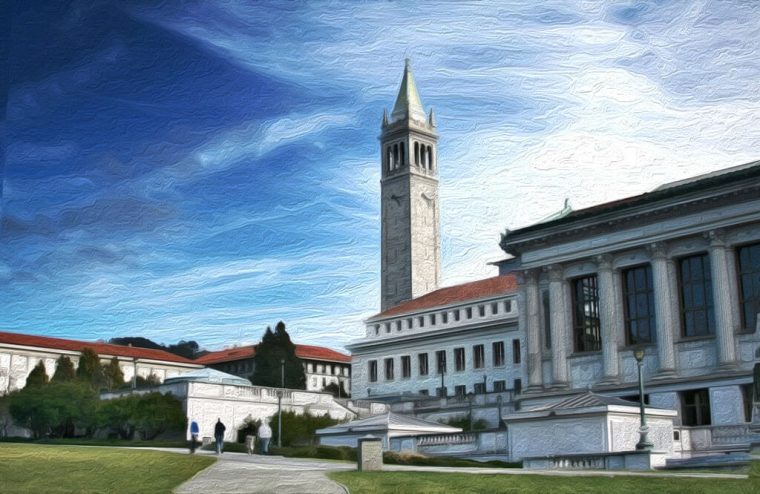 University of California Berkeley offers four courses (two on-campus and two online through edX) for learning blockchain.
The two on-campus courses are Blockchain Fundamentals Decal, and Blockchain Developers Decal.
The two available online courses that Berkeley offers in conjunction with edX are Blockchain Technology, and Bitcoin and Cryptocurrencies.
Blockchain Fundamentals Decal:
The goal of this course is to teach students to understand how blockchain technologies work, and their resulting ideas, institutions, and innovations.
Students learn:
Digital currency history
Basics of cryptography
Fundamentals of Bitcoin
Blockchain technologies
Organizations, laws, and trends of blockchain's ecosystems
Blockchain Developers Decal:
Students learn how to be Blockchain Developers in this course. Blockchain Developers are in high demand given the immense and growing need to create and develop blockchain and associated technologies. Students are taught the necessary tools and experience to develop blockchain, including how to create and execute smart contracts.
Students learn blockchain development within these contexts:
Bitcoin
Ethereum's technology
Smart Contracts (how to develop and implement security)
Students learn industry-relevant development tools, including:
Metamask
Solidity programming language
Infura
Ganache
Truffle
Learning these tools and development skills teach students to be full-stack blockchain developers. This class is oriented for students who already have a background in programming.
Selection of courses:
Introduction to Blockchain Development: A High Level Overview
Security, Tokens, Wallets
Solidity and Developer Tools
edX's online Blockchain Technology course:
Cost: Free
Length: Estimated 6 weeks
Time Commitment: 3 – 5 hours per week
Students learn:
Governmental regulation of blockchain technology
Distributed consensus and foundational topics formally defined
Alternative means of consensus to Bitcoin's Proof-of-work
Cryptoeconomics: meaning, goals and properties
Regulations and implementations of enterprise blockchain
Solutions and challenges to scaling and adopting of blockchain
blockchain venture capitalism and crowdfunding
edX's online Bitcoin and Cryptocurrencies course:
Cost: Free
Length: Estimated 6 weeks
Time Commitment: 3 – 5 hours per week
What students learn:
The properties behind the second largest blockchain platform, Ethereum
Aspects of Bitcoin as it's used in the world
Mechanics of Bitcoin
Attacks on Bitcoin
Centralized and decentralized currency properties
Bitcoin Record Keeping, Identity, Consensus, and Transactions
Fundamentals of Bitcoin
Libertarian ideology and the Cypherpunk movement
Cryptography, privacy, and hash functions
Blockchain at Berkeley is a student-led organization, whose membership includes Berkeley students and alumni, and other members of the local community, and at large who are interested in blockchain technology.
For businesses with an interest in using blockchain, Berkeley offers the innovative Berkeley Blockchain Xcelerator program. The Xcelerator is a collaboration between Berkeley's Haas School of Business, Berkeley Engineering, and Blockchain at Berkeley.
Since 2019 when it was launched, Xcelerator has helped 65 companies raise over $200M+ in funding. This program assists in businesses implementing enterprise blockchain for their business purposes.
Princeton University
Princeton, New Jersey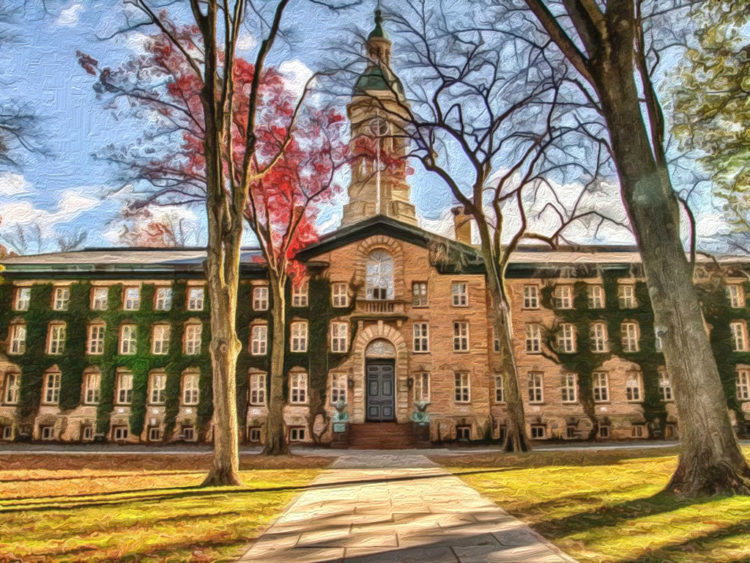 Princeton University and Coursera have collaborated to offer Bitcoin and Cryptocurrency Technologies as an online course. This course is free, and is taken over four weeks. There is no certification offered with finishing this course.
Students learn:
How Bitcoin works
Bitcoin user anonymity
Bitcoin security
What makes Bitcoin different
Determining factors of Bitcoin's price
Cryptocurrencies regulations
The potential future of Bitcoin
Students are taught conceptual foundations of how to engineer secure software for use with Bitcoin's blockchain network.
Classes:
Introduction to Crypto and Cryptocurrencies (week 1)
How Bitcoin Achieves Decentralization (week 2)
Mechanics of Bitcoin (week 3)
How to Store and Use Bitcoins (week 4)
New York University
School of Professional Studies
New York, New York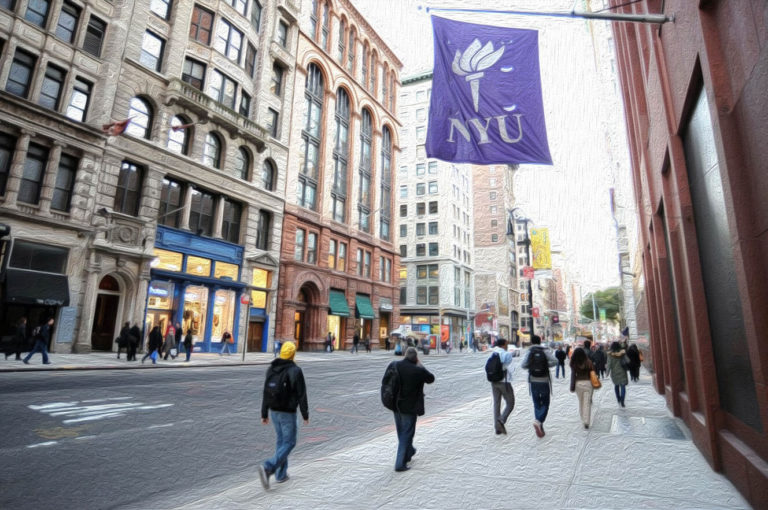 New York University offers the online Blockchain and Cryptocurrencies course, and the online Blockchain in Sports course.
The Blockchain and Cryptocurrencies course earn students three (3) continuing education credits, is taken over 8 sessions, and lasts a month and a half.
Students learn about cryptocurrency and blockchain in these domains:
Ability to make cryptocurrency comparisons, including comparisons to fiat currency
How to use Bitcoin and its security levels
Understand blockchain technology's current and future uses and key opportunities and advantages
Smart contracts
Consensus mining
Learn about governmental regulation of cryptocurrencies and blockchain technology
Online Blockchain in Sports:
This program teaches blockchain fundamentals. The course consists of videos, discussions, and assignments. Learn what blockchain is (and isn't), how blockchain functions, and the ways blockchain is impacting sports and business. And learn what applications blockchain technology has within sports settings.
Students learn blockchain in sports in these contexts:
Understand blockchain fundamentals and functionalities
Articulate blockchain's uses in cryptocurrency, sports, retailing, and supply chain management
Learn analytical tools to evaluate sports execution using a specific blockchain
This course is self-paced, and can be taken as part of the Certificate in Sports Technology and Innovation at NYU.
University at Buffalo
School of Engineering and Applied Sciences
Buffalo, New York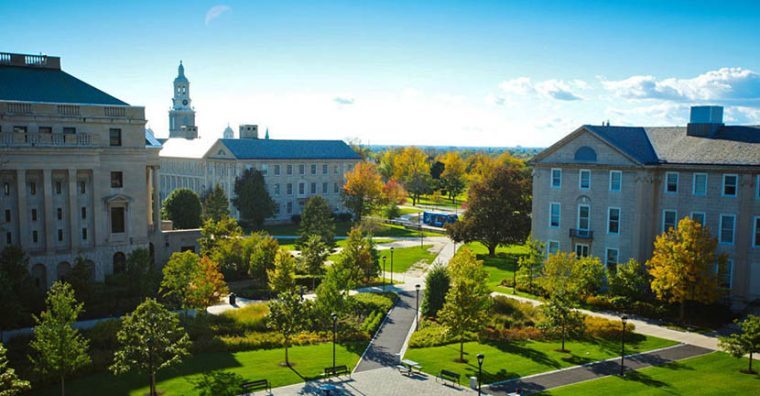 University at Buffalo, in conjunction with Coursera, offers four courses on Blockchain:
Blockchain Basics
Smart Contracts
Decentralized Applications (Dapps)
Blockchain Platforms
blockchain platforms
blockchain basics
decentralized applications
smart contracts
The courses take four months to finish. which cover these topics:
blockchain platforms
blockchain basics
decentralized applications
smart contracts
This course is a massive open online course (MOOC), and is a collaboration between the UB Center for Industrial Effectiveness, the UB Computer Science and Engineering Department, and other blockchain industry partners.
There is no cost to audit the course. There is a paid option which can result in a grade and a verified certificate. Paid options are available through Coursera.
This course is most beneficial to students who already know a programming language, and want to learn blockchain. The instruction teaches students how to program on Ethereum's blockchain in particular, and develop applications that are decentralized, and design and deploy smart contracts.
Arizona State University-Tempe
Tempe, Arizona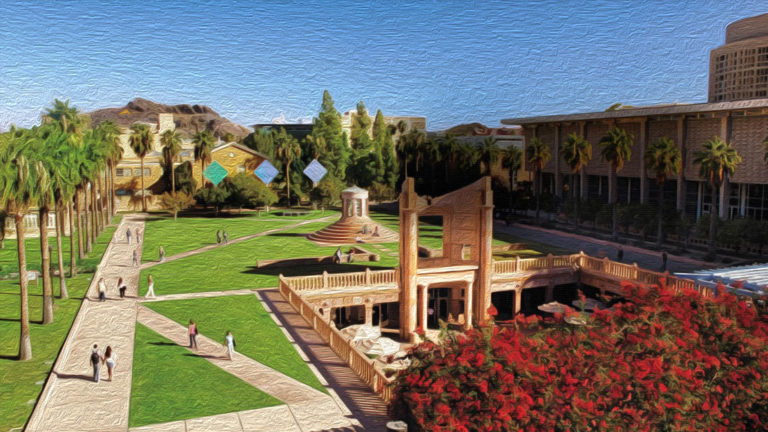 Arizona State University created the ASU Blockchain Research Lab, which is comprised of students, faculty, and staff at ASU.
The Lab researches and develops blockchain technologies for applications in Computer Science. These applications include:
energy
mathematics
finance (such as lending)
business (such as using smart contract peer-to-peer insurance, environmentally sound green business practices)
economics
Initiatives of the Lab include:
Zero Knowledge Proofs for DASH (limit information from leaking on public blockchains)
Peer to Peer Insurance (insurance policies grouped and protected from fraud)
BLADE Research (protect personal data online from fraud)
MedFabric4Me (medical information security and record management)
ASU also has the Blockchain, Fintech & Cryptography Club which educates ASU students concerning fundamentals of computer science and cryptography in blockchain technology.
Students are exposed to real-world implications by participating in hands-on activities and attending lectures from guest speakers.
Professional blockchain certifications
According to the Institute for Certification of Computing Professionals (ICCP), there are two Blockchain Professional Certification levels available:
Certified Blockchain Professional - Management
Certified Blockchain Professional - Technical
As the names imply, one is oriented for certification in blockchain management, and the other for technical blockchain certification.
What do blockchain developers earn?
Blockchain technologies require Blockchain Developers to create them. There are multiple blockchains currently in use in a large variety of roles, such as finance, cryptocurrency, and art markets (NFTs). According to ZipRecruiter, Blockchain Developers earn an average of $154,550 per year, with the top earners making $242,000. UpWork.com has freelance Blockchain Developers who make between $50 - $250 per hour, depending on experience and technical ability, and other factors.
Some fruits of blockchain technology are DeFi (decentralized finance), cryptocurrencies (such as Bitcoin), NFTs (non-fungible tokens), smart contracts, and applications in cybersecurity.
The two most widely known blockchains are the ones that run the Bitcoin and Ethereum networks. Most of the blockchain programs in this ranking use Bitcoin and Ethereum as test cases, and focus on them in their blockchain education.
What is blockchain technology?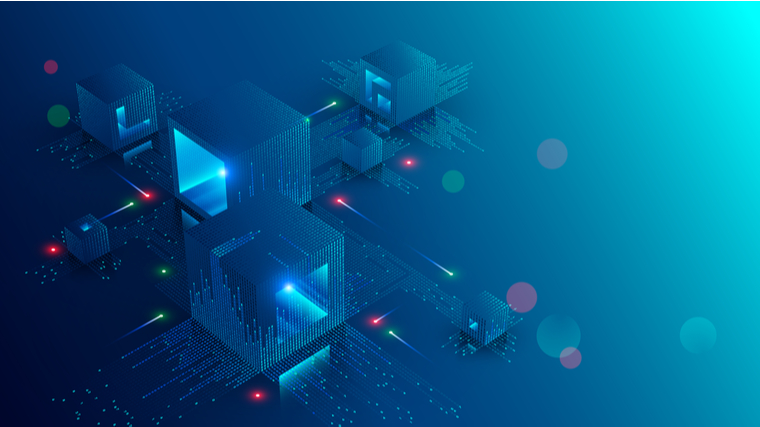 Blockchain is a peer-to-peer digital distributed ledger, like an accountant's book, but in the hands (servers) of many different and otherwise unconnected people. Blockchain was originally created to keep records of digital transactions of cryptocurrency, to solve the 'double spend' problem that could occur without such a perpetual ledger of accounting (given the ephemeral and anonymous nature of how digital cryptocurrency works).
Blockchain technology has since expanded to encompass other uses outside of just recording transactions of cryptocurrency. Any digital information can be stored on a blockchain, and blockchains have many useful applications. One such application is the phenomenon of NFTs (non-fungible tokens) being put onto blockchains.
Each transaction or set of transactions is encased in a "block" of information, and added to the chain of previous blocks. It's important to note that there are different blockchains in existence, and more coming online all the time. Blockchains can be decentralized (public), or centralized (private). They can be joined freely, or be invitation-only.
A note about NFTs
Not all digital assets that are sold as NFTs are actually on a blockchain, just to be clear. Digital assets can be large files and the technology requirements to upload them are so large that blockchains aren't sufficient to accommodate the needs of uploads.
Many times the digital asset is stored elsewhere, such as the Interplanetary Filing System (IPFS), or Google severs, and then a unique identifier is put on the blockchain to designate that particular digital asset (such as the asset's metadata). On OpenSea the digital assets that make up their NFTs may or may not be on a blockchain. At Rarible the digital assets are often off-chain as well.
For more information about NFTs and their current problems and potential solutions, see our article:
More resources: